Zeugma Restaurant
146 London Road
Heeley
Sheffield
S2 4LT
Telephone: 0114 2582223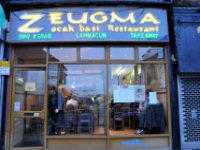 Reviews of Zeugma Restaurant
Type(s) of Food Served
Turkish
Description
Charcoal grilled south-eastern food of Turkey. Rated 5 star by Metro.
Food Service Times
12PM - 11:30PM
Special Offers
There are no special offers that we are aware of.
Amenities & Facilities
Credit/debit cards accepted?



Bring Your Own Drinks?
Restrictions (e.g. wine only) and a corkage fee may apply. Please enquire for details.
Average starter price?
£3.00
Average main course price?
£8.00
Average dessert price?
£3.00
Special diets catered for?
Child facilities?
High chairs
Mary -
Rating:
Food was horrible, staff were very rude. It was an absolute waste of money.
Mostafa Metwally -
Rating:
Dishonest and rude manager.

I went there with my wife and children and made an order. They brought us something completely different but didn't say. It was only when my wife noticed and we asked that the order looked different from what we expected that we were told that they didn't have our order so brought something else instead. Absolutely unbelievable and completely dishonest. Instead of asking the customer whether we would like something else they just made the decision for us.

On our way out I explained to the manger that this was inappropriate. Instead of offering an unreserved apology, he was extremely rude. He said that it was a matter of miscommunication between the waitress and chef and these things happen (a completely different reason to the one we were first given).

When I tried to explain that although mistakes can happen, this was about honesty and respect to the customers and that in the future they should be honest and upfront, he said that he had thousands of customers and one didn't matter. He said that I could have compensation but had no right to complain about him.

I have never seen this attitude anywhere before and will definitely not be going back there again. There are so many other Turkish restaurants in Sheffield where you will be treated with respect and courtesy.
Hollie McClimens -
Rating:
My dad absolutely insists on eating here every time he visits me in Sheffield!

Informal, friendly (the waiters always recognise us and say hello, we've only been 4 times in the last two years), great menu selection and fabulous food with huge portions.

Highlights: The open coals, which you can see your meat being cooked on, the comment cards adorning the walls, complimentary nibbles to start and well cooked food.

Lowlights: The waiting service can be a little... rustic!
Marwa -
Rating:
Love it, nice food, best food I ever had in my life. I recommend it everyone, love it. Going there today for a birthday dinner and can't wait.
Will Carr -
Rating:
Great food as usual, this was our 4th trip, but your waiting staff could do with some training. To say they were miserable was an understatement.

Overall, I'd rate the restaurant 4.5 for food (really nice and freshly cooked) but 1.5 for service.
Mr Howe -
Rating:
Having been before I thought I would take my wife for an evening meal on our first wedding anniversary, just for an hour without the kids.

We sat in the alleyway which led to the toilets. This was awkward because when people needed the toilet we felt that we had to hutch up to let them past.

The food though was great, but the service wasn't. We didn't get our starter at all, the waiter said he would bring the food all together, but all we got was the main meal and that was it. We waited and waited, then in the end we paid and left.

The waiter got the order all wrong (I don't think he spoke much English) and never apologised or we would have stayed until it got sorted. Because we were on such a short time scale we had to go.

I must say these authentic establishments serve fantastic food but the service should be better.
Chris Hanson -
We went to Zeugma last week on a lunchtime for probably my third visit. Every time I've been I have always been more than happy with the standard of food and service.

The food is Turkish I'd say and consists of kebabs of various types along with a good range of different starters. I just went for a chicken shish this time and was not disappointed. The kebabs are cooked over coals that give the meat a really good flavour combined with the marinade. It is served with some really well flavoured rice, a selection of salads and some flat bread. At £8.95 for the meal it is very good value.

The menu is extensive without reducing the quality of any of the food. This restaurant really is worth a visit, but probably not one for you if you're a veggie.
Eaten at Zeugma? Write a review!
Anonymous reviews, reviews using nicknames or reviews sent from invalid email addresses will not be published.