Zeugma Iki Restaurant
108 London Road
Heeley
Sheffield
S2 4LR
Telephone: 0114 2756666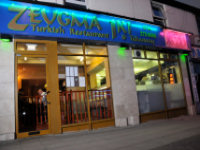 Reviews of Zeugma Iki Restaurant
Type(s) of Food Served
Turkish
Description
Using an open grill to masterfully prepare the Turkish dishes, dining at Zeugma is a truly unique experience. Blending recipes and fine cuisine from local regions around Turkey allows for a varied and exciting menu that is sure to satisfy.
Food Service Times
12PM - 11:30PM
Special Offers
There are no special offers that we are aware of.
Amenities & Facilities
Credit/debit cards accepted?
Average main course price?
Special diets catered for?
Abdul E -
Rating:
Too bad they are not family friendly! I called to book a table for 12 people and they said we do not like children to be in the restaurant at 6pm!

Also they requested a high deposit of £5 per person before they knew that we had children, which equalled £60 for the group!
Steve Birks -
Rating:
We hadn't eaten at a Turkish restaurant for a while so decided it would make a nice change to go to Sheffield and just drop in somewhere. We noticed from outside Zeugma Iki that it had a huge open grill, so thought we'd give it a try.

We were met at the door by a very friendly waitress, were shown to a table and seated. Almost immediately, complimentary olives, pickle, oil, and flat-bread appeared. We noticed the decor was quite dated, but actually by the end of the night it just added to the place's character and charm.

The best thing though was the food. I had the mixed grill, my wife had the lamb ribs. We swapped and shared. The helpings were generous, flavourful and delicious. Our meal, including a bottle of wine, came to just over £40.00. Worth every penny.

There is another restaurant just up the road that is just called Zeugma. This review is for Zeugma Iki.
S Basheer -
Rating:
Love, love, love this place! Amazing food (favourites: lamb ribs - kaburga and adana kabab) and friendly smiling service.

Food arrives promptly enough but very freshly made. Generous portion sizes with plenty of meat. Both the husband and I crave the rice, which is so tasty and complements the meat very well.
Eaten at Zeugma Iki? Write a review!
Anonymous reviews, reviews using nicknames or reviews sent from invalid email addresses will not be published.