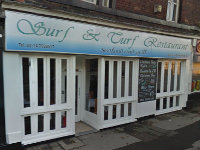 Reviews of Surf and Turf Restaurant
Type(s) of Food Served
Modern British / Seafood
Description
Together we have created this upmarket but totally unpretentious dining environment. We aim to offer transparency - "what you see is what you get" - from our easy-to-comprehend menus to our totally open kitchen. You can watch while your meals are prepared from fresh.
Food Service Times
Tuesday - Thursday: 6:30PM - 10:30PM
Friday & Saturday: 6PM - 11PM

Last seating: 9:30PM and 10PM, respectively.
Special Offers
There are no special offers that we are aware of.
Amenities & Facilities
Credit/debit cards accepted?
Average main course price?
Special diets catered for?
Janet Brookman -
Rating:
Highly recommended restaurant. It has been our favourite for a few years and we have enjoyed 3 meals there since they safely re-opened after Covid-19 lockdown.

The tables are well spaced out, hand sanitisers on the table, the door is sanitised after guests arrive and menus after each use. You can watch Pansy cooking your delicious meal and you will feel safe. Please support this small restaurant serving such delicious food.

We will be back again next week and cannot wait. We have been afraid of going anywhere since lockdown but do not have any worries at all at Surf & Turf.
Mrs Miles -
Rating:
In the Peak District second week of July 2020, just as restaurants starting to open up. We struggled, on Friday evening, to find a table until we spotted this gem of a find!

Delicious food, beautifully presented in good portions (just right) that suited the whole family, with three carnivores well satisfied with their surf and turf sirloin steak, plus trimmings.

Everything about this place was pleasing, including very reasonably priced menu and wine. And excellent service, too. Will definitely return!
Josette Falcidia -
Rating:
A really delightful meal, freshly cooked to perfection.

We have eaten here several times now and we know we will enjoy the food very much and the service is excellent. I keep trying all the different dishes on the menu and have enjoyed everything, every time. I recommend you try it for yourself!
Kath and family -
Rating:
Family celebration 2 hours ago. Amazing food, veggie and gluten-free. Staff, service, and cheers amazing. will be visiting again soon.
Eaten at Surf and Turf? Write a review!
Anonymous reviews, reviews using nicknames or reviews sent from invalid email addresses will not be published.