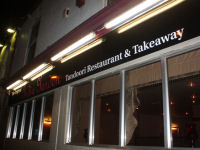 Reviews of India Garden Restaurant
Type(s) of Food Served
Bangladeshi / Indian / Balti
Description
India Garden restaurant is located at 659-661 London Road in Heeley.
Food Service Times
Sunday - Thursday: 5:30PM - 11:30PM
Friday & Saturday: 5:30PM - 1AM
Special Offers
There are no special offers that we are aware of.
Amenities & Facilities
Credit/debit cards accepted?
Average main course price?
Special diets catered for?
Teresa Kemp -
Rating:
Just ordered a collection from here and we only live 5 minutes away but the food was cold. The onion bhajis were rock hard and the nans bread were not even warm.

What a waste a of £26. We have been here and had takeaways before but this is the worst.

Will not be going here again.
Kim Lewis -
Rating:
Food was excellent. Highly recommend.
Danielle -
Rating:
Excellent place to eat, love this place. Staff all friendly and welcoming.

Was my birthday and they brought me two flaming shots, on the house. Food comes quickly and is amazing.

One of the best little eating places I've been to. Been back a few times now.
Karen Chester -
Rating:
Tasteless food. Ordered a chicken karahi, which was less than mediocre. There was little evidence of spices in the dish and the experience was just plain bland.

Sadly this is the second Indian takeaway we have tried in the locality over the past two weeks and been very disappointed with both, so next time will have to go further afield.
Paul -
Rating:
Completely the opposite to Stephen - the food here is consistently excellent and inexpensive, and the service is second-to-none.

Yes Stephen I am a local, but I have eaten curry in places from Montreal to Kuala Lumpur, so I know a good curry when I taste one (n.b. taste being the operative word, who cares what it looks like?).
Stephen Gibbon -
Called at the New India Garden on Saturday 20th February with four friends, two of whom live locally.

We had originally planned to eat at the Seven Spices Balti in Sheffield, but we diverted to the Garden, as it was closer to home for some.

Big mistake! Any restaurant that has to identify to its diners five completely different orders as they all looked identical is obviously not a good place to eat.

Food was very, very poor.

Glad I don't have to go back there, and if that's the standard that locals enjoy then I feel very, very sorry for them.

If you like a good curry give this place a miss!
Eaten at India Garden? Write a review!
Anonymous reviews, reviews using nicknames or reviews sent from invalid email addresses will not be published.