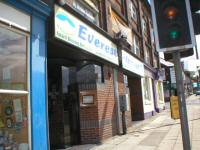 Reviews of Everest Restaurant
Type(s) of Food Served
Indian / Tandoori
Description
Everest Tandoori Restaurant has been established since 1978 and is doing very well. They celebrated their Silver Jubilee in 2003 after 25 years of business.

They are very unique in their food and they are also recommended in the Good Curry Guide for the past 2 years running.
Food Service Times
Monday - Thursday 6PM - 12:45AM

Friday - Saturday 6PM - 2:45am

Sunday 6PM - 12:30AM
Special Offers
Yes - Every Tuesday night is Special Buffet night. Eat as much as you like for £8.95 per head.
Amenities & Facilities
Credit/debit cards accepted?



Average starter price?
£2.50
Average main course price?
£6.00
Average dessert price?
£2.80
Special diets catered for?
Peter Pternitis -
Rating:
One * is too much for this terrible food.

Lousy! Worst service ever. 70 minutes for a delivery by a driver telling me to F... off and F... you because I asked him why was the order so late.

The owner, instead of apologising, was VERY rude on the phone, too.

Don't shop here ever again unless you enjoy to wait and be sworn at.

Horrible people to deal with.

The food was also nothing to write about.
Chris Smitton -
Rating:
Great food at a reasonable price, and fast and friendly service.
Daniel Bryan -
Rating:
Everest has always been my favourite and it will remain my favourite. I have been coming to this restaurant with my friends and family for the past 7 years and it's amazing. The food quality is outstanding, the staff and all the waiters are very kind and friendly.

We always try a different variety of dishes and they're all so nice and perfectly well-cooked.

Everest has a nice unique atmosphere, it is a peaceful environment to be in whilst eating.

The waiters always have a smile on their faces and always leave a smile on my face as soon as I enter and leave. They meet and greet you so nicely and treat you with so much respect.

The food quality is by far the best. I have been to many restaurants in my life but Everest is just something different.

The bar just catches my eye as soon as I enter and just looks so amazing and creates a nice view.

The place is so nice and clean and it makes you feel so relaxed. I feel very welcome when I come every week and I appreciate it.

Once I came with my whole family approximately 21 of us because of my sister's birthday party and they gave my sister a free wine bottle and a desert for her birthday, which was highly appreciated.

We always sit on the same table and the booth is so comfortable and relaxing. The food is always on time even if they're busy and it always has a rich quality to it.

To everyone who hasn't been to the Everest I strongly believe you should give it a shot, you won't regret it!
Helen Bird -
Rating:
A group of us thought we should try out the Monday special "2-for-1", there were around 12 of us.

It was a very busy evening therefore the food was a little late. However, the taste was to our perfection. I was a little worried. However, from my family and friends all I received were compliments towards the tasty food. We enjoyed the hospitality, and the starters were my absolute favourite.

The manager himself approached us and apologised for the late service and I can not wait to be back next Monday for the delicious mixed kebabs!
Stacey Marriott -
Rating:
Been going to Everest for many years now., Food is great, staff always friendly and make you feel welcome. Love it .
Karen Shimwell (for Sheffield Restaurant Guide) -
Rating:
A great writer wrote that "all happy families resemble one another and each unhappy family is unhappy is its own way". My dining companion and I mused on this in The Everest over a prolonged and delightful meal. Good restaurants, we decided, of which this is one, we agreed, all offer a combination of food, seating, lighting, decor and service that work together to create ambiance, welcome, pleasure, familiarity - in short - happiness.

I felt happy in The Everest in one of their comfortable, cloistered, booths, though had we been a larger party the tables to the right of the restaurant also looked inviting. My interest was piqued as we explored the menu. Though it's long-established, since 1978, and the present owner and chef have been in residence since 1998, the menu is not old-fashioned or staid and includes innovative dishes and ones not often seen in a traditional North Indian (actually Kashmiri) menu.

Over a very decent glass of house wine and whilst nibbling on poppadoms with pickles - the perfect balance, with a notably peppery mixed pickle - we chose our selection of starters; an onion bhaji - one for the traditionalists, brinjal pakora - for the vegetarians - and chicken chat - for the jaded of palate.

Chat is a traditional street snack in Delhi, usually made of a mixture of crunchy cucumber, tomatoes, herbs and nuts or seeds or chargrilled meats. The Everest's chicken chat proved to be a delicious and beautifully-presented variation on this theme with a sizable portion of chopped chicken tikka, mixed with cucumber, tomatoes, fresh herbs and a spicy sauce nestling in a perfect puri. Steam floated out of the top as we widened our eyes and tucked in. The bhaji and the pakora came sizzling on a platter with roasted onions and peppers. Both were exceptional, with the pakora winning especial praise - delicate slices of aubergine, fried in batter, but so lightly done that you could almost convince yourself it was healthy.

We applied the same logic to the main course and ordered a Prawn Saag, Aloo Gobi and "North Indian Garlic Lamb" - something else not ordinarily seen on a Sheffield curry house menu. The one dish that our host intriguingly recommended was the rice - lemon and cashew, he said, was good. Why the rice, I wondered? When I tasted it, I knew why; beautifully cooked and mixed with cashews and - here's the innovation - small pieces of lemon flesh, it was a taste sensation - fresh, nutty and a perfect combination with the creamy spinach of the Prawn Saag. Eaten alongside the wonderfully garlicky lamb it truly was a moment to remember. The potato and cauliflower dish did what it should do - provided a reminder of good Kashmiri home cooking - essentially comfort food.

Our host explained that he and the chef worked on the innovations in the menu together. The rice dish was his especial favourite of which he was rightly proud. Spices were new bought and fresh ground for cooking, he said. I could tell. He has plans to re-decorate and update the place this summer. It is a little dated but I hope he doesn't do anything too radical, change those comfortable seats too much, or the lighting, or do anything to put the staff off from offering the unobtrusive but careful service that they did. I hope his mates still sit with him in a booth, eating a mutton broth that he probably should put on the menu. I hope his daughter still waves from round the kitchen door. Because, as we said, families - and restaurants - should be happy.
Eleanor -
Rating:
From the service to the food everything was excellent!

I attended a birthday meal hosted at Everest. There were around 12 of us and we all enjoyed every moment of it! We were looked after very well, the waiters were ever so polite paying attention to our every need. The scenery set the mood and our food was served up to the best standards to the way it tasted and to the way it was presented! Everything was perfect! Definitely the best Indian I have had, I would like to thank Everest for an amazing memorable experience and now I have found my perfect Indian around I will be certainly visiting on a regular.

If your looking for an Indian, Everest is one of a kind! I would definitely recommend it, you won't be let down!
Abhishek -
Rating:
Arriving late in the evening after a long day at work, I was looking forward to a quick meal near my house. This is quite an upscale restaurant for a quick bite but the staff made sure I was well looked after, serving my meal very promptly and not making it a long-drawn affair one typically gets at a fine dining restaurant. The amuse-bouche was a delicious mini-papadum platter with a medley of different sauces.

My main was the chicken biryani, which was somewhat different from what I had expected (usually laden with a heavy portion of gravy) but Everest's was lighter but still very moist stewed chicken pieces and steaming basmati rice with a healthy side of raita. No wonder they received the awards they won!

Service was great. The wait staff, without any prompting came to help. They impressed me with how attentive they were and quality of service. If you need help with the menu, listen to the captain or head-waiter for recommendations.

Going next week again with family! Highly Recommended! - Abhishek!
Liz Ralph -
Rating:
The Everest is consistently good - the food is absolutely lovely and the service wonderful. Good range of vegetarian curries.
Doreen and Mike -
Rating:
If you want a great welcome, excellent service and a great choice of delicious food then this is the place to be.

We have had many successful family occasions here over the last twelve years. The staff are happy to help us explore the wide choice of meals on the menu and we have had some wonderful surprises.

In our opinion the Everest is sky high, but the meal prices are not. This restaurant is a real gem.
Paul Hattam -
Rating:
This is not a one-off review, I speak with experience.

Genuine people who are really proud of the food they are turning out. They should be. I have eaten many times over the past year or so and always had a great experience.

The special menu deserves a mention - authentic food with real taste. If you ask nicely, you can be more adventurous and try dishes not on the menu like the lamb "off the bone". You'll be well looked after and enjoy some great cuisine.

If you're looking for flash city centre places then this ain't the place but you can do so much better than that. A couple of miles out of town and you'll find this little gem - great value for money and 100 yards from a real ale pub (the White Lion). Give it a go!
Elaine Smith -
Rating:
Tasty delicious food always served at this restaurant with friendly helpful staff. Definitely one to try.
Sarah Churchill -
Rating:
Been to this restaurant many times with either friends or family and on all occasions we have received excellent treatment by staff and the quality of the food has been superb.
Matt H -
Rating:
Fab restaurant! I have visited this restaurant many times and each time I have thought the food is absolutely delicious. The most striking thing about the food is its freshness and the flavours really come out owing to the attention to detail of the chef.

We are always welcomed and taken to a table straight away and have our drinks and poppadoms ordered within 2 minutes of sitting down, even though it was obviously busy.

There was an enormous range of food to choose from and we were spoilt for choice, which is rare for vegetarians! The food was delicious and had very generous portions. The waiters are always at hand to check if we want more drinks when we were empty and felt very looked after.

Overall I would definitely go there again and again as this is far the best Indian restaurant we have been to in Sheffield.
Carol Watson -
Rating:
Numerous Indian restaurants in the local area, but this is always the restaurant I take family and friends to. Food and service is excellent and makes a great night out.

The atmosphere is calm and every time we have been the food is of a high standards and always meets our expectations.

I would definetly recommend Everest.
Mujahid Hussain -
Rating:
Amazing food mouthsmacking! Reasonable price and fantabulous service.

Delivers the real value of time and money. Hats off Huyz.
Suzan and Sarah -
Rating:
I have been to Everest recently to celebrate my friend's birthday. We had called the management and booked a table for 12 people.

The food was really very nice and the service by the staff was really impressive. The price is also reasonable, so enjoy!

I would like to ask everyone try it once and you will love it. Music is really nice. The longer we stayed in the restaurant the more memorable it got. I will be back again, I promise.
Gemma Bedford -
I have been coming to Everest Restaurant for more than 4 years now and I have to say the food, the waiters and the service is brilliant.

I always recommend Everest Restaurant to family and friends when they feel like having an Indian. I've been to many Indian restaurants around Sheffield but Everest has done it for me.
Steve Dowds -
We've been eating in Everest probably twice per month for at least 10 years. It is not just the best Indian restaurant in Sheffield, it is one of the best in the country.

The food is fantastic. The staff are efficient and friendly and the service is excellent. They anticipate every need and remember regular customers' preferences, to the point where all I have to do is walk in and they serve the beer I want without me even having to ask for it! Perfect.

One weekend we couldn't come in as I was unwell. When the staff at Everest heard we couldn't come in, they delivered our favourite meal to our house, even though we live some miles away outside their regular delivery area. I can't commend them highly enough.

The food is absolutely excellent. Go for the Chicken Tikka Karai to start and then have a Chicken Handy - I think these are the best dishes on the menu. But if you want to experiment and try something not on the menu, they'll do that, too.

It is unrivalled value for money - I've eaten in places in London & Manchester where the food wasn't half as good as in Everest but they charged 4 times what Everest do.

Go there. You won't be disappointed, it's the best. (Just don't go at 9PM on a Friday - I want to get my regular table!)
Mona Rehman -
I went for my 21st birthday and I loved every bit of it. They had decorated the hall for me and arranged a buffet system for me. The cost was around £15 per head

The staff and the management team were very professional and polite.

I will be returning to this restaurant on a regular basis and I would recommend everyone to come and taste their food.
Rachel -
I went to Everest the other night with a friend of mine. I had not been for some time. The place looked bright and fresh and the staff where as friendly as I remembered.

We had papadoms and the pickle tray to start whilst we took our time deciding what to have. I can't remember the name of the dish I had, it was lamb not too hot and very, very tasty. My friend had a chicken dish, which she loved. We both had a couple of Indian lagers.

I thoroughly enjoyed the atmosphere, the staff and the food. We will be going again really soon.
Mary Smith -
I went to Everest last week with a couple of friends. It was excellent service with delicious food!

To begin with I had karahi tikka chicken for my starter. The taste was beautiful. And for my main course I had Mumtaz Methi Gosht with garlic nan. It was divine.

I've booked for my birthday party next month for 20 people and I'm looking forward to showing my family & friends one of the best Indian restaurants I've ever been to!
Hazel Poole -
Me, my partner and two friends went to the Everest on Friday 12th March. I have never been before; the other people in the party had been and said it was lovely. It is an Indian as you are probably aware but as we got there we were all greeted warmly and pleasant by the owner of the restaurant. We got drinks at the bar and waited just a few minutes for a table.

Me and my partner had poppadoms and a pickle tray, which were lovely. We had onion bhaji to share and I must say it was lovely. I've had onion bhajis in the past at restaurants and they can be completely dry. For mains I had a standard chicken and mushroom curry, my partner had a chicken madras, we shared a garlic naan, chips and pilau rice.

The meal was lovely and very reasonably priced even with two drinks.

The service was very good and waiters were very pleasant. There was a good atmosphere in the restaurant and I can't wait to go back again soon. Try it, you will want to go back.
Sima and Sarah -
Hi my name is Sima, I am from India and I am a student in Sheffield Hallam University. Last week me and my other friends made a plan to go out for food and we decided to go to an Indian restaurant in Sheffield because my English friend Sarah likes Indian food. That's why we went in Everest restaurant.

When we get there the staff at Everest welcomed us warmly and they gave us a table. Then a waiter gave us a menu and took our drinks order and food order nicely.

When they gave us the food it was really tasty. Service was very good. We ordered chicken korma, chicken karahi, pilau rice, paratha bread, tandoori roti, and the starter was karahi tikka chicken juicy with onion, tomato and pepper.

It was really nice and tasty, we were very happy. We enjoyed our food - everything was beautiful, the restaurant was quite busy. I will happily like to recommend every one to try Everest restaurant in Sheffield if you want to go for best meals and prices.
Susan Johnson -
I first came to Everest restaurant with my partner. We were so pleased with both the service and the food that we received. The staff were so friendly to us and we have been coming with our friends and family ever since then. I would strongly recommend people out there to try this restaurant, as it offers a wide variety of food to please everyone. Well done Everest.
Dave -
I have been going to this place for the last 9 years and I'm still going! Very welcoming and professional.

I really enjoy Indian food and in the past I've been able to eat at a lot of them up and down the country due to work commitments, and you'd be hard pressed to beat Everest Tandoori.

Please try mumtaz methi gosht, pilau rice and peshwari nan sweet one you will love them.
Laura Talbot -
Everest epitomizes the casual, caring and harmonious qualities that I had often heard of as being synonymous with the Indian sub-continent. Not only do they serve great meals but also make an effort to know you and greet you personally each time you visit them.

I try convincing everyone to celebrate their birthdays at Everest all the time. The last time I went there for an anniversary celebration, all of us - from 2 to 72 were equally pleased at the experience.

The earthy ambience, radiant smiles from staff and customized food, makes it a perfectly refreshing experience every time I visit. Thanks guys!
Khan Raja -
I have been to Everest recently to celebrate my friend's birthday. We had called the management and booked a table for 6 people

The food was really very delicious and the service by the staff was really impressive. The price is also reasonable, so enjoy!

I would like to ask everyone try it once and you will love it.
Madhavi -
I have been to Everest recently to celebrate my friend's birthday. We had called the management and booked a table for 10 people and requested them to make a special arrangement like decorating with balloons, ribbons etc... I was not sure that they will do all these, but when we entered into the restaurant it was really amazing, and we felt really happy with their service it was completely decorated, even more than what we have asked them.

And well coming to food it was really very delicious food and the service by the staff was really impressed.

Finally we had a great time in Everest Restaurant.
Athia Begum -
I am a sucker when it comes to good food but above all you want to go somewhere that offers that and a little extra!

Not only does Everest do mouth watering food but the service, atmosphere of restrained elegance and the friendly staff make this restaurant one of my favourite places to visit when I come to Sheffield.

Everest was highly recommended to me by a work colleague who is a regular at this restaurant and I was told how it has a long-standing history of a good reputation and they were right as not only did I find the food delicious!! It was cooked to my perfection.

Also the menu isn't to daunting as they do a good job in describing the food too! They have a lot of variety and do good portions that are excellent value for money! What more can you ask for?!

I will definitely be back. The overall service defiantly impressed me.
Arooj Begum -
Having read the review from a disappointed customer at Everest Restaurant I feel an obligation to write about my personal experience at Everest, being a contented customer.

I have been a customer at this restaurant for six years now, and I have had nothing but incredible service and great food. The staff has always been pleasant and friendly towards me and my family.

The restaurant provides implausible service not only to old customers but the new ones too.

Maybe that's why they did so well on the 'scoresonthedoors' being the first Indian restaurant to receive four stars. I have been to many restaurants around Sheffield but Everest is no doubt the best restaurant I have been too, and I am confident that there is many more satisfied customers just like me.
Wendy Hicks -
My family and I have visited Everest Restaurant on numerous occasions and have always enjoyed our food and received good service. However, this occasion was entirely different and has left us feeling we will certainly take our custom elsewhere.

My family (my husband and three daughters) and I visited on Friday evening after having booked a table for 8PM - we were left to stand in the doorway for around 15 minutes without any acknowledgement that we were there. Eventually we were shown to our table and we ordered poppadums and drinks.

Our waiter then took our order for the main courses and left us to enjoy our starter and drinks. An hour went by but was no sign of our main courses. All the tables around us were being cleared and wiped down ready for the next customers. There was no acknowledgement or apology for the delay with our food - nothing - it was just as though we were being totally ignored.

Eventually, I asked the waiter if our food was on its way as we had been waiting now for a long time, without further ado, the manager behind the bar bellowed "cant you see we are very busy!" Well, that was it, not much of a way to keep your customers, is it?!

Feeling upset, my husband told the manager we were leaving and asked for the bill for our starters and drinks, we then left feeling utterly disgusted and disappointed with this level of service. Outside, the manager then followed us and continued to shout at us saying he would not have that attitude in his restaurant! We certainly did not like his attitude towards us and our family and feel I want to tell everyone about this bad service we received.

All I can say it is their loss not ours, we would rather take our money elsewhere - certainly not somewhere where the service was poor and they don't value your custom!! My advice is - don't bother with this place, if this is how they value regular customers they can keep it!
Eaten at Everest? Write a review!
Anonymous reviews, reviews using nicknames or reviews sent from invalid email addresses will not be published.