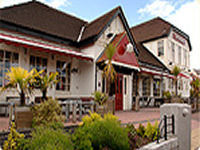 Reviews of White Rose Restaurant
Type(s) of Food Served
English / Pub Restaurant
Description
White Rose restaurant is located at 17 Handsworth Road in Handsworth.
Food Service Times
12PM - 9PM

Last seating: 9PM
Special Offers
There are no special offers that we are aware of.
Amenities & Facilities
Credit/debit cards accepted?
Average main course price?
Special diets catered for?
Courtney White -
Rating:
As a table of 18 all needs were met. Chef was on his own but still managed to get 18 meals out within good time so we could all eat together. Waitress was also alone and was great at customer service and checking we were all OK.

Brilliant food also, definitely recommend.
A Perger -
Rating:
Friendly staff, good food, and some very good functions. Thank you!
Sue -
Rating:
A large group of us went to the White Rose for a Christmas meal last week. We had a lovely 3-course meal - all courses were very generous. The staff were very attentive - nothing was too much trouble.

We were even offered complimentary coffee! Well done we'll soon be back.
Shirley -
Rating:
Had a lovely meal there for three of us and a very fussy boyfriend. Really enjoyed it and didn't leave any. Also had dessert, which was great. Had to wait a while - maybe short staffed - but will return soon.
Helen -
Rating:
Five of us went to the White Rose yesterday afternoon for a birthday meal and weren't impressed at all.

Three of us ordered chicken, which was dry and old tasting. Two of us ordered steak, which was overcooked and burnt! All they offered us was a free dessert. And they didn't even have the ingredients for cocktails in a pub!

We have all got stomach upset now and will definitely not be returning to the White Rose.
Leesa -
Rating:
We have just had worst meal that we have had at this place. We waited 1 hour and then went to find out where it was. When it was brought to us it was dried up and very hot. Just been forgotten and microwaved. We won't be eating here again.
Sue -
Rating:
Absolutely diabolical. This should have a minus star rating.
Eaten at White Rose? Write a review!
Anonymous reviews, reviews using nicknames or reviews sent from invalid email addresses will not be published.