Sword Dancer Restaurant
3 Turner Business Park, 232 Handsworth Road
Handsworth
Sheffield
S13 9BS
Telephone: 0114 2434670
Email: 1724@greeneking.co.uk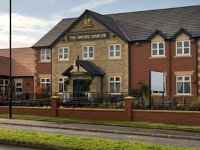 Reviews of Sword Dancer Restaurant
Type(s) of Food Served
Pub Restaurant
Description
11AM - 10PM

The bar is open longer.
Food Service Times
Sorry, we do not have the restaurant's opening times yet.
Special Offers
There are no special offers that we are aware of.
Amenities & Facilities
Credit/debit cards accepted?
Average main course price?
Special diets catered for?
David Stokes -
Rating:
The welcoming and friendly pub, service with a smile, which makes all the difference. Food was great and would recommend it to everyone.
Tim Stones -
Rating:
Have been in for every game during the Euros and what a great atmosphere. The service was fast and the use of the app was easy. The managers (Dave & Casie) have done a great job making everyone welcome. Keep up the good work. Come on England!
Taz Gibbs -
Rating:
So I was just looking to start writing a review when I noticed that two years ago today we also went for our anniversary meal. Being a bit apprehensive going back after so long due to lockdowns and reading other reviews that said it had changed hands, I didn't expect a lot. So when we got there social distancing was in place, which made it a more relaxed atmosphere, and we were greeted by a lovely member of staff called Claire, who showed us to our table then took our order.

I ordered my before usual of mac n cheese and garlic bread and garlic mushrooms, and thought it wouldn't be as nice, but all the food we ordered was tops, came really hot. We had to wait for the chips to cool down, which is what you want, and cooked perfectly.

The only negative thing I have to say this time is that they could maybe employ some more table runners to make sure the tables are wiped as soon as a party leaves, as ours was still dirty. But I'm sure if I asked they would have obliged. And the only other thing was the "veggie sticks" were dry, could be fresher. But overall was good to be back and will be coming back soon.

I'd like to say thank you to Claire for making it a pleasant visit. See you again soon!
Daniel Wild -
Rating:
Went in yesterday for a light lunch and was disappointed to be told they had no baguettes or wraps. I then heard the staff telling other customers when taking their order that they had no salad, burgers or bread for toast!

Asda and Aldi are both less than 5 mins walk!
S Hinkler -
Rating:
Waited 15 minutes to be served. Only 1 staff on serving both sides. Not her fault.
Daniel Andrew Raistrick -
Rating:
When we arrived we was advised of the items out of stock on the main menu. Because of the items we was happy and went to order the main meals.

On arrival the meals had missing items i.e. mash on the Sunday dinner. The meals were taken back and the waitress had a bad attitude.

On being brought back we noticed that it was just added and cold. My meal had missing items which was the coleslaw and wasn't advised. The meal itself was cold the Yorkshire puds was rock hard, the roast potatoes was like rocks, mash was hard and cold, lumps in the gravy and my niece's garlic bread was that burnt it looked like charcoal and inedible.

We also decided to have desert. When we asked, was informed that the ones required wasn't available.

The Coke was also flat with no taste.

Sorry won't be coming back.
Sara -
Rating:
First time here with the sister & three children, and will not be returning unless you want food poisoning.

My sister ordered chicken with mash & veg for her 5-year-old. It came what looked like it had been microwaved numerous times. The chicken was completely stone cold still frozen, obviously not fresh. To microwave frozen chicken that's not defrosted it's absolutely a joke. Just asking to give people food poisoning. How they have managed to carry on serving food like that is beyond me.

Deffo will not be returning.
Elaine Fawdry -
Rating:
Visited today ordered a drink on the app, as we thought you were encouraging this. Waited 25 mins and finally went to the bar for it.

Ordered food and drink at the bar and it came within a few minutes, so will go to bar in future.

Food lovely as usual.
Grant Bean -
Rating:
Loved it here. I love my food loads. This is the best place I have been. Thanks from the Mr Bean family.
Mick Corton -
Rating:
I have to agree with ratings on the food. Me and my family ate here regularly but things started to change this year and I got food poisoning and was off work for 2 weeks. And when I complained I just got a denial and told that was the end of it. Never eaten in there since.
Karen -
Rating:
Totally not happy with our food. We ordered chicken sizzlers and when it arrived it was aired, not sizzling. The chips where warm. This is the second time we have been served cold food. We thought we would give it another go but I don't think we will be coming again, sorry.
Denise Clarke -
Rating:
Came on Saturday night to celebrate my grandson's birthday. Bar staff made us feel very welcome, nice and friendly.

But we came to order food and was told there was no burgers whatsoever. OK we thought, so ordered something else. Food was average.

Then several of our party wanted deserts. They had a choice of 5 different ones, but when we went to order again we were told they did not have 3 out of the 5 available.

So to say we were disappointed overall with the visit would be an understatement.
Chrissy -
Rating:
Went for meal with friends. First time in this pub. We was made to feel welcome. Everyone was happy with their food. it arrived hot and well presented. The staff were charming and polite. I will be returning.

Thank you for a very pleasant experience.
Ms Moffatt -
Rating:
Been many times but since the new landlord took over the food isn't the same. Been today, ordered steak sizzle. Came without mushrooms, peppercorn sauce, cheese, nor peas. Complained but won't be visiting again.

Helen -
Rating:
Used the app to order the food. Waited 20-30 minutes then food started coming out one thing at a time. First person served had finished by the time last person got their food (7 of us).

Then ordered pudding. Sat an hour with dirty plates piled in front of us before pudding came. One pudding missing. Everyone had finished before that pudding came. Very slow, disorganised service.
Reg Isherwood -
Rating:
Lousy mixed grill, rubber egg was dry even after being changed. Dry, hard meat, onions and tomato, tired fries & dry peas. Don't plan a meal here.
Doris -
Rating:
I don't know what's going on at the pub but the food is not as good as it used to be. The chips was the best, not any more. I complained about the meat, got no feedback.
Kevin Ellis -
Rating:
Absolutely terrible. No tray for drinks ordered so had to make 3 trips to the bar. Staff brought condiments to table with dirty knives and forks and no napkins. Raw chicken so had to send back, got no apology. Halloumi was all batter and desert didn't come so had to go and ask at bar after a 30-minute wait. Never again!
Alex -
Rating:
On arrival in the pub we started with a drink and also asked the staff about the snooker table, if we can play. The staff straight away responded that the sticks are broken, and we can't play.

Also after spending a few hours having food and drinks, we spotted a group of lads that were using the snooker table. Straight away we asked Alex, one of the staff members, what was the reason that they can play and we can't. Asked him if he had anything against us in any way or shape. He said that he has not having any problems with us and nothing to do with any sort discriminatory issues.

Didn't really appreciate the way the situation was handled.
Angela Vaughan-Thompson -
Rating:
Booked a table on Saturday 9th March 2019. There was eight of us - five adults and three kids.

We placed two separate orders at the same time. Four mains turned up at the same time, four more to come. The others had nearly eaten their meals so I called over a member of staff to find out where our other meals were. Five minutes later three mains arrived, leaving my 10-year-old still waiting, so I again called over a member of staff.

Five minutes later her meal arrived and I have to say it did not look appetising but she started to eat it (chicken New Yorker). She turned to me and said "mummy this chicken taste funny", so I tried it and although it looked cooked it tasted raw. So I called a member of staff again and he said he'd replace it.

By now I wasn't going to let her wait any longer so told him I'd share my meal with her. He offered a free dessert, which she accepted. That was 1/2 the price of her meal. I complained that I felt robbed, but nothing further to compensate.

A shocking meal, hence we will not be eating at Sword Dancer again. Disgusting.

I have to give it a star to post my review. My true review is zero out of five.
Lauren -
Rating:
Went to the bar to order drinks. Asked for a orange juice and was given orange cordial. Then we ordered 2 big plate all day breakfasts and there was no mushrooms and no tomato. The eggs were hard and the sausages weren't cooked properly. Then asked for brown sauce and was told they had run out. Wasn't too pleased with the experience!
Bettina Jayne Winter -
Rating:
Terrible frozen food, full of kids under-age drinking! But on a positive note it was nice when it opened and good location, but sadly it has gone downhill.
Jane Oxley -
Rating:
Just had roast beef wrapped in Yorkshire pudding. The beef was that tough I could not eat it.
Aileen Smith -
Rating:
When The Sword Dancer opened we thought it was great, a local pub with good, inexpensive food. Since the refurbishment, however, I feel standards have dropped.

Our last three visits were disappointing, with the last one being the worst. Our table and cutlery were dirty and the floor covered in food. It took at least three attempts to get some food, as each item we chose it was unavailable, and when it did come it wasn't cooked as we'd asked.

Get your act together and be the pub you once were before you lose more custom.

On a positive note, the staff were great and very helpful.
Christina -
Rating:
Always go to this pub for food regularly. My daughter is dairy-free, which I made very clear, but still got served ice cream with chocolate sauce containing dairy in. And then the response from the manager was "why did you give it to her", which I thought was disgusting, as they shouldn't have given it to me in the first place. So notified trading standards.
Sue Fox -
Rating:
Just got back from Sword Dancer, my grandson's choice to go for lunch.

Food was very nice, but the smell of food was overpowering, as it was busy. I think some extractor fans would have helped. The smell clung to our clothes. That's the first time, after being a regular customer.

Also menus were all sticky with food.

Sorry but not being funny, just honest.
Caroline -
Rating:
Very nice after the the refurbishment but what happened to doing the toilets, the one area that was desperately needing a makeover? They still smell horrid, loo paper does not fit in the dispenser, so is on the floor or on top of the sanitary bin!

Staff are all very friendly, can't fault the effort they put in. The over 18s area is a bit tight. When all the tables are in use you can find it very difficult to get out to the bar or smelly loo.
Dennis Gray -
Rating:
Went Saturday at 12 o'clock. Ordered large fish and chips. No fish. Why have a menu? Then ordered steak, which was tough. Left that then ordered fudge cake. No fudge cake, so ordered apple crumble, which was terrible. Used to be good, but was terrible Saturday. It'll be a long time before I go again.
Jayne -
Rating:
Not a review about the food, never had a bad meal here. But the outdoor space is a disgrace!

Broken, dangerous planters (kids running round!) litter, cigarette butts everywhere. Had to pick up litter and bin it before we could sit down! Then there's the general appearance, weeds all over!

Please don't let it go to rack and ruin we love our local, but come on, tidy up a bit! Please! If McDonald's can do it I'm sure you can!
Adrian Taylor -
Rating:
Food spot on, staff very nice and helpful. Midweek birthday meal for my wife. Starter combo and horseshoe of onion rings followed by lasagne. Piping hot, well presented, fair price.

Asked for cream with lemon meringue rather than ice cream and asked for a candle in fudge cake, which they did.

Do not be put off, the Sword dancer is excellent compared to other Hungry Horse pubs like The Red Lion at Todwick, which I/we do not rate at all.
Chris -
Rating:
Really nice place to eat. Good food and the friendliest staff you could wish to meet.
Clare -
Rating:
Started going here once a week for food, as it is local. It is really nice pub, the staff are all lovely, the food is really nice, and you get plenty for your money. Can't complain about anything. Even the 2 for £7.99 menu you get plenty. We thought the portions might have been small with the price but no, still get loads!
Eaten at Sword Dancer? Write a review!
Anonymous reviews, reviews using nicknames or reviews sent from invalid email addresses will not be published.