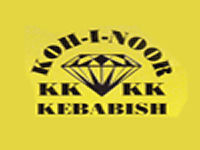 Reviews of Koh-I-Noor Restaurant
Type(s) of Food Served
Indian
Description
Fully licensed. Own secured car park. Air conditioned. Gold star awarded best Indian in Sheffield. Experienced staff. 5-star awarded by international curry club. We cater for big events like weddings and birthdays.

Food Service Times
Sunday - Thursday: 5:30PM - 12:30AM
Friday & Saturday: 5:30PM - 2AM

Last seating: 12:30AM
Special Offers
There are no special offers that we are aware of.
Amenities & Facilities
Credit/debit cards accepted?



Average starter price?
£2.95
Average main course price?
£5.95
Average dessert price?
£1.00
Special diets catered for?
Linda Delaney -
Rating:
Fabulous food and service. We travel up from Birmingham and look forward to going to Koh-I-Noor. They have dishes not seen in any other restaurants, as well as the usual traditional dishes. Fully licensed bar. The service is so friendly and informative. We have visited as a table of 6 to a table of 30 and it's always great. I particularly enjoy their tandoori dishes. Easy to park in their own private car park.

We eat out a lot and can strongly recommend this restaurant. 5 stars from us.
Chris Evans -
Rating:
What an Indian. I travel to India quite frequently and love curries.

I have to say the food here is excellent and I've got to say it's probably one of the best meals I've had in Sheffield.

The delivery service was spot on and what a polite driver. So keep it up guys and hope to see the same driver with the Audi A4 again.
Catherine White -
Rating:
Cannot fault food or service. Have always found that they will make every effort to please us. Won't go anywhere else, they even recognise my voice now when ordering take-away.
John Smith -
Rating:
Excellent food and service. I will visit again and again.

Thanks to the staff and owner. They gave us ice cream complementary although we did not ask for it. Very nice interior.
Joanne Oliver -
Rating:
Very disappointed. Lamb pasanda tasted and looked like curdled tomato soup and cream, no flavour.

Owner's relatives' kids running around restaurant the whole time, very off-putting.

Asked for lime and lemonade drink, got pink lemonade that tasted like Asda's own!

Will not be going again.
Anthony Ali -
Rating:
I have been several times to Koh-I-Noor and have always enjoyed the food and service.

We went in a large party (20) last time for my mother's birthday and everybody enjoyed the food, and the service was excellent. They made a real fuss of the birthday girl. The manager giving free wine with the meal.

I recommend the buruchi lamb!
Shabana Mehmood -
Rating:
We have been with family and had a meal. We are very impressed. Food, service, and atmosphere great. We will be going again.
Chris Armley -
Rating:
Hi, anyone interested in going to Koh-i-Noor you will not be disappointed.

First of all the food was amazing, especially the onion bhajis, and the lamb was great. My wife had chicken tikka masala, which was creamy and she said that it was very tender and fresh tasting.

The staff all made an effort and gave us complimentary ice cream and there was also a nice atmosphere with Bollywood entertainment.

I would recommend to anyone that knows what a great curry should taste like.

5 stars from me. See you soon.
Eaten at Koh-I-Noor? Write a review!
Anonymous reviews, reviews using nicknames or reviews sent from invalid email addresses will not be published.