Old Red Lion Restaurant
210 Main Street
Grenoside
Sheffield
S35 8PR
Telephone: 0114 2468307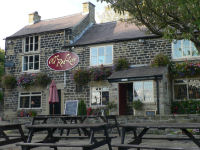 Reviews of Old Red Lion Restaurant
Type(s) of Food Served
English / Modern British / Pub Restaurant
Description
The restaurant is set just off the bar area, which has a floor of Yorkshire stone and traditional and tasteful furniture, and including the bottom snug area has capacity for about 40 diners, where dogs are allowed in at all times. The restaurant area is on two levels, with another small snug area.

The restaurant will hold approximately 56 diners.
Food Service Times
Monday - Friday: 12PM - 9PM
Saturday: 10AM - 9PM
Sunday: 12PM - 8PM
Special Offers
There are no special offers that we are aware of.
Amenities & Facilities
Credit/debit cards accepted?



Average main course price?
Special diets catered for?
Child facilities?
High chairs
Baby changing
Jane -
Rating:
My partner and I went for Sunday lunch - it was brilliant and we thoroughly enjoyed the meal. Highly recommended. Food hot and beautifully cooked. Staff efficient and friendly and very polite.

We will definitely be back in the future. Thank You for a very pleasant afternoon.
Ann Hodkinson -
Rating:
The Old Red Lion at Grenoside is so cosy and full of lovely atmosphere. We were a party of sixteen and were seated straight away when we arrived. The meal was really good - I had duck pate which was so tasty and then a turkey meal with all the accompaniments - especially loved the stuffing and then I had ice cream. My friends all really enjoyed the meal.
Hazel Reading -
Rating:
We came for lunch yesterday, Wednesday. The food was delicious and the service was excellent and the staff were very accommodating. I had steak pie with caramelised onion and it was beautiful, the steak was so tender and the flaky pie top was just right. I will definitely recommend. Thank you.
Bernster -
Rating:
Definitely the best place to eat in Grenoside. We've been on several occasions trying various dishes. The Sunday lunch is amazing and very reasonably priced. A firm favourite of mine though is the steak pie - jam-packed full of tender braised steak, which melts in the mouth. Service is great, too. I highly recommended this place.
Tracey Burkinshaw -
Rating:
I booked for 7-8 people for this evening and was warned that they were very busy tonight and food orders may take a while. However, this was not the case. Staff were friendly and welcoming and the overall service was excellent. The food was lovely and reasonably priced, and the meals were good sized portions. We really enjoyed our evening.
Jamie -
Rating:
Just had a lovely meal here. Six people, all food was great, hot, and plenty. Staff were great and a lovely pub. Would recommend to anyone.
M Betts -
Rating:
We have been several times to the Old Red Lion and always found the meals and service very good. But the recent visit we made was very disappointing. The portions have got increasingly smaller and I ordered a side of cheesy garlic bread, which was £3.50, and what I got was two minute pieces of bread and some salad plonked in the middle. It wasn't worth a pound never mind £3.50. Consequently we wont spend any more money there unless the prices come down.
John & Josie -
Rating:
Just been to the Old Red Lion (Top Red) for a 21st. The restaurant that we had booked had closed and had not informed us. The manager fitted all 19 of us in.

The food was marvellous (try the chicken sizzler) and the staff could not have helped more. We will be going again.
Pete & Elaine -
Rating:
We've been to the Old Red Lion several times in recent months, and found the food exceptionally good.

Our most recent visit was Sunday 6th July 2017 and we had Sunday lunch. We both had roast beef, which was so tender and moist, really good cut of beef, and it came with a terrine of 5 vegetables that were perfectly cooked and piping hot. Home made Yorkshires with mash, roasties, and thick beef gravy rounded off an excellent meal.

They have a nice selection of real ales, and the wines are reasonably priced. The staff and manager were helpful and friendly.

Overall a really nice experience at the Old Red Lion on a Sunday afternoon, and will certainly be back.
Dianne Watkinson -
Rating:
Recently went to the Old Red Lion. We have eaten there many times over the years and rated the food great- 5 stars every time. Unfortunately it has changed hands and the food was mediocre to say the least. Really disappointed. Won't be going again.
Andrea Murray -
Rating:
My Husband and I have eaten at the top Red Lion quite a few times now. The service is always impeccable and to a very high standard. The food is very tasty (from a Sunday lunch to whatever else is on the menu). In particular, there is a young waiter/bartender who is an absolute credit to the pub. His name is Aydan and nothing is too much trouble for him to assist you.

All in all, dining there is a very pleasant experience and we would recommend the top Red to anyone who likes good food, a cosy ambiance, and excellent service.
Matt Adamson -
Rating:
My girlfriend and I have eaten here several times, always found the food to be good and reasonably priced. There can be a bit of a wait for food but this is usually because it's busy.
Jeanette Bourne -
Rating:
Recently rented a cottage in Grenoside. Visited the Old Red Lion every day we were there, either for just a drink after a long walk in the local countryside or popped back for a meal.

Why did we keep going back? The service. Each afternoon we were warmly welcomed and our dog was given treats. There appeared to be different staff on each day, made no difference, everyone was friendly.

Obviously the food was also worth going back for, too. A smaller menu than I would have expected. However, this may be why the meals were presented and cooked well.

The first meal I had of homemade beef burger was quite filling for me, so the following meal I had the starter of pasta stuffed with goat's cheese and a side salad, thinking this would be a smaller portion for me. Gosh if that was a normal starter portion it was a meal in itself.

Good pub food, presented to restaurant standard. Excellent service.
John Marsh -
Rating:
Four of us went to the Old Red Lion (Grenoside) on Friday 11th February after hearing the food was good. Have to say we were not disappointed.

The menu has a good range through sandwiches and lite bites, to grills and specials. Our party had two starters: garlic mushrooms on toast and a goat cheese tart. Our mains included two haddock, one lamb rump and one venison. Two desserts followed and all the food was excellently cooked and well presented.

With a few drinks and bottle of wine our bill came to £92.A little pricey by pub standards but treat it more like a restaurant for food quality. Would we go again? Definitely.
Eaten at Old Red Lion? Write a review!
Anonymous reviews, reviews using nicknames or reviews sent from invalid email addresses will not be published.