Cow And Calf Restaurant
88 Skew Hill Lane
Grenoside
Sheffield
S35 8QX
Telephone: 0114 2468191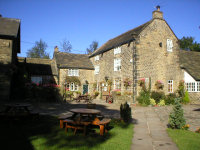 Reviews of Cow And Calf Restaurant
Type(s) of Food Served
English / Modern British / Pub Restaurant
Description
Converted farmhouse with a large garden within a courtyard in front of the pub.
Food Service Times
Sorry, we do not have the restaurant's opening times yet.
Special Offers
There are no special offers that we are aware of.
Amenities & Facilities
Credit/debit cards accepted?
Average main course price?
Special diets catered for?
Dave -
Rating:
Terrible place. Staff are extremely rude. Far better pubs around the corner in Grenoside. Avoid this place.
Sandra Howard -
Rating:
Excellent food. Landlord and staff always very friendly and chatty. Been in a couple of times at the weekend and always receive a warm welcome - highly recommend.
Sharon -
Rating:
Visited today for Sunday lunch. Very busy, glad we reserved a table.

All staff very friendly and the chef definitely knows her job, fantastic home made food with delicious desserts.

We will be returning and would recommend for either a quiet drink or to eat.
Sharon and Mark -
Rating:
A regular visit for us. Food, beer and wine always fantastic. Staff so friendly and nothing too much trouble. A must visit!
Angela Hyde -
Rating:
Lovely food. Got plenty but we waited 40 minutes to be served, but it was worth waiting for. Would go again.
Louise -
Rating:
I will start on a positive, the food is good, that is why it has a 2/5 rating.

We visited the Cow and Calf as a family after visiting Grenoside crematorium. We walked in to find a nice spot to sit beside a window, ordered our drinks at the bar and food at the table. After a short period of time we noticed we were getting a lot of stares from older men stood at the bar and from a table in an adjoining room. We were obviously sat in their seats! I have never experienced this since going into a working man's club with my father in the 1970s! We were made to feel very uncomfortable.

I can not see why. If people want a particular table then RESERVE IT! This is such a shame because this is a beautiful public house and I have many fond memories of playing in the play area when I was a child (this is no longer there).
Rosemary Edwards -
Rating:
Excellent food, unbeatable service, it's a great place for a bite to eat and a drink with friends. Also a good, friendly atmosphere.
Gilly -
Rating:
The only redeeming factor about this pub is that the beer is cheap, as it is a Sam Smith's pub.

The staff are not pleasant at all, especially towards children, who are supposedly welcome until 7:00 in the evening. I personally saw a small family ostracised. Two small boys dropped some crisps on the floor, and their mother was down on her knees with the dustpan and brush cleaning up. They spilt a small lemonade, and their mother cleaned up.

Then an old patron friend of mine gave them some tissue and said if they cleaned the windows the landlord would give them something nice. What did they get? The landlady reprimanded them and said she would have to clean them now! The landlord then approached the family and publicly said that "this is not a creche" and that the children were out of control!

Nobody around me had complained, in fact we thought the children were just acting like children, not particularly naughty, just being kids. The landlord proceeded to approach the family a further two times to tell them how bad their kids were, until they left. I would be surprised if they ever returned after being treated so unfairly.
Sandy Shaw -
Rating:
We held a wake recently and the buffet was excellent. Hot and cold food including pizza, chicken, quiche, pork pie, sandwiches, cheese board, salad, sauces, cakes and pastries.

The quality of the food was excellent and plentiful, and the managers and bar staff provided an excellent service and good value at a very reasonable cost.

Would highly recommend it.
Nicky Farnsworth -
Rating:
Visited on Mother's Day for lunch. Gorgeous home-cooked food, fabulous hosts and staff. Would recommend a visit!
Tony Willows -
Rating:
Mixed review from an eater's opinion and then a drinkers opinion!

Visited in a small party of 4 for a meal on a Sunday lunch time. I could not praise the Sunday lunch enough - home-cooked, friendly staff on the bar and waitressing, the chef, who I now know is the landlady, is fantastic and clearly knows what she's doing.

The pub itself is a typical old-fashioned pub which is why I liked my first visit and came back with friends for a Saturday evening of drinks. Unfortunately my second experience here was not so good! I want to make it clear that I still got the same friendly service from the staff but the landlord is a drunk. His language, his attitude towards the staff I could hardly believe what I was seeing. Later in the night he told me and a friend, rather drunkenly I may add, how he is going to be area manager of the Samuel Smith's franchise in Yorkshire, and all I have to say is that times must be very hard for Humphrey Smith if this is true!
Lynn Smart -
Rating:
On our way to Grenoside Crematorium in a group of 4 from the Midlands. Called in for a meal and drinks and we were not disappointed. Very friendly welcome. Enormous portions.

I settled for spinach and salmon fishcakes with delicious home-made thick chips and peas, hubby had fish and chips... almost the size of a small whale!

Two others opted for chicken, chips and salad.

We couldn't leave without dessert... Three of us had sticky toffee pudding and one had rhubarb and apple pie. Absolutely delicious!

We all had 2 drinks each and were amazed with the bill. Less than £50. Will make a trip here in the future.
Peter Hulbert -
Rating:
The Cow & Calf is an excellent pub and has only ever been spoiled by the poor management that the brewery always appointed. A new landlord has taken the reins and overnight it's lifted the standard to a greater hight.

Today sees the start of food, which we all hope goes well. The pub is a converted farm and has lots of character, views to die for, and the beer garden is great for families.

I for one wish the Cow & Calf every success, as it's a great pub and shows how it can be done. Cheap beer and good settings does it for most. Quality food and fair price will put the icing on the cake and make this the number one pub in Grenoside. Just keep the rif raff & foul-mouthed out and you can't be beaten!
Grant -
Rating:
Lovely place. After reading a review further down I decided to write my own review of this place.

I wouldn't call myself a regular but I do visit the pub a few times a month with a small group of friends. I have always found the staff to be fantastic. The majority of the staff, in fact I'd say all except the landlord and landlady, are under 25 so fair enough you're not getting 5-star treatment but this is a village pub. They're not unprofessional, they're very polite - you only have to be in the pub for a short space of time to see that all the staff have a great relationship with regular customers.

I have never eaten here but again it's a village pub not a 5-star restaurant.

When you put together the service, the atmosphere and of course the price of a pint in this place it's fantastic!
Julie -
Rating:
I recently revisited the Cow And Calf after around 8 years and I was very impressed.

The pub is in a brilliant location, with a huge beer garden perfect for summer days and nights.

The first time I revisited was with a small party. We had a two course meal, which was nice, not the best menu in the world but I believe that all Samuel Smiths pubs have the same menu and choices. But the food was cooked well and of a reasonable price. It did take a while to be prepared but we were part of a large party and the pub itself was busy so all staff were busy.

My husband and I have since returned on a couple of Friday nights and have found it to be a lovely pub and atmosphere, plus it helps that the beers cheap! The staff are smart and very friendly. All in all this is a great family pub.
Harry Hoing -
Rating:
Very disappointing overall. The food used to be a lot better. The menu is a bit muddled.

I asked if every meal was available and was told it was, but the people in my party were told upon requesting different meals that certain meals were not available. Some ordered meals only to find out when they arrived they were different meals than what were on the menu.

Staff overall were not very professional, practically throwing drinks and change at you.

I don't think I will go again, or maybe once more just in case my recent visit was a one-off, but I don't really think so.
Lee Raynes -
Rating:
First time visiting the Cow And Calf, and what a great public house it is, set in spectacular scenery, with warm and welcoming staff.

The landlord was very pleasant and the beverages were of a high quality, plus the price was brilliant. A very clean and tidy pub indeed with a cosy country feel.

Would appeal to most clientele, and after just spending a few hours here I could see it was the heart of the Grenoside community.

Good work Cow And Calf, I look forward to revisiting the next time I'm walking around here.
Greaham -
Rating:
Great bar staff, landlord and landlady. Very welcoming. Food brilliant. Give it a go - you won't be disappointed.
Eaten at Cow And Calf? Write a review!
Anonymous reviews, reviews using nicknames or reviews sent from invalid email addresses will not be published.