La Taverna di Ferdinando Restaurant
329 Meadowhead
Greenhill
Sheffield
S8 7UP
Telephone: 0114 2745202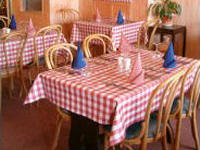 Reviews of La Taverna di Ferdinando Restaurant
Type(s) of Food Served
Italian
Description
La Taverna di Ferdinando is a ristorante and pizzeria where diners can expect to receive a warm friendly welcome, exceptional service and a relaxed non-smoking atmosphere where children are welcome, too.
Food Service Times
Tuesday - Sunday: 6PM - 11PM
Special Offers
Yes - special menus available for party bookings and larger table bookings.
Amenities & Facilities
Credit/debit cards accepted?



Bring Your Own Drinks?
Restrictions (e.g. wine only) and a corkage fee may apply. Please enquire for details.
Average starter price?
£4.00
Average main course price?
£12.00
Special diets catered for?
Marcel Dunka -
Rating:
I would like to take my time to explain how hard working the people are at this authentic Italian restaurant. It is a place of gorgeous food and good times. They put a smile on your face while you sat at the table and they never disappoint with any service. I will be coming here for any special events whenever I get the chance.

I would highly recommend a seafood linguine and a Peroni to wash it down with as, that it the ultimate Italian combination.

Well worth the time and money.
Julie Wright -
Rating:
Visited with our friends who often come to this restaurant, as they're from Sheffield. We're from Leicester and it certainly won't be the last time we come here. Food, ambience and staff were all excellent.

Can't wait to return. Worth the travel. A little authentic place of loveliness.

Thank you :)
Harry -
Rating:
I had a great 80th birthday there. Good food and great service. If I lived nearer I would go often.
Lloyd Sharman -
Rating:
Absolutely fantastic! Great staff, great service, fantastic food. All in all, 10 out of 10. I thanked all the staff and personally it's the best Italian I've had in Sheffield.
Lisa -
Rating:
Beautiful food. Best Italian in Sheffield. Lovely staff. Highly recommended.
Sharron -
Rating:
Franck and I had a wonderful night, the waiters were all on hand for our every need and very caring. The food was superb and just totally yummy. I love it here.
Gary Ward -
Rating:
We have visited this restaurant on numerous occasions and have yet to have either a bad meal or bad service. The food is exquisite, and may be the best in Sheffield. The service from Reuben and the staff is always friendly and jovial, nothing is too much trouble and the prices are very reasonable.
Loraine -
Rating:
Thank you for a lovely evening Saturday. Have been coming here for many years and have never been disappointed with the food or the service.

The food was freshly cooked and tasted beautiful. The service was very good, always made to feel welcome, nothing is too much trouble.

Hope to continue to eat there for many years to come. Best to book in advance for a table to avoid disappointment of there being no tables available.
Andrew and Anne Niven -
Rating:
After living in southern Italy for a few years it was a superb experience to visit this restaurant that not only cooks authentic southern Italian food but would strive to cook you what you ate in Italy. For us they cooked steak casa nostra and true pasta vongole when we booked again.

We will continue to eat there and support the true authenticity of this taverna.
Alice Jones -
Rating:
I can honestly say that this is possibly the worst restaurant in Sheffield.

The service was appalling, the staff were rude and we waited over an hour for our starters to arrive. When we complained about our wait the staff actually argued with us and told us it was because everything was cooked fresh.

When the main course arrived at the table they had forgotten one of our party's and they simply brushed it off as if it was OK... telling us it would be here soon. We complained that we didn't want to eat separately and because of this we decided not to eat the mains and leave.

The staff then got extremely aggressive - in fact the manager actually grabbed myself (a young girl) and pushed my dad, as we refused to pay for the mains that had finally arrived at the table, which we had not touched.

My advice would be to avoid this restaurant at all costs unless you like to be abused, have your food served to you cold and fancy a rubbish evening.
Ailling -
Rating:
Went just before Christmas. Booked a table a week before the intended date. On the day of going to the restaurant I checked that everything was OK. They had no recollection of my phone booking, however they said that it was OK to come along.

Arrived at the restaurant and explained the conversation I had earlier in the day. The looks on their faces showed they weren't expecting us, but a table was found and we were shown to it. 10 minutes had passed no one had been to the table either to give us a menu or ask if we wanted any drinks.

Eventually we managed to obtain some drink. 20 minutes later, after asking numerous times, a menu was obtained. A further 15 minutes had passed before anyone came to take our order.

This poor service carried out all evening. Whilst the food was good the service was very poor.

The manager did offer his apologies but became very abusive when he asked had I enjoyed myself. I said the food was good, however the service was poor. His response was like I have never ever encountered.

So I would suggest if you like to wait a very long time to be served and be subjected to verbal abuse this is the right place to go to. I would rather go somewhere that knows how to provide a dinning out experience and values the customer, unlike this restaurant and its owner.
Wendy Crookes -
Rating:
We were looking for a restaurant within walking distance and found Ferdinando's.

How lucky were we! The food was superb, the atmosphere was friendly and fun and the price was right. We will definitely become regulars to this great local eatery.
Emma Salla -
Rating:
We went here for a meal and would recommend. Food tasted lovely, very good service, was made to feel very welcome and have been since with the same fantastic food and good value.
Eaten at La Taverna di Ferdinando? Write a review!
Anonymous reviews, reviews using nicknames or reviews sent from invalid email addresses will not be published.