Beijing City Restaurant
208 Bocking Lane
Greenhill
Sheffield
S8 7BP
Telephone: 0114 2378288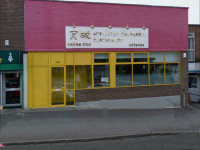 Reviews of Beijing City Restaurant
Type(s) of Food Served
Chinese
Description
Beijing City restaurant is located at 208 Bocking Lane in Greenhill.
Food Service Times
Sorry, we do not have the restaurant's opening times yet.
Special Offers
There are no special offers that we are aware of.
Amenities & Facilities
Credit/debit cards accepted?
Average main course price?
Special diets catered for?
Leigh Newbould -
Rating:
Absolutely dreadful overpriced takeaway tonight. Had to take a dish back because it was wrong. Tasteless overpriced rubbish.

Virtually empty restaurant shows how far this place has gone downhill since it first opened. Kept giving it the benefit of the doubt over the years.

Felt ripped off by the previous owner over a Sunday meal once and didn't use for a couple of years. After tonight's meal then I'm sorry never again!

Dan -
Rating:
Last 2 times we have ordered a takeaway and the food has been awful. Normally we have never had a problem but on the last 2 occasions the noodles were dry and the ribs were not nice at all, and hardly any beef in the chow mein. This is the last time I am going back and it is so over priced. Also the staff were rude. Very disappointed, needs closing down.
Katie -
Rating:
I have been to this restaurant lots of times over the past 3 years and always had a lovely meal. But the last 2 times the food has been disgusting, very dry with very little meat won't be visiting again. And the prices are expensive just because it is in Greenhill. Very poor and tasted of pure salt.
Martin Wilcock -
Rating:
We have been coming to this restaurant since 2007 and until last year both food and service were excellent. On our last visit in June 2018 our experience was extremely unsatisfactory. We decided to try again last night and we're pleased to note a significant improvement. The a la carte menu had returned, we are not fans of the all-you-can-eat for £10. The restaurant looked lovely, probably decorated to celebrate Chinese New Year. We will definitely be returning.
Tina -
Rating:
We have always had good food and good service here but it has changed hands and the service was terrible tonight.

We had the banquet and only ordered 5 dishes for 7 of us because they have always been big portions and you get charged if you order too much. We had to order more because the portions were much smaller than before, but we waited ages for food to come despite the restaurant only being a third full.

When we told waitress that we were not ordering more because it was slow she was not apologetic but said she was on her own and could not get round everyone, in an aggressive manner.

On paying at the bar we said we had had bad service but the lady did not seem interested.

Food not great, unfortunately we will not be returning.
Trevor -
Rating:
Have just read the reviews since change of ownership and I have to sadly agree with most of them.

My wife and I have been visiting this restaurant almost once a month since it opened. Even though we introduced ourselves to the new owner she never recognised us on our second visit under her stewardship. She spent all her time gossiping behind the bar with her staff and I had to leave my table to get attention, as my food went cold very quickly. The service was poor, as the staff were obviously untrained and dressed in street clothes.

We have always tried to support our only local restaurant, but as the new owners can't be bothered to look after their customers we have have reluctantly decided to take our trade elsewhere.
Colin -
Rating:
This used to be our favourite Chinese restaurant, with excellent food, and service to match, so although we had not been for 6 months we had no hesitation in going there for a family birthday. What a disappointment! A lot of trivial problems, which added up to their losing our business for the future.

To summarise...

- no prawn crackers offered, although all other tables had them

- a long delay after finishing the appetisers to get the table cleared. In the end I had to call someone over to do the clearing

- all plates were cold, so as soon as you had the food on your plate from the serving dishes, then it started to go cold. In fact on another table I saw a gentleman ask for his food to be microwaved, it had gone that cold

- despite the fact we had asked for chopsticks there were no bowls, just plates. Not easy to eat rice off flat plates. When I raised this I was told that people don't like bowls!

Not recommended other than as a takeaway.
Jess -
Rating:
We have always gone there for celebrations and it has always been excellent. But we went on 12th February 2017 and it was awful!

They charged a 9-year-old an adult's price, and she hardly ate anything anyway, as she doesn't eat Chinese! The amount of food she ate would have been cheaper to order her an actual meal not a buffet price! They asked to measure my 7-year-old daughter! Absolutely disgusting way to behave I think! What does it matter about the size of the children! My daughter could be tall for her age and eat next to nothing. I will not be visiting here again!

We spent over £120 and they still had to charge the children as adult prices because of their height. I think this is under new management, as I said we have always come here and never been treated like this!

Oh and they charged us ridiculous prices for glasses of pop, after we saw them fetch bottles of pop from the shop next door!
Charles Stafford -
Rating:
What a way to spend our family celebration! Little communication in English with staff led to incorrect meals. Plenty of attention, but for expensive drinks orders. Lots of noise and running around by staff's children. Why do they need a storage table next to ours?

All in all what a difference a change of ownership makes!
Diane Chapman -
Rating:
I was very disappointed the last time I went to Beijing city. I've been going regularly since the day it opened, and the food and the service was always excellent. But I'm afraid since Rachel and Peter have finished there I have nothing good to say about it. The food was cold and not up to the same standard. The service was slow and unfriendly. Rachel made everybody feel welcome. Not now. I will not be going back again unless I hear that Rachel and Peter are back.
Steve H -
Rating:
I have been going to this restaurant for about 6 years now. The food is always great, and the staff really helpful. I took my new partner for her first meal there, and she absolutely loved it. She especially liked the new waiter there, we think he was called Hans or Hanns. He was German anyway. He was so attentive and made us feel really welcome, and his English was excellent, which really helped, as some of the staff at the restaurant struggle.

Anyway, we will be back for more great food and service.
Mark Stanhope -
Rating:
My family & I have been visiting this local restaurant for many years & have always (apart from a couple of occasions) had a pleasurable experience.

It has just been taken over by new owners & the food is tasty, hot & plentiful.

However, the service is a absolute joke.

The waiters can hardly understand or speak a word of English.

We received the wrong food three times (there was only one other occupied table in the restaurant).

The waiters just stand & stare at you. The place was cold & lacked any kind of atmosphere.

I have never been in a more unorganised restaurant in my life & will not be visiting again.

As another review states, this really is Fawlty Towers!
Diane Chapman -
Rating:
I have been going to this restaurant for the past 11 years with a party of people from work and we absolutely love it.

The waiters are polite and friendly, the service is very good, and the food is the best in South Yorkshire. My husband and I have tried many other Cantonese restaurants and none are as good as this one.
Jo -
Rating:
Literally the best Chinese restaurant I've ever been to for quality and value for money.

Informal and relaxed atmosphere, decor is a little dated but who cares - the food is out of this world... rivalling Zing Vaa in Sheffield city centre.

The salt and pepper chicken is incredible - fabulous texture to the crispy coating - with a zingy flavour and ample seasoning. The curry sauce is fragrant and spicy, the hoisin duck tender and oh just go and try it, it's brilliant and I'm skint and want to go right now but it's still two weeks to pay day damnit.
Bob Hale -
Rating:
Visited Beijing City on 22/11/2013 whilst staying the weekend in Greenhill, we live in Dorset.

The staff were very friendly, the service first class and the food was excellent. Will definitely be making a return visit.
Karen Jones -
Rating:
I would heartily disagree with all comments by the previous reviewer. We have been regular diners and takeaway buyers at Beijing City since it opened and have never had food of low quality and always plenty of it. The service is usually friendly and efficient and we as a family wouldn't hesitate to highly recommend it.
Laura Grant -
Rating:
Fawlty Towers is better run than this restaurant. I went with ten of my friends to this restaurant to celebrate a friend's birthday. I found the place itself very unwelcoming with empty beer casks stored in the foyer. When we sat down we were presented with one small bowl of prawn crackers between all of us, we were given the menus either a la cart or a special "eat as much as you can in two hours", costing £10.90.

The first stumbling block came when we were informed that as a group we all had to pick from the same menu. The majority wanted the £10.90 menu, which was very limited, only meat dishes, no seafood. The starters were acceptable but they didn't take the orders for the main course 'till we had finished the starters.

As only 4 people wanted wine, a waiter was removing the extra wine classes and knocked over a glass of water, which landed in one of my friends' lap. The man didn't apologise but another waitress came over to clean up the table. We asked for the table cloth to be changed but the manager said it would be too much trouble and all she did was to place another table cloth over the wet area.

About 20 minutes later the main course started to arrive one or two dishes at a time. One person received the first part of their meal and had to wait about 15 minutes for the second part. By that time the first part was getting cold.

There were no plates or dishes offered and when one of us asked for them the waitress brought just one, and we had to ask her for dishes for everyone. There was only a fork to use to eat with. No chop sticks and no knives and spoons.

The meals themselves were very poor, consisting mostly of vegetables and very little meat. The majority of the party were very dissatisfied with their meals and left quite a lot of food on their plates.

I can honestly say this is one of the worst Chinese restaurants I have ever been to in Sheffield and I have eaten in most of them. The price of £10.90 for the amount of food we received was shocking, and its a place I highly recommend you stay away from.
Eaten at Beijing City? Write a review!
Anonymous reviews, reviews using nicknames or reviews sent from invalid email addresses will not be published.