Viva Tequila Restaurant
960 Gleadless Road
Gleadless
Sheffield
S12 2LL
Telephone: 0114 2654414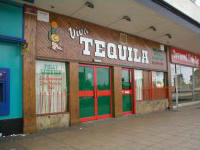 Reviews of Viva Tequila Restaurant
Type(s) of Food Served
Italian / Mexican
Description
Viva Tequila is a great restaurant. With its unique, lively atmosphere and fantastic service, this restaurant should not be missed.
Food Service Times
Sunday - Tuesday 6PM - 10PM

Wednesday - Thursday 6PM - 10:30PM

Friday - Saturday 6PM - 11PM
Special Offers
Yes - Mondays 2-for-1. You will also receive a free sombrero on your birthday.
Amenities & Facilities
Credit/debit cards accepted?



Bring Your Own Drinks?
Restrictions (e.g. wine only) and a corkage fee may apply. Please enquire for details.
Average starter price?
£4.00
Average main course price?
£10.00
Average dessert price?
£3.00
Special diets catered for?
Jen -
Rating:
Just had a meal at Viva Tequila and was absolutely gutted with the poor standard of food.

Both our starters had been microwaved so much they were chewy, and the steaks were the cheapest we've ever had. The frozen oven chips and microwaved veg didn't complement the steak, either.

The food here used to be amazing and is now just like pub grub, what has happened? They claim it's still the same chef of 15 years but I find that so hard to believe.

On a positive note the staff were lovely and tried to offer discounts, but we didn't want that and so paid in full and left with no intention to return.

Could have had the same meal at quarter the price at The Fairways, such a shame.
Julie Sedgwick -
Rating:
Went on a Saturday evening for my 63rd birthday, just four of us. As soon as we entered the atmosphere was great, food was great, music was great. We really enjoyed it. It was our first visit but won't be our last. A good mix of ages so I didn't feel out of it.

Thanks Viva Tequila a birthday to remember.
Kath Greenacre -
Rating:
This restaurant just gets better. Had a fab New Year, soon to book for again.
Sarah -
Rating:
Be warned, 10 percent service charge added.

Party of 45 celebrating a birthday. Food average, staff rude, manager rude. Our bill for our table came to £160.

We got together £165, a great tip. No, they wanted £176. I went to pay the bill and said to the bar staff that it's all there with extra, but not the £17.00 that they wanted. With that I was met by the manager who became aggressive and began to push against me. I think this was to try intimidate me, NOT.

I explained that a tip is just that. If the service justified a £17.00 tip then gladly give it but the £5.00 was more than fair for the rubbish service. With that he was refusing payment and threatened to call the police I said call them you are refusing payment then he decided that as I was not the party organiser he would not deal with me. Fine, I left.

I've since found out she paid. Pity I didn't organise it, as he would have just got the £160 that the bill was.

Never again. I had to put at least one star or it wouldn't let me leave this review.
Kay Thorpe -
Rating:
Went on a Sunday night for my granddaughter's 21st birthday. It was a party of 11 and a very special occasion. The staff were miserable and there was no atmosphere.

The food was good but the total bill was very expensive. We took a birthday cake but were told we could not eat it on the premises.

Would not recommend it and will not go there again. It used to be so much better with a party atmosphere. Been many times in the past and spent millennium there. Very disappointed.
Joanne Brown -
Rating:
The food here is entirely average, and although the staff were friendly, we were sat by the toilets, although the restaurant was nearly empty, and we felt very rushed.

We were on a night out and yet were only in the restaurant for 45 minutes maximum. We shall never go back.
Emma -
I go to Viva Tequila quite often, and the food is fantastic! Also, if you go on a Sunday or Monday night it's buy one get one free on all main courses! It's the best Italian food I have ever had. Plenty of vegetarian options available too, and friendly waiters! It's a great night out on a Friday - after all the meals they tidy away the chairs and have a little party! Very cheap!
Debbie -
Excellent restaurant - perfect for group nights out! Great food, great music, friendly staff, highly recommended. A+.
Claire -
What an excellent restaurant. We have been as a couple and as part of a party, and each time the atmosphere is great, staff wonderful and friendly, and the food is fantastic. We can't get enough of the place!
Eaten at Viva Tequila? Write a review!
Anonymous reviews, reviews using nicknames or reviews sent from invalid email addresses will not be published.