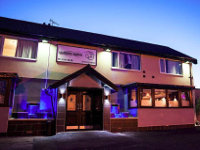 Reviews of Cutlers Spice Restaurant
Type(s) of Food Served
Bangladeshi / Indian
Description
A modern, luxurious setting welcomes visitors to Cutlers Spice. With a large car park to the front of the building, wheelchair access and a friendly, family atmosphere, you are sure to enjoy your stay and return time and time again. If you don't want to dine in, that's not a problem. We also offer a full takeaway service.
Food Service Times
12PM - 2:30PM and 5:30PM - 12AM
Special Offers
There are no special offers that we are aware of.
Amenities & Facilities
Credit/debit cards accepted?



Average starter price?
£3.00
Average main course price?
£6.50
Average dessert price?
£3.00
Special diets catered for?
Wheat/gluten-free
Child facilities?
High chairs
Mujeeba Ashraf -
Rating:
Tasteless and pathetic food. Papadum was cold, no salt in curry, grill mix has a bland taste.

Waiting time was annoying.

One of the worst experience of its own.
Jess -
Rating:
Worst meal ever! Bad management. Rude. Over £300 spent! Never again.
Brendon Lee -
Rating:
Ordered a takeout today and the food was amazing! The family loved it! Highly recommend! Staff are polite!
D Driver -
Rating:
Absolutely had a great meal, perfect. Had a while to wait but the meal was worth waiting for.
Harriet -
Rating:
Absolutely top notch. Considerably better than any of the others in the area, service is fantastic, as is the food. Took a family member there who "hates" Indian food and they have come away a convert. Clean, friendly, superb waiters/waitress.
Mr Scott -
Rating:
The best food by far. It's the benchmark that others are judged by.
Nicholas -
Rating:
I was very disappointed with the service in this restaurant. I went with friends for a meal and found that the waiting staff rushed us into ordering food. It was apparent that we were being rushed out of the restaurant for quick turnover.

Like the service, the food was also rushed. I went to the toilet, which was dirty and stank of stale urine, and on my return my food had been taken away without my saying so! Fuming! When I asked the waiter, "what have you done with my food? I wanted to have what I'd not eaten put in a doggy bag", he said didn't you ask for a doggy bag. I replied "I was not given chance, I was in the lavatory and you just took it". He just shrugged his shoulders and walked away to the next table to take their order instead! Very annoyed.

I would suggest to anyone thinking of eating here for the first time, not to bother! Don't believe all of the hype, either. The food is below restaurant quality and rushed, just like the service. In my opinion, if the toilets are dirty then so is the kitchen. Disgraceful experience. I would not eat there again, even if it was free, because its dirty, grimy and over-hyped by fake reviews on Trip Advisor. Be warned, curry lovers.
Jai Shree -
Rating:
Well I have never been in such kind of place. Very lazy staff, they don't listen to what the customer needs. They don't ask at all if the food is alright or not. The food was all bland, no spices at all. Ordered something and food comes up with something else. They didn't even say sorry for their mistake. Restaurant was freezing, my god. Toilets were freezing as well. Moreover I have never seen staff like in that restaurant.
Brett Sinclair -
Rating:
Rude manager.

On making a complaint of a dish not being as described, the manager was ignorant and rude. Not interested in sorting the problem.

Overpriced food and every dish tastes the same. Obviously made from a bought in base sauce from a cash and carry.

Sadly the spin from the waiter saying "my little old grandma lovingly prepared your meal tonight" was pure lies.

No smell of spices cooking round the back.

These guys are microwave technicians not bona fide chefs.
S Marshall -
Rating:
Excellent night tonight for my birthday and son's father-in-law's birthday.

I am lactose intolerant and the chef made sure I was happy with a meal he recommended. He came out and again checked I was happy. All the staff took time to make our evening special.

We have been to Cutlers Spice before and had excellent service every time. Great food, atmosphere and service.

Looking forward to next time. Thank you Cutlers Spice.
Chris -
Rating:
Have been going there over two years. Always polite and friendly. Food always of generous portions and served to the highest quality. Reading the bad reviews tells me they are not genuine comments.
Lisa -
Rating:
I got the date wrong for a booking, but they were more than happy to accommodate us.

The food is very tasty and very good portions and not overpriced.

Staff very friendly and happy to help.

Would definitely visit again.
Karl Clayton -
Rating:
Outstanding interior followed by first class service, completed with exquisite food. Staff couldn't do enough for us. Brilliant night.
Claire Heald -
Rating:
Eating out for me is some what stressful, I have coeliac disease and find the places I go have no coeliac meals to offer. Cutlers I found to be very helpful in supporting me with my choices, even though I had to take my own nann bread they warmed it through. The manager even came over to discuss my condition and where he could purchase the breads.

I found the food to be very good, the portion size was just right, the place was well lit and the service was OK for the size of our group.

I am eating there again on the 15th December with a party of 22 an cannot wait.
James Forrest -
Rating:
I am loathe to write a bad review. In fact this is the first I have ever written and it is something I do not take lightly, I can assure you.

In my experience over the last 40 years of eating out, if you have a complaint the management at least try and come to some agreement or at least make some kind of conciliatory offer. However, at this establishment when the food is served cold and you ask to see the manager, who turns up 20 minutes later and tells you he has been too busy (when there are only 2 other tables occupied on a Saturday night I may add) they have a "sod off" kind of attitude.

I will never ever eat at this place again, there are 3 or 4 other Indian restaurants at Gleadless where the surroundings may not be so plush but the management far more accommodating and the food not only cheaper but better.

This was my first and last visit to this eating hole (restaurant does not really describe the place). I have often looked at the review comments with scepticism, as there are always bad reviews and I used to think that some people wanted perfection and were over critical but I am totally disgusted with the level of service and the response of the so-called management. Eat here at your peril.
Sarah Wildsmith -
Rating:
Great food and lovely, friendly staff.
Pat Carford -
Rating:
Had my brother's 60th birthday party last night and it was brilliant. The food was excellent and the service was as well. Can't fault it.
Paul Andrews -
Rating:
Very relaxing and comfortable, family orientated, lovely friendly staff. Great food. Highly recommended. Must visit!
Sarah Goodinson -
Rating:
Great place and people and most of all really great food and lots of choice.
Keely Cambell -
Rating:
Great restaurant, great food, great staff. Well worth a visit.
Eaten at Cutlers Spice? Write a review!
Anonymous reviews, reviews using nicknames or reviews sent from invalid email addresses will not be published.