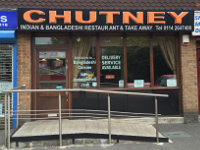 Reviews of Chutney Restaurant
Type(s) of Food Served
Bangladeshi / Indian
Description
At Chutney, savour the flavours of our authentic and traditional recipes from a few of the many culinary regions of Bangladesh, using only the purest natural herbs and with own Deshi Spice in our aromatic combinations.
Food Service Times
5:30PM - 12AM
Special Offers
There are no special offers that we are aware of.
Amenities & Facilities
Credit/debit cards accepted?



Average main course price?
Special diets catered for?
Catherine Holmes -
Rating:
Probably the worst Indian takeaway I have ever had! Everything was lukewarm and bland. The onion bhaji looked and tasted about a week old. I would avoid, there are better Indian takeaways in S12. Will never use again.
Karen Shaw -
Rating:
My 1 star relates to the delivery and not the food.

I ordered a takeaway for delivery and was informed it would 45 to 60 minutes. After an hour and forty minutes with no delivery, I called the restaurant and it appeared that they had misplaced my order. They didn't actually say so, but they seemed bewildered! I was then informed my order would be next out so will be with me within 10 to 15 minutes. It took another 30 minutes.

The food came hot, which indicates it had only just been cooked as it was now 2 hours since I placed my order. The food came and it was enjoyable.
Sue -
Rating:
I have been ordering from Chutneys for some time now. I always have the same meal every time because I have always enjoyed it. This meal used to cost me somewhere between £13 - £14. The last time I had a takeaway was when the lockdown first started.

I rang on Saturday 6th June to order a delivery and ordered exactly the same. The price had gone up to just under £19.00. I was told that they had a new menu and their suppliers had increased their prices.

I'm sorry but in my opinion they have excessively increased their prices due to the Coronavirus like a lot of shops and supermarkets have. I will not be ordering from them again. Their loss.
Denise Fox -
Rating:
Three times I have ordered food and had it delivered from Chutney. The food has always been excellent and I enjoyed it so much. Bhajis - wow! I can highly recommend this place. Thank you Chutneys.
Susan Stace -
Rating:
Great food, great & friendly service. Atmosphere is good, staff attend when they need to but are always there on hand. Just love the place, love it that much I'm there most Fridays with hubby. It's a five-star plus for us.
Anne Moulds -
Rating:
Not been for a number of years. The place is dated and cramped.

One meal we ordered was chicken saag. So sweet it was awful. Nothing like saag we have had before. Had a hair in the food so sent it back. Grandson ordered a dessert with a truffle on top. The truffle was missing. It was replaced.

Two young waiters were very obliging but very uncertain. The manager, in my opinion, was ordering them about. It was quite uncomfortable.

We got a reduction on the bill and the manager practically threw the change on the table. Never again!
Tanya Jeffcoate -
Rating:
I have been here many times and always satisfied. I like to try different meals. Last night I choose king prawn tikka saggy, only when it came it wasn't prawns but crayfish or banana prawn. I think when I ordered maybe you should have explained so that I could have had the option weather or not to order, as I think anything other than actual prawns are tasteless and I didn't really enjoy my meal, although their garlic naan is to die for.
Callum -
Rating:
Ordered a take out and waited extremely long time while I was offered a job to work there. Should have said yes so I could have made my own food and left.

Manager has 0 people skills and loves himself and the sound of his own voice. Honestly surprised the place is still open. Yes the food is nice but that alone is not enough for me to go back again when there's plenty of other places to order from.
Paul -
Rating:
Ordered takeaway from here last Saturday. I was told it would be a 1-hour wait on delivery. My food eventually came after 2-and-a-half hours and endless calls to find out where my order was.

To top it off the driver totally short-changed me, turned his back counting it out gave me my change and hurried off by the time I realised he'd gone. Beware of the driver in the Ford Focus.

To be fair the food was good but I've been totally put off by the whole experience. Will not be ordering again.
K Bernard -
Rating:
Shocking! Ordered a delivery and saw a delivery driver sat outside my home on his mobile phone. Phoned the restaurant to see if it was their driver and they told me that he was on his way. 10 minutes later the driver got out the car and knocked on my door. 15 minutes in total the driver had been sat outside my home with my food going cold and the restaurant justified it by telling me that they told me the food would be "up" to an hour! Jokers!

They offered to knock me £2.80 off my bill... gobsmacked! Either that or they told me to tell the driver to take my food back. Whoever orders garlic chicken curry or chicken tikka korma I hope you enjoy my food!

Never order from here again!
Susan Stace -
Rating:
Love chutney. Haven't had a bad meal there and I have been going most Fridays with my husband for the last 3 years. The staff are friendly and lovely.
Louise -
Rating:
Food was later than originally stated. Not very warm and quite tasteless, unfortunately.
Claire -
Rating:
Naan breads are disgusting. Had hairs in my food and the owner is grim, he loves himself and obviously sees something in the mirror that no one else does. Sits at tables with customers while they eat. Who wants that? Never again.
Greg -
Rating:
I was really looking forward to a meal last night, catching up with some old friends that I've not seen for a while. The food is good, though I have to say my meal was on the lukewarm side, but I didn't want to complain for the reason being I found the staff member who was taking the orders very rude to me and there was no need for that. I'll not be going again. I would have understood if I was being an awkward customer. If you want to keep customers you need to be polite.
Alan Bagshaw -
Rating:
Very good food, service and atmosphere and reasonably priced. This is our second visit to Chutney and I can't fault it at all. We will go back without any hesitation. The staff are very friendly and very efficient.
Rodney Stuart -
Rating:
Had a takeaway from Chutney last weekend, it was supposed to be butter chicken. All it was is tandoori chicken, they did not even make a butter sauce. All they did was pour watered-down cream over the chicken. When the red tandoori seeped up through the cream it looked and tasted disgusting. The naan breads were obviously warmed up from the day before, as they were like cardboard.

I have had curries from numerous places and have never had to complain. When I called them to tell them how bad it was they were not interested. £20 wasted but I'll never consider using them again, as there are several restaurants in the area and they are all better.
Karl Mellett -
Rating:
Please keep away this is the worse curry house ever. It taken 1 hour 40 minutes to arrive.

I ordered a madras - 6 chicken bits, no flavour and not very spicy. A child could have eaten it. The Peshwari naan was cremated.

I would give this place no stars but you have to give it at least 1.
Petra Walker -
Rating:
Ordered takeaway. When it finally arrived it was barely lukewarm. Phoned to complain but they showed no interest or concern. Will not be ordering ever again.
Robbie Revell -
Rating:
Very disappointed with the meal. After waiting for a long period of time for my starter, my main course arrived first. It was cold, too!

Won't be going back - not organised enough. Need of more staff, stick to Rubeez.
Camilla -
Rating:
I love Chutney. Their curries are great and you can always have a great Indian takeaway with them!

45 minutes wait for takeaway but worth it!
Pete M -
Rating:
The best tasting curries I've ever had, coriander and garlic naan is to die for! Great surroundings and next to the Red Lion pub with very cheap beer.

I can't speak highly enough of this place. Been about 30 times and never a bad meal or experience.
Jane Barnes -
Rating:
Very friendly, extremely good service and the most excellent food. Cannot recommend this restaurant highly enough. Thank you for some lovely evenings.
Lisa Caley -
Rating:
Visited Chutney for the first time on Saturday.

Wow - a lovely restaurant, excellent service, but most of all the food is out of this world. Best I've ever had.

Lovers of Indian food must definitely eat here. Awesome!
John Tashock -
Rating:
I have been a Chutney customer since they opened last year. I regularly visit them and use their free delivery option all the time. Delivery is prompt and efficient. The food is superb and cooked with great care. The restaurant is very busy, I would advise anyone to book in advance to avoid disappointment.

I am really disappointed and shocked to see Kirsty's recent comment, the restaurant is usually extremely busy and all the staff work their hardest to provide the best customer experience, the waiters had the courtesy to tell us that our food would be delayed at times because of the massive amount of orders and people in the restaurant at the time. This is usually a rarity because the restaurant's really popular with locals.

The normal delivery time is between 30-45 minutes, but on occasion can go up to an hour. I cannot recommend the restaurant enough and I'm a regular customer.

Overall the food is exquisite, the restaurant has a good atmosphere and I will be sure to remain a customer and this will remain to be my favourite restaurant in Sheffield.
Elliot Ashton -
Rating:
When you go to Chutney the food is always great and the staff are always friendly. I have never had a bad meal and have had several functions there and have always found the staff very accommodating.
Kirsty Barber -
Rating:
The food from here is always fantastic as long as you don't mind a 2-hour wait for a takeaway, after two phones calls to find out where my meal was, on one of these calls the phone was picked up and put straight down on me (very professional).

If you visit the restaurant you can expect to wait 40 minutes plus between courses and witness staff running around like headless chickens. BUT your food will always be very nice.

It is the worst-organised restaurant I have ever been to and feel that this will lose Chutney customers. I myself will not be returning and I know of several others that feel the same.

Please get more staff and improve your organisation so that I can return.
Bruno Locatelli -
Rating:
I normally use Rubeez but thought I would try Chutney instead. I find them both equally as good as each other so I just have one the first week the other the second week. Get the best of both worlds!
Eaten at Chutney? Write a review!
Anonymous reviews, reviews using nicknames or reviews sent from invalid email addresses will not be published.