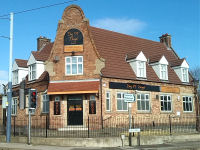 Reviews of Bay of Bengal Restaurant
Type(s) of Food Served
Indian / Bengali
Description
The former Old Harrow public house, now a tastefully decorated 80-seater restaurant with vast choice of Asian cuisine.
Food Service Times
Sunday - Thursday: 5PM - 11PM
Fridays & Saturdays: 5PM - 12AM
Special Offers
There are no special offers that we are aware of.
Amenities & Facilities
Credit/debit cards accepted?
Average main course price?
Special diets catered for?
Michele Hughes -
Rating:
X-mas Day delivery - best takeaway ever! Food hot, superb, on time, free wine. Can't wait for next one. Lush!
Michele Hughes -
Rating:
Had Xmas dinner takeaway. Food hot, arrived on time, beautifully cooked. Free wine and chocolates. Everyone loved it.
T Turner -
Rating:
Very good indeed and nice lager. Always had food of highest quality from there. Try it and see.
Erica Nicol -
Rating:
Ordered food for delivery from this restaurant. Extremely disappointing, especially with chicken masala. Never in my life have I seen such inedible chicken masala, which was pink, too sweet, with hardly any chicken init.

I've spent £30 for garbage food. Please don't order from this place for delivery you will truly be disappointed for quality of food that you get.

0 stars for me.
Lorna Barnett -
Rating:
Very disappointed. Never had a lamb pasanda that was a salmon coloured puree of no substance and extremely sweet.

Certainly won't be ordering takeaway again from here.
John -
Rating:
Ordered 4 meals, with 3 of them ending up in the bin. The meals came in tacky plastic containers and all were cold. The food was bland and nothing like what was expected. There's a lot better restaurants out there.
Graham -
Rating:
Love going to the Bay of Bengal. Brilliant staff and the food is good.
Kelly Hawley -
Rating:
My friend and I arrived at the restaurant and were greeted by very smartly dressed and polite waiters. We were shown to our table promptly, too, and our drinks order was taken. The table was set simply but charmingly and had beautifully-presented napkins.

For a Tuesday night the restaurant seemed quite busy. The waiter informed us that it was their "All You Can Eat" buffet night. For £9.99 you could order your dishes from the menu and it worked like this; for two people sharing you could start off by ordering three starters. Once you had finished those, you could then order three more starters or move on to your mains. The mains worked the same way, too. The mains consisted of a main dish e.g. a curry dish, a naan bread and a rice or chips. We of course chose this option.

Whilst we were choosing our dishes, the waiter brought us over a stack of freshly made poppadoms, served on a traditional looking serving platter. This was accompanied by an equally attractive pickle tray, each individual "pickle" tasting fresh and appetizing.

Now I don't know about you, but for me, the test of a good Indian restaurant comes down to one thing and one thing only... how good their onion bhajis are. I can honestly say that this restaurant can definitely boast a perfect onion bhaji, each bhaji perfectly sized, perfect texture and perfectly crispy.

As starters we also ordered the Mirchey Chicken (which had a good kick of green chillies but may be too hot for some), the Prawn Puree (a very sweet tasting dish that looked spectacular on the dinner table - I will not say why) and the Tandoori King Prawn. Now, if you order any prawn dish from the buffet menu, you are charged an extra £2 per prawn dish. I would have to say that as a starter, you may not be happy paying an extra £2 for this dish. Although the three prawns were beautifully cooked and partly de-shelled, the actual taste was quite bland. On the whole though, the starters were all freshly-cooked and the onion bhajis made the starters for me.

For our mains, we ordered the Lamb Gucchi (medium spiced, mushrooms, peppers, onions and tomato), the Akbari Sizzler Chicken (tikka meat, onion, mushroom and garlic), Ghee rice (boiled white rice in Indian butter, nuts and sultanas) and a Shahi Naan (keema, garlic, onion, coriander and cheese).

With both meat dishes, you could tell that the meat used was good quality. There was not a taste of fat anywhere and each piece of meat was as succulent as the last, the lamb especially melting in the mouth.

My friend found the Ghee rice to be too rich. I could see her point but I think that the rice perfectly complemented the Akbari Sizzler Chicken, as this was not a curry dish. The rice with the Lamb Gucchi, however, could be a little too much. Let me clarify though, each dish was impeccably cooked and piping hot when served. I would also suggest for you "tikka masala lovers" out there to certainly try the Lamb Gucchi.

We finished our meal with Kulfi, (a traditional Indian sub-continent ice-cream) and tried both a mango and pistachio flavour. For those who have never tried Kulfi before, I would highly recommend it due to its rich flavour and creamy taste.

Through the meal, the waiters were extremely polite, professional and efficient. The restaurant was spacious and airy but still felt very comfortable and relaxed, albeit a little on the quiet side.

If you like all-you-can-eat-style dining, I would definitely recommend this restaurant and I know it would definitely exceed the expectation when comparing it to the usual partially warm food that you can usually expect from a buffet-style restaurant.

The food from this restaurant speaks for itself and I would suggest that you try it out.
Claire Stagg -
Rating:
I have been to this restaurant twice. I found the whole experience without fault.

The premises are clean and tidy. The staff are very friendly and professional. The food was lovely with a great menu choice. The price is extremely reasonable.

I shall be ordering my New Year's Eve takeaway this year. I shall definitely return in the new year.
Michael Lindley -
Rating:
Great food at very reasonable prices. Exceptionally friendly and helpful staff.
Sharon Proverbs -
Rating:
We're a regular visitor to the restaurant because the service is always friendly & the food excellent. However, today was even better.

Its my birthday & we both ordered chicken tikka masala. After the waiter explained the 2 different types we decided on Asian recipe. Absolutely gorgeous. Creamy, spicy & tender chunks of chicken.

After coffee the waiter brought me an ice cream dessert complete with a candle. Ahhh. Perfect end to a perfect meal.

Thanks.
Ryu -
Rating:
Really nice and helpful staff that even made a custom dish to my requirements.

Will definitely be returning again for a meal & will try the take-away service.
Janey -
Rating:
Very good food and service. Went last Wednesday night and was busy. Staff were attentive and efficient.

Would go again.
Mike and Zara -
Rating:
First visit but would not be our last. Very welcoming, excellent service and nice food. Looking forward to trying the Sunday carvery and buffet night on Tuesday.
Sandra and Stuart Hill -
Rating:
Thursday 8th November 2012 decided to try the Muroogh Mas-sallam Indian feast. It was well worth the notice required, as the meal was beyond our wildest expectations. The chicken fell off the bone and yet was still moist, the quantity and spicy flavours were unbelievable. We intend to try the duckling and the lamb in due course. Best Indian meal we have ever had.
Adele -
Rating:
Excellent food, friendly staff, great atmosphere.I will definitely be visiting again and would highly recommend this restaurant to anyone.
Mark -
Rating:
I had a private party for my birthday and I have to say the food and service was excellent. Great value for money and will definitely be returning.
Nick -
Rating:
We have been here quite a few times and the service is amazing. The food is brilliant and we have never been rushed. We have even taken the kids before and they were great with them, offering kids meals and being very good with them. We've also been alone for a romantic meal and they made it very special. Overall a fab place.
Elaine Loveday -
Rating:
Been a customer of this restaurant since it opened last year. Fantastic food, great customer service, lovely decor and quite often a complementary glass of bubbly.

Would recommend to anyone wanting a great Indian meal.
Stuart -
Rating:
Lovely Mother's Day Sunday carvery, the lamb was to die for. A real change from the British roast.

My children were catered for in respect of a small portion of chips and ice cream for afterwards.

Staff very friendly and above all very clean premises, as were the toilets.

Would recommend a visit by anyone in Sheffield.
Rob Holmes -
Rating:
I'm stereotypical Friday night takeaway curry man! The tilapia biran is a fabulous dish and if you haven't tried a fish dish, you are missing out! This is probably the best fish there is and Bay of Bengal do this one extremely well!

Fairly unique to Sheffield too, so give it a go and you won't look back. Great food and several of our friends are now going regularly after our recommendation.
Andrew Burton -
Rating:
Just been tonight for first time. Didn't book but would book to avoid disappointment next time, as at 7 o'clock every table was full and the relays were quick and filled back up again.

They squeezed us in and although 5 people round a table of four wouldn't be ideal, the food more than made up for it.

5 people 3 courses each plus drinks cost £95 and we all ordered individual meals. Would consider sharing next time! They were more than obliging to box the food we didn't eat and allow us to take it home.

All the staff were accommodating and very polite without being patronising.

Will definitely be going back at some point and hope our next visit is as good as this one! Enjoy.
Elsa MacPherson -
Rating:
Perfect as usual and lovely, friendly, helpful staff who carried my take away to the car for me.
Audrey Foster -
Rating:
Looking forward to our special New Years Eve meal at Bay of Bengal.

Been 3 times now, this will be our 4th. Always friendly staff, never overbearing. Food always top class, plentiful dishes, full of flavour no matter what we eat (and we have a lot of Indian meals).

Happy 2012 Bay of Bengal!
E Lawrence -
Rating:
Ordered take away food. Was superb, staff very helpful and friendly. Will be going again - soon I hope!
Des Nos -
Rating:
Just been for the first time and will go again. The food was excellent and the 660ml bottles of ice cold Cobra are fantastic, and cheap if you ask me.
Martin Kemp -
Rating:
Felt that the standard of food that was being served to me was not as good as the previous visit. I had the same dish, muroogh jalfrezi, and this time it was runny and not as spicy. Will try again though.
Jayne Greatbatch -
Rating:
Just perfect - the food was first class, the staff were very friendly and attentive, the whole experience was excellent. Would definitely recommend... 10/10
J Goodwin -
Rating:
Any refurb is always cool and this was no different. Shame about the food - clearly making money is the main objective here.

Never mind - plenty more restaurants!
Phil Samson -
Rating:
What a load of old hype!. Was expecting 5* but got mediocre food. Fair enough everything is "new" and the service is fine but it is food that is my priority.

Bit gutted that my favourite tipple of Kingfisher was £3.75 a pint!

Must try harder.
Sarah Slimm -
Rating:
Was not impressed this evening when I tried to book a table for tomorrow evening. Was told by the member of staff answering the phone the I could have table at six o'clock but it would have to be vacated by 8 o'clock because they were busy.

Have been in the restaurant business for 28 years and consider this to be bad customer relations. Loved the restaurant on a previous visit but will be considering elsewhere for now!
Craig Simnett -
Rating:
Been again! It looks like all the troubles that were evident have evaporated!

The service has improved dramatically and is now bordering on exceptional. The food that is served is amazing. We've been 3 times now and had different dishes each time (we are slowly working our way through the menu) and all have been next to perfection!

I have given this restaurant 5 stars now and it deserves each one!
Craig Simnett -
Rating:
The food is exceptional. The service is improving. We have been twice now, with different people in our party and we have had different dishes and each time they have been superb. The food was tasty and spiced to perfection, each dish tasting and looking very different.

They do takeaways, too, and we thoroughly expect to be trying those out. The restaurant has only been open for two weeks and the teething troubles evident on the first visit appear to have been ironed out.

I recommend this restaurant!
Louise Delaney -
Rating:
First night I was just being nosey.

It was fantastic - tasty and plenty of food at your table. Clean and the staff very friendly. Thank you.
Eaten at Bay of Bengal? Write a review!
Anonymous reviews, reviews using nicknames or reviews sent from invalid email addresses will not be published.