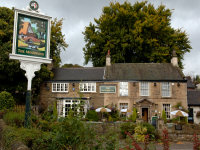 Reviews of Mossbrook Inn Restaurant
Type(s) of Food Served
English / Modern British / Pub Restaurant
Description
Set in the wonderful location of Eckington, The Mossbrook Inn is a unique country pub and restaurant that blends rural charm with modern flair. We invite you to dine out in stylish yet welcoming surroundings and sample our seasonal menus, perfectly complimented by an array of cask conditioned ales and fine wines.
Food Service Times
Sorry, we do not have the restaurant's opening times yet.
Special Offers
There are no special offers that we are aware of.
Amenities & Facilities
Credit/debit cards accepted?



Average main course price?
Special diets catered for?
Ann Platts -
Rating:
Visited today for Sunday lunch, first treat since COVID-19 lockdown. The food as always was brilliant, cooked to perfection and served with a smile from Ellen.

From entering we were greeted and shown to our table, drinks order taken, and menus left for us. Under these strange circumstances all was well-planned, tables well spaced making you feel very safe.

Can't thank everyone enough for making our anniversary lunch a happy occasion.
Mrs Mellows -
Rating:
First time we've been for a lot of years. Had a very good night.

The pub was lovely, the food was good, and Nicole who served us was a lovely lady - very pleasant and very obliging, making our evening really great. Thank you, Nicole.
Taylor -
Rating:
I can't get over the disappointment our party of 8 had with our Christmas meal experience. The food was good but the service was appalling. The atmosphere was non existent, the people who serviced us never had a smile.

I am so disappointed, as we come here a lot for a meal and we usually enjoy the atmosphere, but I feel gutted after spending almost £70 per person. I thought it was going to be a nice Christmas atmosphere. You wouldn't even know it was Christmas.

We had over an hour wait for the starter and a long wait for the next course, and I think they forgot our pudding until we reminded them. I'm not one for complaining but it was really shocking service.
Jane Wood -
Rating:
Second visit. Fabulous food, very friendly staff. Will be back.
Carolynn Booth -
Rating:
We come in the Mossbrook Inn at least twice a week. We always have our Christmas dinner here. My partner says it is the best place ever. I have booked to go for his birthday Friday for a surprise. David, his wife, and all the staff are amazing. Such a lovely place to be.
Carole -
Rating:
We called into the Mossbrook just for a quick drink Saturday afternoon. Alistair served us our drinks and as always he is very friendly. After all the years we have been going there we find him to be a brilliant guy and he is a great asset to your company.
Janice Simpson -
Rating:
We came and had Sunday dinner about two months ago it was fantastic. We came today with 4 other people. Sorry to say we were all very, very disappointed. We got 2 slices of leathery beef and the trio of meat. Each portion was no bigger then a credit card. Never again.
Vic -
Rating:
Quite simply the best food I have ever had at a pub, and it compares more than favourably with any top restaurant.

Staff were great, especially Ellen.
Bethany -
Rating:
What happened to this place?

It used to be a lovely, friendly little pub with good food. We used to dine here regularly.

The meal we were served last night was terrible for the prices they charge, you would at least expect it to be fresh. They should give Gordon Ramsey a call.

As for the male bar staff that was serving last night, all I can suggest is take a dog biscuit with you in case he growls.
C Hutchinson -
Rating:
Living just up the road, the Mossbrook has been the first choice for a number of occasions. Sadly, this time I came away full of disappointment. The starters of squid for the wife and lobster and prawn pot for me were very tasty and a good size for a starter. Here we go I thought. Looking forward to another great meal.

The main course however, well, where do I start?

We both ordered the trio roast expecting a nice combination of chicken, beef and pork. The most impressive thing on the plate was the Yorkshire pudding. The pork was about the size and thickness of my bank card, the beef was marginally thicker but looked as if it had sat under a hot light for some time and was as dry as that light. The chicken? Wow! Poor thing was so anaemic it looked like it should have had a blood transfusion before it was killed. Shown the oven rather than cooked in it! Also, it seems as if you have leg or lump it out of the box of legs that were delivered yesterday. And the wife doesn't like leg.

There are vegetables and "roast" potatoes as part of it but if you don't like a particular veg (like red cabbage in my case) and ask for it without then be prepared for no veg at all, as its all cooked and mixed in one pot to give you a teaspoon full in one go. And the potatoes looked more boiled and blow torched than roasted. Certainly not worth the £15 expected.

We were still hungry so decided on a dessert of sticky toffee pudding. Although small it was very tasty. Really disappointed to be writing this about a favourite but seems as if after the refurb a couple of years ago the Mossbrook has tried to become a high class gastro pub with prices to match but without the knowledge and experience to manage it.
Deborah -
Rating:
It looked busy on our approach, as it was a beautiful sunny day and everyone was sat outside. The warning signs were there, if only we had taken more notice - plenty of people drinking but not many eating, and this was at 2pm on a Sunday afternoon.

You would automatically think I'm being mean by giving them one star, but I only awarded them that because you can't post the review without opting for a minimum of one, but honestly our meals were inedible.

I had taken my son and daughter-in-law out, as it was both their birthdays. We had the chicken dinners. The chicken skin had the consistency of having been boiled not roasted, the meat was rubbery and not fully cooked. The veg was boiled to death, it just laid there in a deflated splodge on the plate (the smell that came from it turned your stomach). The gravy was in a little saucepan and consisted of runny grease. The Yorkshire pudding was soft, tasteless and anaemic looking.

Very disappointing. Would not recommend.
Eaten at Mossbrook Inn? Write a review!
Anonymous reviews, reviews using nicknames or reviews sent from invalid email addresses will not be published.