Meadow Farm Restaurant
Nether Lane
Ecclesfield
Sheffield
S35 9ZX
Telephone: 0114 2401155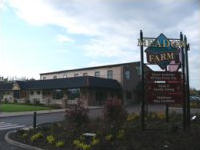 Reviews of Meadow Farm Restaurant
Type(s) of Food Served
English / Pub Restaurant
Description
Meadow Farm, a superb pub restaurant, is going from strength to strength! Located in Ecclesfield, within close proximity to the M1 junction 35, the Sheffield pub-restaurant is really easy to find. Licensees Dave and Joy Butcher have devoted great care and attention to detail in creating the impressive family attraction.
Food Service Times
12PM - 9PM


(The bar is open longer.)
Special Offers
There are no special offers that we are aware of.
Amenities & Facilities
Credit/debit cards accepted?



Average starter price?
£3.00
Average main course price?
£7.00
Average dessert price?
£3.00
Special diets catered for?
Child facilities?
Play area
Baby changing
John Kemp -
Rating:
Absolutely outstanding service from start to finish. Su was fantastic and went above and beyond, they ensured we had a superb evening.
Martin Judge -
Rating:
Thank you, your staff are so helpful and smiling faces. The ambience is amazing and food was very enjoyable.

We will definitely be coming back soon.
Helen Richards -
Rating:
Excellent family pub, food brilliant, and staff lovely.

Be back every week.
Hazel -
Rating:
I kept trying to book a table 2 weeks ago but the website wouldn't let me.

So I visited anyway with my daughter and granddaughter. On arrival I was asked if I'd booked a table! No.

We were then told that only carvery and kids meals was on offer, my granddaughter is 16, and didn't want carvery and to be honest neither did I.

We sat down, looked at kids menu and left.

I'd we had known it was only carvery we wouldn't have come.

Very disappointed, as my granddaughter was looking forward to her hunter's chicken, and I was looking forward to spending some quality time with my family after a challenging year.
Angeline Smith -
Rating:
Me and my family always go to Meadow Farm and the food is always excellent. The staff are always polite and helpful. We've been going about 10 years and we always enjoy it there. Brilliant place. Thank you, Meadow Farm!

Gill Cryan -
Rating:
Went to Meadow Farm yesterday. Been there before and had quite nice meals but yesterday we had carvery. It was disgusting. The beef was the star of the meal. Roast potatoes and mash tasted awful. I suspect they had been warmed up several times during the day. All the veg was lukewarm and the stuffing was like concrete.

Would not recommend you have carvery there. Don't think I would go back.
Chris -
Rating:
Been going here occasionally for the last few years and the food has always been fairly OK.

Recently went for a birthday meal on the 21st of July and the food was truly awful. The sister-in-law had egg, chips and beans, and the eggs were hard and cold. My mate's baked beans looked like they'd been scraped from the bottom of a burnt pan. Portion sizes also seem a lot smaller than before and not very filling. And for the price, you want to at least feel full after your meal, but no.

We did complain, as it was just shocking to be fair, and they emailed the sister-in-law some 40% off vouchers but I don't think we'll be going back again.

I just can't work out how a chef can mess up a couple of eggs and a portion of beans so badly. I wish I knew how to upload pictures on here so you could see how bad it was. The chef needs sending back to college or sacked.

Meadow Farm was a decent place to eat a few years ago but recently just seems to be going downhill. I've heard good things about their breakfast and carvery though, but it's just too inconsistent for anything more. Please sort it out, would be a fantastic place for the family if the chef could actually cook.
June Toyne -
Rating:
Eight of us went on Sunday 5th May. The staff were pleasant. Seven of us had the carvery, and one had steak. Three of our party had beef, and while the rest of the food was OK, the beef and steak was very tough. We were disappointed. Turkey and gammon were OK. We will try somewhere else next time.
Sheila Sanderson -
Rating:
The staff here are the nicest, most helpful young people. They are always pleasant and nothing is too much trouble for them. I go every week with the gentlemen I look after and the staff always make them welcome.
R Wood -
Rating:
Slow service to say the restaurant was quiet. When the food eventually arrived there were problems with them from bits missing, cold food and food that had been cooked for far too long.

Used this chain before and never had a problem but never this restaurant, it's put us off using this chain of restaurants altogether. The staff in this particular restaurant were more interested in socialising with each other than serving us... it needs addressing.
Tony Biggin -
Rating:
Having been a regular customer for over 10 years and always been reasonably satisfied with the food and service, until on Wednesday 2nd May when I had the misfortune to complain that parts of our meal were not hot enough. Whereupon an extremely unpleasant waitress called me a liar, insisting that the food was perfectly hot enough even though they were replacing it. I tried to explain that we would hardly complain if that was the case and I was then insulted by this waitress who told me that I was always rude to all the staff and effectively that they did not want my business.

This was offensive enough to me but my 99-year-old mother who was with me was deeply upset and when we got outside she burst into tears. Needless to say we will not be going there again and would recommend avoiding this place.
Catherine Wood -
Rating:
After sitting for 15 minutes at a dirty table full of half-eaten food, I cleared the table myself and went to order my carvery. Stood for 5 minutes and had to ask at the bar for someone to come out and serve. Got back to my table and had to ask someone for cutlery. We were then left sat at the table with our dirty plates for 2 hours.

The children's play area is tired and tatty.

What a dismal place.
Ann Robertson -
Rating:
Went with my friend and our grandchildren. The food was OK and the chef on the carvery was very friendly, but the restaurant was very dirty. There was food all over the floor, and tables were not cleared even though it wasn't busy.

The toilets were terrible. The floor was covered with toilet paper and rubbish even though there was a bin there.
Kayne -
Rating:
Wonderful service and food. Brilliant.
Joseph Hall -
Rating:
Excellent atmosphere, excellent food. Carvery was outstanding and the cheesecake wad lovely, really big. Worth the £15 I spent there.
Jayne -
Rating:
Bar staff friendly.

Went for breakfast. Arrived at 9:10am and the place was still being cleaned. Women hoovering, and a lady walked past with a dirty mop, which stunk to high heaven.

Beans were cold, sausages were cheap and squishy in the middle, bacon was rubbery. We will certainly not be coming here again.

The last straw was a lady next to us on her knees with a hoover upturned and her pulling hairs and bits out of it.

I think if an establishment is advertised as being open for food from 9am it should be already clean and tidy.
Jenni Williams -
Rating:
Would prefer to have given this place a minus score but couldn't!

Called here as a first-time customer today. Queued up to order food at the "FOOD ORDER" till. Great, no problem. Moved further down the bar to order my drinks. This is where the service became abysmal! Stood there with about 5 other people, 1 person serving so I piped up asking "is there someone else who could serve", only to be told they were all concentrating on food orders/delivery.

By this time, I was getting fed up and then noticed the people at the food order till were also ordering their drinks there and being served them! By this time I'd been stood there about 20 minutes.

I asked to speak to the manager and the lady said "I'm the assistant manager, have you got a problem?" "Yes I have, why are people at the food order till getting served their drinks before us?" Because, she said, drinks can be ordered at all tills now. So why have you got a sign saying "FOOD ORDER"?

Anyway, hope you get the gist of this. The food was not too bad but the service was absolutely abysmal. First time I'd ever been... and it'll certainly be the last.
Diane Fox -
Rating:
Absolute joke! Staff are rude and lack basic customer service, table wasn't cleaned despite many request for it to be done - I had to do it myself, food was lukewarm. Wouldn't waste your money!
Jodie -
Rating:
What can I say... used this place on and off for years. It's going down the pan fast and furious.

Kids play area inside and out had a face lift. Don't know why. Very disappointing.

Understaffed at peak hours. Queuing time for drinks and food is absolutely ridiculous.

When food eventually arrived 2 of our 5 meals had to be sent back, so kids were sat with nothing while the rest of us ate.

By the time the kids meals came back to the table the rest of us had finished. Female manager was extremely rude and insulting. We will be avoiding this place from now on and take our hard-earned cash elsewhere.
Rick Parker -
Rating:
Went for Sunday carvery, it wasn't that busy but there was a massive queue for food - at least 30 minutes stood waiting! Only 1 member of staff on serving! Food was OK but don't expect to be fed quickly.
Julia Moore -
Rating:
My friend and I (plus our 3 children) decided to try Meadow Farm today for lunch. She ordered a child's garlic bread starter, as her 1-year-old was getting grouchy and a little hungry. She also ordered smothered chicken for herself and a child's meal of nuggets, chips and beans for her little boy. I ordered mains for myself and 2 children also.

We waited 25 minutes before having to ask if the garlic bread was on its way. 10 minutes later it arrived, closely followed by my main and my children's meals. 15 minutes later there was still no sign of my friend's main or her son's. A further 10 minutes and still no sign, so again we asked a member of staff how long it would be. Another 10 minutes and their food arrived (minus a apology) both plates had the worst looking chips we've ever seen, they were cooked to death and literally snapped in half.

My friend quite rightly complained and was offered a free dessert, which she declined. My children's meal and my own was edible, just a little bland, but we had finished our meals as my friends arrived.

Not a pleasant experience and will not be returning any time soon.
Lisa Swann -
Rating:
12 out of 16 people enjoyed or were OK with their meal, the other 4 were very disappointed. Also the food was over-cooked and came with the wrong sauces. The deserts were lovely, but we won't be going back, as there's usually more of us and some people were finishing before others had got their food.
Ms M J Edwards -
Rating:
Shocking service, and shocking meal after waiting for ages. No kids hot dogs, burgers or pizza at 1PM, and we come here every week. Not enough staff to cater for kids to be off school. Really disappointing.
Michael Stevens -
Rating:
Tried to book a table for 7 adults and 4 children but told just to turn up and and wait. How long would we be waiting for that amount of tables to be free? What century are we living in? Just lost a decent booking. We'll go somewhere more customer friendly.
Sue -
Rating:
Beautiful food and lovely staff.
Kerry Jones -
Rating:
I'm that disgusted I haven't got a rating. Worst carvery I've ever had.

The vegetables were boiled to mush, so that I couldn't even pick them up. And it's the first time I've been to a carvery and they didn't even have carrots. The excuse was that there weren't enough. The potatoes were like wallpaper paste, all lumpy.

I can't even describe the food, it was that vile. How can the manager serve this to customers? And it's not even cheap. I won't be going back.
Pat Beaumont -
Rating:
Our second Christmas dinner at Meadow Farm. Once again we were not disappointed. The meal was served really quickly, it was hot and plentiful and delicious. The staff were really helpful and couldn't do enough for us. Definitely would recommend.

Thank you all Meadow Farm staff for a lovely time.
Julie Hessey -
Rating:
Booked our Christmas dinner here (2016), and what a disappointment it was.

The dinner was very poor with the smallest pieces of meat I have ever seen on a plate. People in our group had things missing off their plate, with hardly any gravy. The meal cost us over £500 for our group and we all felt very let down.

Will definitely not be booking ever again. The service was also very slow & poor, bringing orders to our table that we had not asked for.

Poor.
Vicky Goodyear -
Rating:
Absolute garbage. Visited 22/12/2016 with kids. Had to wait over 40 minutes and ordered lasagne, which had hardly any meat and was all pasta. Pies where disgusting. And as for kids, the wraps were rubbish. Most of the meals ordered were cold and definitely not worth the wait. Will not be returning.
Lesley Godfrey -
Rating:
Visited as a family evening dinner out, was not an enjoyable experience.

Food was not up to standard, will not be revisiting.
Patricia Cummings -
Rating:
Been with 2 friends & had weekday lunchtime 3-course meals.

All really enjoyed our food - looked good & very tasty. Even the coffee was above average.

Not tried the carvery but would expect similar standard.

Staff very friendly & really like the feel of the place - and we aren't easy to please!
Peter Speck -
Rating:
Probably one of the worst carvery meals I've had. I think the meat must have been boiled. Tasteless and unappetising. Very noisy with piped music at a very high volume. Will not be going back.
Kath -
Rating:
Just returned from Meadow Farm after making the mistake of not looking at the carvery before ordering. It was awful. The vegetables were kept in bain maries and were a pile of mush. The mashed potato looked and had the texture of wallpaper paste. The stuffing balls were so salty they were inedible. And the gravy had no taste whatsoever.

I find it hard to comprehend how an eating establishment can manage to serve up food that doesn't taste of anything and not know how bad it is or doesn't care. I didn't go there expecting 5-star food but I didn't expect to be served up a plate of inedible, bland crap that even a dog would turn its nose up at.

I would suggest all the staff sit down and eat this stuff themselves and see how they like it!
Eaten at Meadow Farm? Write a review!
Anonymous reviews, reviews using nicknames or reviews sent from invalid email addresses will not be published.