Jumeirah Spice Restaurant
1 The Common
Ecclesfield
Sheffield
S35 9WJ
Telephone: 0114 2467238
Website: http://www.jumaira.co.uk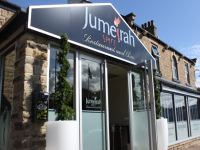 Reviews of Jumeirah Spice Restaurant
Type(s) of Food Served
Indian
Description
A venue of bespoke design and Eastern inspiration that promises to carry you away into an evening of aromatic spices and delectable dishes.

Formerly the Jinnah Spice Lounge, the restaurant has undergone an extensive refurbishment, but is still dedicated to its reputation of serving up traditional Indian cuisine in an atmosphere that makes our customers feel simultaneously welcomed, indulgent and relaxed.

Jumeirah Spice takes its inspiration from the seven-star Jumeirah hotel, as our staff are driven by a desire to provide a high-quality and luxurious dining experience to each and every customer.

The restaurant's head chef is an expert in his field and has designed a menu that blends the best of Indian tradition with innovation and personal flair. Whether you prefer light and aromatic curries, or if you want a full-bodied and spice-fuelled affair, we can provide a dish to suit your palette.
Food Service Times
Sorry, we do not have the restaurant's opening times yet.
Special Offers
There are no special offers that we are aware of.
Amenities & Facilities
Credit/debit cards accepted?



Average main course price?
Special diets catered for?
Tariq Mahmood -
Rating:
One of the best traditional Indian restaurants. Chefs are from curry capital, Bradford. Try nehaari lamb shanks - melt in your mouth. 7-star like the Jumeirah in Dubai.
Sarah -
Rating:
Went last night with my parents and really enjoyed it. Food was excellent and staff very friendly, especially Actaz. Will definitely recommend to family & friends.
Nigel -
Rating:
Food was cold, tasteless and average at best. Delivery driver was on the make, charging more than bill.

£33 for a tasteless cold meal.

Sorry but won't use again.
Sue Vickers -
Rating:
Once again excellent food, but if you want it delivered when they say it will be, do not believe them.

They said it would be 30 minutes but we had to phone an hour later when it had not arrived. They said it was just leaving and it arrived approximately 15 minutes later, which is believable because we are not far away. But when it arrived it was not hot, just cool.

Good food but awful service. Don't have a delivery if you cannot heat it up in a microwave. Price is more than other takeaways. Beware!
Vivienne Tingle -
Rating:
Had a takeaway from here last Friday via Just Eat.

Delivery time was a while, however pretty much bang on the ETA. The food was gorgeous and worth the rather higher prices. I was told by a colleague today that they have a loyalty scheme, so better and better. Will definitely order from here again.
Kevin Claxton -
Rating:
Delicious!

Excellent service, very welcoming and didn't feel rushed.

We ordered one starter, however they brought out two side plates with salad, knowing my wife would have a taste, which was a lovely touch!

Main meals were very tasty and filling, with plenty of time to enjoy and savour!

Will definitely return and recommend. Thank you!
Beth Calder -
Rating:
We ordered a takeaway from here for the last time! I placed an order that came with one meal short. I rang to let them know. The man on the phone left me on hold a while before coming back and asking what was missing. I told him and he said it was never ordered. I know it was, as I had someone at the side of me to confirm, and it was also a special order.

He argued with me that I never ordered it and if I wanted it I would have to wait 1 hour and 10 minutes! Total insult and his attitude was horrendous. Told him not to bother, I would rather go without, much to his delight!

The food that we did receive was inedible, as the chicken was pink inside and chewy. You couldn't pay me to eat here again I could accept it if he had apologised but his attitude was out of order, and apparently he was the manager!
Dianne -
Rating:
I had a meal with family a few weeks ago and was disappointed by the food and the way we were rushed through.

My friends had booked for us to go so we went last night and again we were rushed through each part of our meal with plates disappearing and staff hurrying us along. We had ordered another drink when the hot towels arrived and two members of staff stood at the end of the table and asked us to take our drinks into the bar area! I wouldn't mind but we had been there less than an hour. It's supposed to be a relaxed meal not fast food at McDonalds!

Ridiculous. I will not be returning, which is a shame, as it's local for me.
Eaten at Jumeirah Spice? Write a review!
Anonymous reviews, reviews using nicknames or reviews sent from invalid email addresses will not be published.