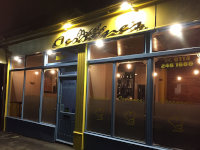 Reviews of Cerrone's Restaurant
Type(s) of Food Served
Italian
Description
Cerrone's is located on High Street in the heart of Ecclesfield. We are a small family-run restaurant serving Italian cuisine. We offer an excellent menu with numerous choices of seafood, meat, pasta and pizza dishes. All dishes are cooked to order, so we can cater for most dietary needs.

There is ample street parking outside and we are happy to order you a taxi for your journey home if needed.

Our bar area offers a large choice of wines, beers, spirits and soft drinks. Included in this is our non-alcoholic beer and a nice selection of tasty gins.
Food Service Times
Tuesday, Wednesday, Friday & Saturday: 5:30PM - 10PM

Last seating: 8:30PM
Special Offers
2-for-1 menu on Tuesday and Wednesday
Amenities & Facilities
Credit/debit cards accepted?
Average starter price?
£5.00
Average main course price?
£14.00
Special diets catered for?
Karon Ransom -
Rating:
Went the 2-for-1 meal on Wednesday.

Very disappointed when I found two pieces of metal pan scourer in my starter.

It was pointed out by the waitress that it was pan scourer but the starter would not be discontinued because it was 2-for-1.

The management didn't apologise. They knocked the price of my Coke off.

Finding something that you scrub pans with in my meal put me off my eating my main.

But the dismissive attitude of the management was rude and unacceptable.

Very disappointing.
Beverley Bailey -
Rating:
I have eaten here on a number of occasions with friends and would definitely recommend this place. The food is fantastic, with large portions, and the chocolate bread and butter pudding is a must-try.

Staff and chef very friendly and helpful.
Rachel -
Rating:
Had one of the best meals there last week. Staff very helpful and the food is great, big portions and all cooked fresh to order.

Will definitely eat there again and highly recommend a visit, whatever the occasion.

First class.
Adele Richards -
Rating:
Been a few times last year, not one bad meal. Love the 2-for-1 nights, they're a fab evening out with friends. Will be booking shortly.
Nigel Muddiman -
Rating:
Delays in writing a review, as we visited just before Christmas 2016 and we stumbled across a 2-for-1 night, having never visited before.

It was very busy, due to Christmas as well, but the staff were superb and very, very organised. Found them all to be very hardworking, helpful and sociable, which was a pleasure.

The food was excellent, too, to the point where my partner and I both agreed we'd visit again on both the offers nights but also other nights, too.

Thanks a lot... loved the warm, friendly atmosphere, and I thanked the chefs for their efforts, as we were very impressed.
Phil and Rosemary -
Rating:
We have been visiting Cerrone's since it opened and can say hand on heart, we have had nothing but an excellent experience. We visit Italy a lot and the food we have been served has been the best we have had outside Italy.

The food always is plentiful and of excellent quality, the pizzas are amazing, the food is not overpriced and the staff have always been helpful and friendly.

We were there a couple of weeks ago in a party of 8 and there was not a single scrap of food left on anyone's plate. Everyone said how much they had enjoyed it and every friend we have gone with who has ordered the calzone pizza has commented that it is the best they have ever eaten!

On the 2-for-1 nights the portion sizes are the same and the quality of the meat and fish is just as excellent. It is nice to go on a weekend but also for a mid-week treat with the 2-for-1 offers, we really don't know how they do it for the price, but then again they are always full.
Steve Sanderson -
Rating:
Me and my wife went to Angelo Cerrone's today. I have had Italian food in Italy, New York, Chicago. The meal we had you could not, and I mean not, fault. It was one of the most delicious Italian meals I have ever eaten.

Very friendly staff, fantastic chef, really amazing. A really nice restaurant. Be back very soon.

Fantastico.
Serena -
Rating:
If you want a night to remember for all the wrong reasons then this is the place for you. Rude staff, rude chef, food was awful. Oh and the chef leaves at 9:15PM on a Friday night.

Avoid at all costs. Go to McDonald's, better food and much better service. Here the staff don't care, they want you out ASAP.
Mandy Smith -
Rating:
Went here for a friend's birthday who is Italian herself. Never been an Italian, the food was poor, the service was diabolical, the chef was very rude, and the atmosphere was non-existent. Will never return unless it is taken over by actual Italians!
Carol Hadley -
Rating:
First time visit even though I've lived in Ecclesfield for 4 years.

Absolutely amazing first-class food. I had the smoked salmon for starters, which was light, tasty and the best I've ever tasted. For main we had the Italian risotto, which was out of this world.

I am kicking myself I've suffered through terrible meals out when Cerrone's is on my doorstep.

Had the dark chocolate liqueur to finish at £3.50 each but was worth it.

Excellent waitress and an outstanding chef.

Can't wait to go back.
Justine Dent -
Rating:
We have been going to Cerrones since it opened and the food has got better and better. The 2-for-1 nights are very popular, too.

The only criticism I have is they always have the same music on! They must get fed up of listening to it!
Jane Dolby -
Rating:
Great atmosphere, friendly staff and always great consistent food. Good price and great offers.

My family travel over an hour from outside Sheffield to visit us and always insist on going to Cerrone's, it's that good.

Highly recommended.
Louise Harpham -
Rating:
Absolutely perfect from the moment you ring up to book.

Excellent service, beautiful food, good prices, friendly staff. Everything a good restaurant should be.

Highly recommended.
Kelly -
Rating:
February 2013 - This was my first time at this restaurant and it was great from the moment we walked in to the moment we left. The service was excellent, the staff friendly and attentive.

The food was absolutely gorgeous, we had a starter and a main and the chicken melted in your mouth, it was beautiful and perfectly cooked.

At the end of the night we were all fat and happy (and a little bit tipsy), and we all agreed that it had been a fab night.

I would definitely go there again, it's the best restaurant I've eaten at for a while. Very impressed.
Ken Masheder -
Rating:
Six of us (family) had a meal here Saturday night. Great food at a reasonable price.

The staff were very friendly. We were not rushed, just as an Italian restaurant should be!

The open kitchen and cooking smells added to the atmosphere, and made you look forward to your meal even more!
Beverley Saxelby -
Rating:
Went to this restaurant for the first time on a Saturday night. It was very busy and all the tables were full. Luckily we had made a reservation.

Staff were very pleasant. Food was excellent, both the starter and main course. Neither of us could manage a dessert. Staff were a little slow to clear away dirty plates. All food was cooked to order and piping hot when it arrived at our table.

It is very smoky in the restaurant due to cooking been done in the restaurant without any suitable extraction, which is a shame, it does make your eyes run after a while.

All in all a very pleasant meal with good food. Will definitely give it another go.
Lisa Travis -
Rating:
Have eaten at this restaurant many times and thoroughly enjoyed it. The chicken and spinach pancake is to die for. My husband had the calzone the last time we went and said it was the best he had ever had.

The two-for-one menu on Sunday, Tuesday and Wednesday is real value for money.

I highly recommend this place as you will not be disappointed.
Amanda Hodgkinson -
Rating:
The food was very tasty.

Dessert portions were on the small size for the price.

However, I would not return, as both myself and my husband (we had the same food) became ill in the middle of the night following our meal out at this restaurant.
Richard Lewis -
Rating:
I like the food here - it's always cooked fresh and tastes wonderful. You can see Angelo cooking it in the open-plan restaurant and it is this that is my only problem.

When he is cooking not all of the fumes seem to go up the flue and some spill out into the restaurant. This can be annoying, as it irritates my eyes. Apart from that its a wonderful establishment.
Sarah Jones -
Rating:
I had my hen night here and booked the whole place out, Christmas 2004. We all ate together, veggies and meat eaters together. All 42 had our starters, mains and desserts together - brilliant! Made my special night VERY special.

Eaten here loads of times of since, and always yummy, an added bonus to Ecclesfield village.
Leanne Hurst -
Rating:
From the cosy and welcoming atmosphere to the delicious and plentiful food, simply a winner every time.
Keli -
Rating:
Service fantastic, food exceptional, we will be back. Regards Keli and Karl.
Simon Yorke -
Rating:
The restaurant is warm and welcoming, and being able to see the chef in the kitchen is an added bonus, especially when a pan flames into life when the food is being flambeed.

We went on a Friday night, the dining room was busy but the staff were attentive so we received a drink in quick time.

I had the calamari, which tasted fresh and melted in the mouth, the dressing on the salad was excellent. My wife had Insalata Cerrones, which is chicken, potatoes and crispy bacon in a salad that was also beautifully seasoned and delicious.

For mains we had chicken and spinach pancake that bubbled in the dish. This was packed full of tender chicken and the spinach was again well seasoned. I had a seafood pancake stuffed full of prawns, calamari and salmon in a fantastic tangy fish sauce.

Overall the evening was a delight and we will definitely be returning to work our way through the menu.
Kate -
There were four of us dining on 31st October. The atmosphere and food were excellent, I would recommend Cerrone's and will be visiting again in the near future.
Julie -
The worst Italian we have ever had. The pizzas were far too thick, the volcano pizza contained ordinary green peppers, where was the fire? The only person who would have been impressed with the calzone would be Popeye, as it had so much spinach in the filling. The spare rib starter was fatty and covered in far too much sauce. The most tasteless experience I have ever encountered. We live locally but will venture afar in future to avoid it.
Eaten at Cerrone's? Write a review!
Anonymous reviews, reviews using nicknames or reviews sent from invalid email addresses will not be published.