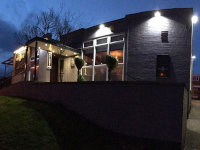 Reviews of Mint Leaf Restaurant
Type(s) of Food Served
Indian
Description
Mint Leaf restaurant is located at 42 Green Lane in Dronfield.
Food Service Times
5:30PM - 12AM
Special Offers
There are no special offers that we are aware of.
Amenities & Facilities
Credit/debit cards accepted?



Average main course price?
Special diets catered for?
Helen Swain -
Rating:
Always great food, impeccable service, and a fair price.
Barry Fieldhouse -
Rating:
Absolutely no issues with this restaurant. Local person that uses it for takeaways and eating in. Great service. Brilliant food. Would highly recommend a visit. You will not be disappointed. Been tonight and had a great family meal at a great price.
Rachael Sanderson -
Rating:
Sent incorrect rice with order. Rang up and passed to manager. Asked for refund for the difference and response was "they were busy now and I had to ring back later"! This response was not acceptable.
Katie Knowles -
Rating:
We booked a table early in the evening and the restaurant was fairly quiet when we arrived for 6:30pm. Service was friendly and prompt at first.

Our food arrived fairly quickly and we enjoyed it all. Fair portion sizes and good value for money.

As the evening progressed, the restaurant got increasingly busy, and service suffered because of it. We were tucked away around a corner and got very little attention from the waiting staff. Other tables nearer the centre were checked upon quite frequently. I sat without a drink for around 40 minutes, so we asked for our bill as soon as we could, and left.

A nice restaurant with good food, and we will go back. But perhaps next time we'll ask to be seated in a more central location!
Chris Gent -
Rating:
Quality food every time!
Rob Neale -
Rating:
The quality of service was extremely poor. We were waiting 1 hour 40 minutes for our main course to arrive. The starter was brought incorrect twice and meant for another table. The waitress handed knifes and forks to us together without placing them down herself.

The food was really tasty and lovely to eat. However, when the main course arrived the hunger of food had gone and so had drinks, therefore we were bloated.

I will not be coming back in a hurry. Ayesha's is at the bottom of the road, it may cost more but it is lovely service.
Mick Scott -
Rating:
Absolutely appalling. Curry tasted like it came out of a jar, was cold and the cheese nan contained cheese slices! Service was very very slow, our waiter said it was because they were busy (numerous empty tables).

Our table was booked for 8PM. When we arrived we stood in the reception area for 5 minutes being ignored by several staff and when we were eventually approached we were told to sit at the bar. He never asked us if we had a reservation.

In all, extremely poor in every aspect. We will never eat in the Mint Leaf again.
Eaten at Mint Leaf? Write a review!
Anonymous reviews, reviews using nicknames or reviews sent from invalid email addresses will not be published.