Bowshaw Inn Restaurant
Sheffield Road
Dronfield
Sheffield
S18 2GA
Telephone: 01246 412326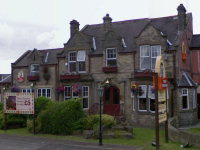 Reviews of Bowshaw Inn Restaurant
Type(s) of Food Served
English / Pub Restaurant
Description
Eating out at Dronfield Toby Carvery is "just as it should be" - a warm and cosy place to enjoy quality food with family and friends.
Food Service Times
Monday - Saturday: 12PM - 10PM
Sunday: 11AM - 10PM

(The bar is open longer.)
Special Offers
There are no special offers that we are aware of.
Amenities & Facilities
Credit/debit cards accepted?



Average main course price?
Special diets catered for?
Nathan -
Rating:
Called in today to be told cannot eat unless booked. Unfortunately we hadn't booked but was able to stay and have a drink at the bar. Noticed a lot of people being turned away due to not booked. We was there an hour and hardly anyone was dining. All I can say is the company must not need the custom.

Will go elsewhere where our money will be more appreciated.
Barry -
Rating:
My booking was 12:45. When we went for our food chef cut the meat so thin and gave you very little of it you could not taste it. The stuffing was so hard you could not eat it. It looked like yesterday's leftovers. When I got to the veg the carrots and two other veg should have been changed for fresh veg.

When I complained to our waitress she just said I am very sorry but did not report it to the head waitress.

Where I sat the tables were too close. In fact the chair on the next table touched mine. (I would have expected the head waitress to come over and apologise I would not want to eat there again.)
Terry C -
Rating:
My wife and I frequently eat from the carvery on Sunday evenings and it is my favourite carvery venue. Other family members have chosen from the non-carvery menu on occasion and have been a bit disappointed, but for me the carvery itself is as good as they get.

Particularly nice, too, is the fact that vegetables are all fresh, not frozen as in some carvery restaurants. I personally prefer my veg slightly under-cooked and crisp rather than overcooked and sloppy, so I don't go along with some earlier reviews about under-cooked veg! Yorkies, roasties and gravies are also great! Being able to pre-book tables is a relatively recent improvement, as we have had half-hour+ waits sometimes for a table in the past.

We will definitely continue to be patrons of this place for the foreseeable future!
Jay -
Rating:
Beware. After recent snow the car park, although not massive, is treacherous for both pedestrians and vehicles. Consequently, fewer diners, which meant food standing in heated cabinets had dried out.

A company this size could have an estate manager to ensure gritting/salting, which would aid client safety. Or two staff with barrow and grit could do this within the hour.

Very poor.
Jill Barnard -
Rating:
I have eaten at your carvery many times. The last two visits have not been as enjoyable. The cauliflower is far too hard. Couldn't get my knife through it, and the mashed potato was cold.

The staff are very nice & work hard, but please tell your chefs to cook veg better!
Lisa Blenkinsopp -
Rating:
Just been for a Sunday lunch. It was very busy and the service was poor to start. This was compensated by giving our starters for free. Carvery very nice, with loads to chose from. Would visit again but on a different day when it's less busy.
Jennifer Varma -
Rating:
Very disappointing. Booked a table for my mother's 85th as it was local to walk. Must admit we had been before (two years ago) and it was a lovely roast with good service.

The waitress did ask us what we would like to drink but had to come to check three times because she had forgotten.

The carvery service counter looked in such a mess! Not at all inviting. The meats were not hot. The fresh carrots coming out of the kitchen were raw! I did quietly mention this to the young chef, who quickly took them back in the kitchen. The cauliflower that had been sitting there was not cooked, as the fresh one brought out wasn't, too!

Would have understood if the restaurant was busy!

I felt so guilty having booked a table here as my daughter, son-in-law, and son had travelled by train from London for lunch with their grandparents.

I had called in two hours before to confirm the booking, as I had booked it online and no one was answering the phone Saturday morning! Somehow sensed it wasn't going to go well!

If it hadn't been for my mum's 85th and not wanting to complain and spoil her day.

Very disappointing.
Amanda Sumner -
Rating:
Thoroughly enjoyed my meal. The food was nicely cooked, and the vegetables were just right. The staff were very friendly and the service good. Being a Saturday night it was quite busy but our waitress popped to our table several times to check everything was OK. I shall be going again.
Bev Ann Thickett -
Rating:
I had an awful time. Food was terrible and rest of customers with children. Disgusting, I will not be going again.
Lyn Hammond -
Rating:
We went today for a family meal. The service was excellent, but the food was poor. Our previous experience has been good, but today very poor. The beef was fatty and stringy, vegetables undercooked, you hardly got any meat, but in a way I was pleased about that.
Carol Timm -
Rating:
Excellent food and outstanding service. The staff are very friendly and nothing is too much trouble for them. We would strongly recommend a visit, you will not be disappointed.

Thank you to all the staff.
Eaten at Bowshaw Inn? Write a review!
Anonymous reviews, reviews using nicknames or reviews sent from invalid email addresses will not be published.