Ayesha's Restaurant
40-42 Chesterfield Road
Dronfield
Sheffield
S18 2XB
Telephone: 01246 412052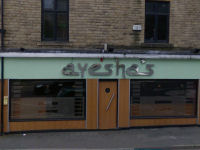 Reviews of Ayesha's Restaurant
Type(s) of Food Served
Indian
Description
Award-winning Ayesha's restaurant is situated in the heart of Dronfield on Chesterfield Road.
Food Service Times
6PM - 12AM
Special Offers
There are no special offers that we are aware of.
Amenities & Facilities
Credit/debit cards accepted?



Average main course price?
Special diets catered for?
Paul Blackwell -
Rating:
Best curry in Dronfield. Nice place, nice people, consistently good food. What more can I say!
M Chamberlain -
Rating:
Chose Ayesha's for a change from Chesterfield town centre. Was not disappointed.

Lovely reception, really nice food. Not greasy like some have said. Staff were really nice.

We are planning our next visit in May. Can't wait.
Sue -
Rating:
The worst attitude from a waiter I've ever encountered in my life. Will never go again. This place does not deserve any customers with people like that working there.
Shaun -
Rating:
The food choice here is brilliant. The staff here are really helpful and will advise on the dishes. The decor is A1 and the place has a relaxed feel. The food is superb and the service is A1. Price wise its good value. All in all a good experience.

Like a lot of places, parties with children and inconsiderate parents can spoil your meal, but this doesn't happen often. Do try, as you will enjoy.
Callum Westwood -
Rating:
These guys have definitely made an impact on my taste buds. I can eat spicier food now because of the flavour.

Try it you won't be let down. Ask for Mizan or Habib, they will tell you what you would really enjoy, no lie.
Eaten at Ayesha's? Write a review!
Anonymous reviews, reviews using nicknames or reviews sent from invalid email addresses will not be published.