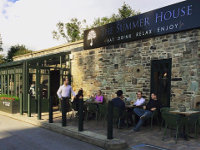 Reviews of Summer House Restaurant
Type(s) of Food Served
Modern British
Description
Visit The Summer House for coffee, a light lunch, business meeting, dinner with your family or part of a big celebration, and enjoy the best of British food prepared with skill and flair.
Food Service Times
Monday - Saturday: 8:30AM - 11:30PM
Sunday: 9AM - 9:30PM
Special Offers
There are no special offers that we are aware of.
Amenities & Facilities
Credit/debit cards accepted?



Average starter price?
£5.50
Average main course price?
£12.50
Average dessert price?
£3.00
Special diets catered for?
Wheat/gluten-free
Mohammed Aris -
Rating:
I started as kitchen porter and basic prep on the 17th April this year and all I can give this place is nothing but thumbs up, from the management to the owner, Kate, what a wonderful lady. She is hard working and dedicated.

The food and the effort these guys put in is out of this world. Worked in a lot of places but far the best. The highest standard of hygiene. Well done Kate. Wish you and your business all the best and thank you for all your support.
Victoria Taylor -
Rating:
The best steak I have ever had. A little overpriced but I have had really bad steak for the same price.

I couldn't have a starter because there was nothing on there my palate liked but that's my problem not theirs.

My dessert was to die for. Berry Eton Mess... mmmwwwwahh.

Lastly the decor inside and out looked stunning due to millions of mini white and coloured lights.

All in all I would 100% recommend The Summer House. One of the best restaurants I have ever been to.
Pamela Jones -
Rating:
First time here. Great food - prawn starter, rib eye steak well done - perfect. Great staff, especially Elliot and Josh. Will be coming again.
Mick Robinson -
Rating:
Great night last night! Great atmosphere and service. Glad you're back open, Katie.
Donna Dey -
Rating:
Came here for my mum's 70th birthday meal. The food was overpriced. We all had the steak, which was frozen chips, a bit of lettuce. The steak wasn't very nice.

The food is nothing like it is in the photos. It is very expensive for just basic food when you expect something at bit more.

Very disappointing. Will not ever return here or recommend.
Mozhgan -
Rating:
I came in UK recently and I found there with relaxed atmosphere, great hot drinks and friendly staff, even in busy times. Love you Summer House.
Nigel Hogg -
Rating:
Poor service, over-priced, bad attitude. Leaves a lot to desired. Would not recommend to my worst enemy.
Peter Proctor -
Rating:
We had my wife's 60th birthday for 8 of us I don't think I could have found a better restaurant for a small family gathering. The food was very good. The service could not have been better. The cocktails were brilliant. I recommend the espresso Martini - coffee at its finest.
Eaten at Summer House? Write a review!
Anonymous reviews, reviews using nicknames or reviews sent from invalid email addresses will not be published.