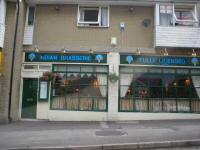 Reviews of Almas Indian Brasserie Restaurant
Type(s) of Food Served
Indian / Balti
Description
Almas Indian Brasserie restaurant is located at 34-36 High Street in Dore.
Food Service Times
Sunday - Thursday: 6PM - 11PM
Friday & Saturday: 5:30PM - 11PM

Last seating: 10:30PM
Special Offers
There are no special offers that we are aware of.
Amenities & Facilities
Credit/debit cards accepted?



Average main course price?
Special diets catered for?
Tom Holmes -
Rating:
Almas is our favourite Indian takeaway and restaurant! It always serves fantastic, authentic food and Richard gives excellent service!
Maeve -
Rating:
Just wanted to warn other people. Went to Almas restaurant in Dore today. Have been there millions of times without issue.

Today was told they had a "no children policy" and asked me to leave their restaurant within five seconds of walking in and would not allow me to feed my daughter in the toilet cubicles while I waited for my dad to come and get us.

My sister who is extremely calm and passive ended up in tears and I had to feed Maya in a graveyard while I waited for my dad to come and get us.

Have worked in the catering industry for ten years and never experienced this level of rudeness and disrespect, ruined our whole evening and wasted money getting a taxi there. There is no mention on their website of children not being welcome. She's two weeks old, only cries when she's hungry. It's against the law to stop someone from feeding their baby in public.

I'm a new mum and it's scary going out with the baby, I shouldn't have been made to feel like this and just want to avoid others going through the same thing.

Also they don't mind people drunk out of their faces because of course they rack up a substantial drinks bill.
Michael Wilson -
Rating:
Good enough as a restaurant but be very aware of being overcharged if you are ordering a takeaway. We have always been overcharged, too regularly it seems for this to be a coincidence, most recently by £3.48.

Although we have learned to check and successfully challenge the bill, this has annoyed us so much that we have decided to stop using the restaurant and to take every opportunity to alert others to what appears to us to be a blatantly dishonest practice.
Ellen -
Rating:
This was by far the best Indian meal I have ever had in a restaurant. The waiters were very polite and attentive. We were seated straight away and we didn't have to wait too long for our meal.

I am vegetarian and my meal looked and tasted fantastic. We were offered poppadoms and pickle tray when we were seated. Then for starter I had 'Trio of Onion Bhajis', which came with a little side salad that had some kind of coriander dressing that tasted divine.

For my main I had vegetable Rehzla (I think that's how you spell it), which was vegetables in a caramelized onion and green chilli sauce, pilau rice and a Saag Paneer side dish (Indian cheese and spinach cooked in spices) that was equally as delicious.

On arrival, it did look a bit pricey for an out of town restaurant, but for the standard of food I didn't think it was that bad. The total came to 40-something pounds, which for two, including drinks, I thought was very reasonable.

I would definitely recommend this restaurant to anyone.
Tom Colton -
Rating:
Had around a dozen meals at Almas over a 2-year period and can honestly say this is by far the best Indian restaurant in Sheffield, and I've been to most of them!

The latest episode at this quality establishment occurred a couple of weeks ago.

To start with the service is fantastic, you are never left waiting for things or embarrassed to get the waiter's attention. It really is top notch attentive service and the food always arrives promptly.

The food itself is great, the tandoori selection is majestic to say the least. Really fresh prawns or superbly marinated chicken. They also cater for vegetarians and do interesting dishes using mussels and ingredients not usually found on an Indian restaurant menu. You are constantly left with a dilemma over what to order, as all the dishes I've tasted are equally as exquisite.

The decor itself is understated, yet chic and cosy. White linen and uplighting adding to the fine dining, yet comfortable, ambience. In addition, its size lends itself to intimacy, rather than the cattle market feel of other restaurants.

Prices are on the higher side of what you would pay at an average Indian restaurant. But make no mistake this restaurant is worth it! And you always leave feeling you have got value for money.

I would highly recommend anyone who has not sampled the delights of this top place to do so immediately. Perfect for taking a date or even as a family thing, Almas gets 5 stars every time!
Nick Beal -
I've just spent £30 on a tasteless 'curry' from Almas Indian Brassiere in Dore. The Coke was flat, as was the service and the atmosphere. To top it off I was sat directly under the air conditioning, which made the overall experience much more enjoyable!

If you're thinking of going don't bother. Just get yourself off to Mangla on Spital Hill.
Eaten at Almas Indian Brasserie? Write a review!
Anonymous reviews, reviews using nicknames or reviews sent from invalid email addresses will not be published.