Monk's Bridge Farm Restaurant
Dinnington Business Park, Nobel Way
Dinnington
Sheffield
S25 3QB
Telephone: 01909 566225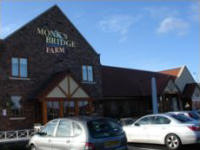 Reviews of Monk's Bridge Farm Restaurant
Type(s) of Food Served
English / Pub Restaurant
Description
Large family restaurant serving good quality pub food. Plenty for the kids to do in our purpose-built play area. Includes an outdoor area for animal visits from Thornberry animal sanctuary.
Food Service Times
Pub opening hours.
Special Offers
There are no special offers that we are aware of.
Amenities & Facilities
Credit/debit cards accepted?



Average starter price?
£3.00
Average main course price?
£7.00
Average dessert price?
£4.00
Special diets catered for?
Child facilities?
Play area
Clare White -
Rating:
Excellent food and a great server called Caroline served me. She helped me with my food choices.
Ash -
Rating:
Was served a lovely carvery tonight by the amazing Ashley. She went above and beyond to make my first experience here special. Thank you.
Andy Freeman -
Rating:
Ate here on a Monday for the first time and will be visiting again very soon.

Got a fantastic welcome from Colette and Rob and was looked after with good charm and cheekiness.

I had a double cheeseburger and it was juicy, flavoursome and one of the best I've had in a long time. My mate had a steak and chips and this was cooked exactly how he asked for it.

We followed mains up with, what can only be described as "monstrous cakes"! I even got to bring home a gluten-free eclair home for my wife. It has taken her 3 days to eat!

I can't wait to go again soon for another proper meal at a very reasonable me price.
Mrs J Lee -
Rating:
My husband and I really enjoyed our meal at the Monk's Bridge Farm restaurant.

We both chose the carvery, which was excellent. Ruby was the waitress who made sure we had everything we needed.

All in all a very pleasant experience.
Kath -
Rating:
Two of the worst meals we've had.

Cheeseburger consisted of burger, chips and small amount of coleslaw. Burger bun was very dry with only a beef burger with a slice of cheese, completely dry and difficult to swallow. Menu states burgers come with tomato, lettuce, red onion, and mayonnaise, but none on burger or plate.

Salmon with chilli noodles looked like a plate of micro noodles with a piece of salmon on top.

These meals cannot have been produced by a competent chef, they would not have let such monstrosities out of the kitchen!
Colette Heggie -
Rating:
Amazing carvery & cakes. Staff very welcoming & friendly. 100% recommend.
Andrew Sale -
Rating:
Been tonight and a few times before but tonight was really bad. Went in and found a table. Went to the bar to order drinks while we looked at the menu.

Three people at the the bar, one being served, so waited and waited. Two bar staff in a place that serves over 200 people? Waited 10 minutes. By now people started a queue at the food till. I was told I had to join the end of the queue and food orders were backed up by at least 30 minutes.

We left and went to Woodman at Bramley. Served drinks within 2 minutes, food within 15 minutes. Great food and cheaper. No more Monk's Bridge for us.

I have to give them 1 star to place this review, but really no star.
M Nicholson -
Rating:
Came here with my family. Service was very poor. From getting here and getting food took 1 hour. Will not be coming again.
David -
Rating:
Went on Monday 15/04/2019 for birthday celebration. Several menu items were unavailable. Some of the party elected to have the carvery. The food was lukewarm and unappetising. The rest of the party selected food from the depleted menu, which was equally unappetising. Gave it 1 star for being open, I will not go back in a hurry.
Len Lunn -
Rating:
Called for breakfast Saturday 3rd November. Disaster to say the least. Where do I start?

First of all the frozen bread hadn't thawed out and was stuck together. Then cold plates, but also grubby around the edges. Problem with dish washer? Sausages were burnt beyond recognition. No eggs ready. Girl said "I'll bring them to you when cooked." Tomatoes and beans both cold. Bacon nowhere near cooked enough - almost raw.

By the time we sat down everything on the plates was nearly cold, then to add insult to injury the eggs arrived and guess what? On cold plates.

In future we will return to Queens Hotel at Maltby or Toby Carvery in Rotherham. Much better quality and it doesn't cost six pounds ninety nine.
B Jackson -
Rating:
Not been here for a while so decided to take the grandchildren for something to eat. On arrival most of the tables were reserved but we did find one. A male member of staff was helpful at finding extra chairs. There was food all under the tables of the reserved ones, which needed cleaning before people arrive, it's off putting. Food was OK.

But then one of my granddaughters came back from the indoor play area with her shoes covered in poo. I then had to track staff down to ask for something to clean it off with. All I got was blue paper. Nobody seemed to know what to do next.

I think it's time for a makeover. It's dirty and some of the seats are torn.

Will be a while before we go again, if ever.
Danielle -
Rating:
All you can eat breakfast came at 10:30am. Food was cold, dry fried eggs practically turned to plastic, sausage was rubbery, scrambled eggs turned blue from being stood that long. Staff gave a full refund and apologised.
Malcolm Cousins -
Rating:
Hi it's been 6 months since I have eaten here, and it will be another six months before we come again.

The problem is still the same. I'm not a greedy person, but I thought it was called a carvery. You have to put more veg on your plate to make up for the lack of meat. I'm not pulling the chef down, with the skills he has got to cut meat that thin he would make more money doing skin grafts in a hospital.
Lindsey -
Rating:
We visit Monk's Bridge on a regular basis and I have to say 9 times out of 10 we are 100% happy. But, we generally go on a Sunday and have the carvery. Beautiful and well worth the money. However, the times we go mid-week and choose off the menu it is usually pretty poor.

Today, a hot Sunday and not really in the mood for a carvery, we ordered a ploughman's burger. The menu stated it came with iceberg lettuce, red onion, and burger sauce. Our burgers arrived with none of these. I asked where the salad was and was told it did not come with salad. I looked again at the menu and it is clear it does.

The burger was dry and hard to swallow. I have found on a few occasions that their meals from the main menu are poor.

The staff are friendly and welcoming; the carvery is spot on; it is a lovely, well-kept place; but I feel it is let down by the everyday menu.

The last time we had a bad meal there my other half refused to go back. After a while we tried again. I'm sorry, but you are losing customers. Please put as much effort in to your everyday menu as you do your carvery. It's letting you down! I love this place but I do want to enjoy ANY meal I have there!
Carol Hutchinson -
Rating:
We had a carvery at Monk's Bridge, Dinnington, Sunday 18th February, the first time we have been. It is an excellent venue and very modern. The carvery was excellent, the veg was all fresh and steamed to perfection, the choice was unbelievable. There was a choice of meat, turkey, ham, and beef, all cooked well.

The sweets were also all home-made, we even brought ours home with us, as we couldn't manage to eat any more after the carvery.

The service was excellent and all the staff very attentive and friendly.

I would very much recommend this place.
Phil Prowse -
Rating:
Had Christmas lunch at Monk's Bridge Farm for the last 7 years. Food has always been good, but service was total chaos this time.

Table was booked for 12:00. Starter arrived at 12:40. Queued for main course for 35 minutes. Ordered sweet to take out before main course was finished, as taxi was booked for 14:30 and we wouldn't have had time to eat it.

Totally disappointed with service.
Steve Wright -
Rating:
We ordered a piece of cake which was visually displayed in front of us. We ordered it at 20:26 with the pub fairly quiet. At 21:00 it had still not arrived, despite reminding the staff. Over 30 minutes for a piece of cake. No good. Poor service. Poor communication.
George Gresham -
Rating:
Been going to Monk's Bridge Farm restaurant for a few years now. Never had a bad meal yet. Always good food and very nice staff. They always make you welcome and talk to you, even when under pressure, which they very often are. I love the place. Top marks Monk's Bridge Farm, Dinnington.
Julie -
Rating:
Always good food and good service, staff very helpful. Would definitely recommend.
Diane -
Rating:
I have been dinning nearly every Sunday at Monk's Bridge for near on 6 years with other members of my family, especially my mum until her death. We always enjoyed our meals and team members of staff were always helpful and very friendly until today.

I ordered a farmhouse salad, which came with an item missing. Commented on this to a team member. As I was looking at the deserts I heard a female member of staff say that I should be told to get over myself and to give me extra cheese. We should have been informed that the item was not available also the manager should have told the team member who was stood next to him as she was making remarks about me to keep her opinions to herself. It wasn't until I let them know who I was that he was going to have a word with her. What a shame one team member let the side down.
Cynthia Miller -
Rating:
Been to Monk's Bridge Farm for lunch today. The carvery, as usual, was second-to-none, but the reason for this review is to let you know how wonderful the staff are. So very helpful.

I took a friend who is not good on her feet. The chef offered to carry her dinner back to our table. I thanked him but said there was no need, I could take both meals. But he went and got a tray for me.

We had the most amazing apple crumble for sweet. Everybody is very helpful and it seems that nothing is too much trouble.

Thank you to everybody who works there. We try to get once a month, so keep up the good work, and the apple crumble.
Roy Duffield -
Rating:
I had my 65th birthday party on Saturday 22nd March with you for 12 people. We could not fault the service of the staff and they could not do enough for us.

The food was first class and plenty of choice. They even helped with the birthday cake and put an indoor sparkler on it, and also assisted with photos. We all said we will be back.

Once again thank you for a great night, it made my day.
Brian & Marie -
We went to the Monk's Bridge Farm pub just after it opened. We found the food was excellent, portions were very generous and the prices extremely reasonable. It was recommended by a friend of ours who has been there several times and is also extremely satisfied with the atmosphere and facilities. We would recommend this pub to anyone and especially the carvery.
David & Jenny Page -
Four of us went for a meal. We ordered our food at 9:20PM, and last orders were at 9:30PM. The food was undercooked, cold and the worse pub food I have ever seen. The waitress came and asked if every thing was OK, I told her that the food been awful and she said OK, smiled and walked away.

Talk to anyone who has been here and they will tell you to stay away. This is the second time we have been here but never again. I wrote to the pub but had no response.

This pub was empty at 10PM on a Saturday night. Why? Try the Golden Ball at Whiston or The Hind and sample quality pub food.
Eaten at Monk's Bridge Farm? Write a review!
Anonymous reviews, reviews using nicknames or reviews sent from invalid email addresses will not be published.