Milestone Restaurant
12 Peak Square
Crystal Peaks
Sheffield
S20 7PH
Telephone: 0114 4387974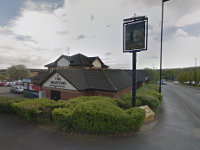 Reviews of Milestone Restaurant
Type(s) of Food Served
Pub Restaurant
Description
Family-friendly pub offering cask-conditioned real ales and fresh, home-cooked meals, including a daily carvery priced at £4.99 and a choice of chef's specials.
Food Service Times
Sorry, we do not have the restaurant's opening times yet.
Special Offers
There are no special offers that we are aware of.
Amenities & Facilities
Credit/debit cards accepted?



Average main course price?
Special diets catered for?
Ted -
Rating:
Never be going again, nor shall I be recommending this establishment.

Don't go in here if you are a group, as I've found out to my horror, as you are not welcome.

Our group of 4 went in and ordered off the early bird menu. (So not too late in the evening.)

We had a starter and main course, and a couple of Belgian Blue beers.

I can only assume it was one of the management team who approached our table and asked us to leave, as the staff are not happy to serve us.

This was a total shock, as we were nothing but polite, with please and thank yous, and the utmost respect for our waitress, Claudia. When we asked why I was not given an answer as to what we had done to offend anyone.

Still in shock as to the decision. I can only think they want couples in the establishment and not groups, to which I would say there are plenty of other places to eat nearby.
Alf -
Rating:
Lovely elderly lady behind the bar, run off her feet. She was the best thing in there.

The meal we had was OK because it isn't a top restaurant, it's a pub. The problem we both have is that we don't drink alcohol because of our health, so we have a pint of water each, topped with a splash of diluted orange, which has already been diluted. They probably bought it for 30p for a litre bottle. The cost of the drinks were £2.50, so that is £1.25 for a drip of the cheapest diluted orange going. The profit margin they make off disabled people is scandalous, and my wife and me will never go in there again

P.S. while we where eating our meal we watched how two women complained about everything, just so they could get a refund, and it worked. Me personally would have told them to leave without nothing. The Milestone was scammed.
Jo Fairclough -
Rating:
Went for a special occasion. Highly recommended but very disappointed.

Long wait for drinks at the bar. £9.50 for glass of Chilean white wine (£6 at supermarket for bottle) and pretentious menu to boot.

Long wait for food but it was a busy Friday night. Seemed a bit short staffed and the lovely staff did their best.

Meat was very over cooked and like leather. Sent it home for dogs.

Not normally a complainer but this was poor. Need to get back to basics and deliver simple gastro pub food cooked well and target normal people who want a well-earned meal out.
Emma -
Rating:
Shoddy service from start to finish. Overcharged on the bill 4 times; fire alarm going off every minute for 25 minutes because of cooking course upstairs; and then find our waitress in the kitchen slagging off my partner and I for complaining about being overcharged continuously on the bill.

£80 for a two-course lunch with wine for two, and it took over 2.5 hours because everything took so long at 1PM in the afternoon! No apology for a ruined occasion, even from the manager.

Such a shame, it used and be great.
Eaten at Milestone? Write a review!
Anonymous reviews, reviews using nicknames or reviews sent from invalid email addresses will not be published.