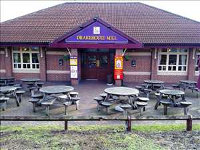 Reviews of Drakehouse Mill Restaurant
Type(s) of Food Served
Pub Restaurant
Description
Drakehouse Mill restaurant is located at Drake House Way in Crystal Peaks.
Food Service Times
Monday - Saturday: 12PM - 10PM
Sunday: 12PM - 9PM

Last seating: close of service.

(The bar is open longer.)
Special Offers
There are no special offers that we are aware of.
Amenities & Facilities
Credit/debit cards accepted?



Average main course price?
Special diets catered for?
Child facilities?
Children's menu
John Drabble -
Rating:
Cannot fault the meals or the service. The three of us all enjoyed our food. One of us had the salmon and they said it was the best they had tasted in a long time. Staff really nice... definitely will be back!
Dawn Bamforth -
Rating:
3-star service, food 2 stars.
Kevin Broughton -
Rating:
Chicken was pink inside. I sent it back and they fetched another, also not cooked. When I complained they said the chicken was pre-cooked before it arrived.

Stay away from this place it is ground zero for food poisoning and needs shutting down. Reporting to environment health.
Pauline Hands -
Rating:
Excellent service and food. Staff very welcoming. The lady that served us was Alicia and was very nice, helpful, and nothing was too much trouble. Also another gentleman also came to table to see if everything was alright. We will be coming again!
Tina Fining -
Rating:
Had a lovely meal today with my son, Kieron, and daughter, Tianna. It finished our day off after been to Gulliver's Kingdom. The staff was lovely, couldn't do enough for you. It's a very clean, safe pub, and highly recommend it.
Tracy -
Rating:
A couple of weeks ago my husband and I stopped off to eat here. We had our two dogs with us and after having a bad experience a wile back we thought we would give it another try.

It was really nice so today we decided to go back and have tea again, only to be told that they don't serve outside any more and haven't done all year. My husband explained that we were here two weeks ago, and the barman said with a very bad attitude that they haven't served food outside all year and won't be, and they don't have the staff to run backwards and forwards outside.
Joe -
Rating:
Gone down hill from a year ago. Food is not as good and they seem short staffed. They have a trouble answering the phone as well.
Loz -
Rating:
Been today, 27th February. The food from the new menu is so nice and you could share it, as you get loads. And staff are very nice and helpful. Will go again soon, thanks, and would recommend.
Em Canavan -
Rating:
Used to come here with my partner and stepson quite a lot. We came in today (Saturday 9th December), the food was absolutely disgusting. The kids lasagne did not have cheese sauce on it, just grated cheese; the onion rings were under cooked; the lasagne (adult) was over cooked. We also had an all-day breakfast; the hash browns looked like they had been reheated from lunchtime.

When I complained, the manager gave me a refund for one meal, but because she had already gone into the till to refund the lasagne it wouldn't let her go back in and refund the rest. Manager offered us dessert for 3 adults and 1 child, which was nice. We will not be eating here again.
Mrs S Noble -
Rating:
After visiting Sheffield with my husband we decided to call at Drakehouse Mill for a meal before returning home to Holton Le Clay.

My husband had scampi, which was reasonable. I had jacket potato and salad. The salad was brown and wilted. I returned it to the kitchen. They returned it with more salad on top of the other. When I cut into the potato it was all congealed. They took it away but did nothing about it. I had to ask for a refund.
Helen Green -
Rating:
We use Drakehouse Mill a lot. It's comfortable, staff are friendly, clean toilets. Never had any problems with the food and we've had most things on the menu.
Cheryl -
Rating:
Staff not very helpful, cutlery dirty. Staff said they had run out of Coke but as soon as we sat down after placing our order they filled the machine. So basically he couldn't be bothered to change it. Mash was really dry.

Will not be going again.
Jamie -
Rating:
The food was nice, apart from the frozen mash, which was put on a plate under a bowl and heated but not stirred. I put a little in my mouth and it was cold until I chewed, then it scalded my tongue.

The only reason I paid for any of the meal was the young lady behind the bar and the manager - really nice and helpful.

A lot of mix up but will try again.
Georgia -
Rating:
For the last few times we have been to Drakehouse Mill it has been shocking! The food we had was an English breakfast and was just chewy and the bacon was dripping in grease and it was black. The second time we came we had full monty mixed grill and again it was vile. The gammon was black? The sausage and steak was chewy and tough.

The waitress dropped my partner's tomato and fetched a new one within seconds, however left the one she dropped on the floor. Is that good customer service? You could tell the tomato has been sat ages, as it came too quickly to be fresh and was cold.

In general the food wasn't the warmest to be "fresh". In fact the dessert took longer than the main! It was ridiculous and we will NOT be returning.
Anne Crossland -
Rating:
Visited today - very disappointed.

No scampi, then was told no burgers. Burgers were sorted, but wrong salmon meal was brought out for me. Ordered with rice but came with salad. A new meal was offered but my grandsons' meals were ready.

Then ordered desserts but they didn't have vanilla ice cream, so had to change the order. Pretty poor as most of the desserts had vanilla ice cream.

The pub wasn't busy when we ordered, but two other customers had the wrong meal, and another complained theirs was burnt.

To top it all, when I looked at the receipt when I got home I had been charged for an extra drink!

Will not be recommending Drake House Mill to anyone.
Mr Woodall -
Rating:
Good food. Great menu selection. The staff can't do enough for you.

A lot of new faces, but its lovely to see some familiar faces, especially Elaine, she always makes a fuss of the kids makes sure they have crayons.
Lynn Woodruff -
Rating:
Decided to go out for a bank holiday meal. Well, the food was very poor, frozen, not fresh, dirty floors and tables. Been coming a while but no more.
Samantha Colliver -
All the tills were down and the staff were using mobile phones and calculator to add the amounts up for the food.

Paid £1.99 for three extra Yorkshire puddings that were cold and hard. The steak and ale pie pastry was soggy.

We go regularly and I have never experienced a service like this before, it was unacceptable.

We had to queue for 15-20 minutes to order food and drinks because the tills weren't working. Had a hand written receipt and we had to queue to get the drink. One of the staff members also forgot one of the drinks.
Ken Moody -
The salmon and herb fish cakes were super, the apple pie great, custard, hot and runny, yum yum!

Pepsi for the wife and a pint for me £12. You cannot beat that surely.

The pub is a lot better without the play area and it shows by the amount of people there.
Eaten at Drakehouse Mill? Write a review!
Anonymous reviews, reviews using nicknames or reviews sent from invalid email addresses will not be published.