Aagrah Restaurant
200 Waterthorpe Greenway
Crystal Peaks
Sheffield
S20 8LY
Telephone: 0114 2482049
Website: http://www.aagrah.com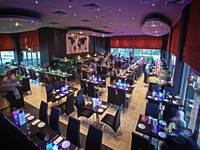 Reviews of Aagrah Restaurant
Type(s) of Food Served
Indian
Description
Aagrah restaurant is located at 200 Waterthorpe Greenway in Crystal Peaks.
Food Service Times
Monday - Saturday: 5:30PM - 11:30PM
Sunday: 4:30PM - 10:30PM
Special Offers
Yes - 10% off takeaway orders.
Amenities & Facilities
Credit/debit cards accepted?



Average main course price?
Special diets catered for?
Aisha -
Rating:
I don't know what everyone is complaining about. The food is delicious there and has loads of flavour!
Cath -
Rating:
Booked a table for 4 last night. Never again. From barman to waiter, the staff are so very rude and miserable.

As we were seated near the door and under the aircon we asked if we could move tables. The waiter was not pleased and said we had the best seat in the house. He did quickly wipe a table for us to move.

All evening the waiter never spoke, never mind a please or thank you. He collected plates before we had swallowed food. Twice he lent over the table to collect plates and almost hit my husband in face.

I chose chicken tikka masala, which was was not cooked - it had blood inside each piece of chicken I cut. This totally put me off and I didn't eat anything, so came home hungry.

My husband and friends were disgusted with the standard of food and non-existent customer service.

Ladies toilets were filthy, tap broken, thick dirt on walls and floors.
Kate Wild -
Rating:
Booked a table for 9 tonight for my brother's birthday. Having learning difficulties he was so excited for a fuss. We took him a cake and I ordered him special cocktails.

We all but 2 kids ordered the buffet. The food was amazing! The kids ordered nuggets and chips.

Our waiter was sour to say the least! I asked for ketchup for the kids meals, he slammed it on the table without a word, and got grumpy when we produced vouchers advertised on their own website.

All of the staff we encountered were ignorant and very unfriendly. Such a shame, as the food was beautiful.

We won't be returning.
Lacx -
Rating:
We went with family. The best buffet in Sheffield, specially the lamb chops. Desserts were very good as well. will go back again.
Ali Khan -
Rating:
Went to this place last night and I'm extremely disappointed in the place. The manager wasn't welcoming at all. He said "we are fully booked, sorry" when actually no one was sat on half of the tables. Somehow he managed to get us a table.

We were forced to have the buffet, but we went for the menu, which obviously he didn't like.

Service was really poor and the attitude of the staff was disgusting. Food was good but the poor service and attitude put us off.

I'd like higher management to look into this because I didn't pay for the awful service and attitude.

Neither I'd go nor recommend this place to anybody.
Kash -
Rating:
So we were regular visitors to this restaurant along with my family. However, we decided to go on a weekday. Here is what we ate and how we found it:

+ Seekh kebabs were warmed up from last night, not fresh
+ Chicken Roast - under-cooked and could see RED under-cooked meat (complained about but no response what so ever)
+ Biryani - full of too much Garam Masala and Pickle which overpowered the rest
+ Pilao Rice - again not fresh
+ Vegetable curries (all of them were crap)
+ Pasta - nothing in the pasta container other than a half spoon full
+ Naan - under-cooked with uncooked dough in it

On top of that, we went with 2 kids (3 & 5) and we were charged full price for kids as well.

Not going back again. They have lost a regular customer.
Samina -
Rating:
Food was lovely, can't complain, but we were over-charged. We were 9 adults, at £20 per head we were meant to be charged £180. We had no drinks, just water in jugs, but we were charged £211. How does that add up! Don't think I will be recommending to anyone.
Wayne -
Rating:
Fabulous. Salads, sauces, starters, sides, veggie and meat curries and desserts. Loads and loads of choice, plus it's all you can eat. Attentive staff and very reasonable prices. We've been about twenty times over the last couple of years.
Steve Knight -
Rating:
We went to this place last week and found not much choice. The curries were just a paste on sauce and all the chicken was on the bone - the cheapest you can get.

Not as good as the last owner of the building. Not a good night out. There are a lot better places to go and get better food.
Eaten at Aagrah? Write a review!
Anonymous reviews, reviews using nicknames or reviews sent from invalid email addresses will not be published.