Aagrah Restaurant
200 Waterthorpe Greenway
Crystal Peaks
Sheffield
S20 8LY
Telephone: 0114 2482049
Website: http://www.aagrah.com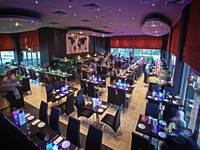 Reviews of Aagrah Restaurant
Type(s) of Food Served
Indian
Description
Aagrah restaurant is located at 200 Waterthorpe Greenway in Crystal Peaks.
Food Service Times
Monday - Saturday: 5:30PM - 11:30PM
Sunday: 4:30PM - 10:30PM
Special Offers
Yes - 10% off takeaway orders.
Amenities & Facilities
Credit/debit cards accepted?



Average main course price?
Special diets catered for?
Ali Khan -
Rating:
Went to this place last night and I'm extremely disappointed in the place. The manager wasn't welcoming at all. He said "we are fully booked, sorry" when actually no one was sat on half of the tables. Somehow he managed to get us a table.

We were forced to have the buffet, but we went for the menu, which obviously he didn't like.

Service was really poor and the attitude of the staff was disgusting. Food was good but the poor service and attitude put us off.

I'd like higher management to look into this because I didn't pay for the awful service and attitude.

Neither I'd go nor recommend this place to anybody.
Kash -
Rating:
So we were regular visitors to this restaurant along with my family. However, we decided to go on a weekday. Here is what we ate and how we found it:

+ Seekh kebabs were warmed up from last night, not fresh
+ Chicken Roast - under-cooked and could see RED under-cooked meat (complained about but no response what so ever)
+ Biryani - full of too much Garam Masala and Pickle which overpowered the rest
+ Pilao Rice - again not fresh
+ Vegetable curries (all of them were crap)
+ Pasta - nothing in the pasta container other than a half spoon full
+ Naan - under-cooked with uncooked dough in it

On top of that, we went with 2 kids (3 & 5) and we were charged full price for kids as well.

Not going back again. They have lost a regular customer.
Samina -
Rating:
Food was lovely, can't complain, but we were over-charged. We were 9 adults, at £20 per head we were meant to be charged £180. We had no drinks, just water in jugs, but we were charged £211. How does that add up! Don't think I will be recommending to anyone.
Wayne -
Rating:
Fabulous. Salads, sauces, starters, sides, veggie and meat curries and desserts. Loads and loads of choice, plus it's all you can eat. Attentive staff and very reasonable prices. We've been about twenty times over the last couple of years.
Steve Knight -
Rating:
We went to this place last week and found not much choice. The curries were just a paste on sauce and all the chicken was on the bone - the cheapest you can get.

Not as good as the last owner of the building. Not a good night out. There are a lot better places to go and get better food.
Eaten at Aagrah? Write a review!
Anonymous reviews, reviews using nicknames or reviews sent from invalid email addresses will not be published.