Papa Ciccio's Restaurant
10-12 Sandygate Road
Crosspool
Sheffield
S10 5NH
Telephone: 0114 2684440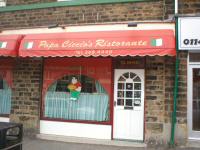 Reviews of Papa Ciccio's Restaurant
Type(s) of Food Served
Italian
Description
Papa Ciccio's restaurant is located at 10-12 Sandygate Road in Crosspool.
Food Service Times
6PM - 10:30PM
Special Offers
There are no special offers that we are aware of.
Amenities & Facilities
Credit/debit cards accepted?
Bring Your Own?
Restrictions (e.g. wine only) and a corkage fee may apply. Please enquire for details.
Average main course price?
Special diets catered for?
Sharon Otter -
Rating:
Favourite restaurant of all. Come here for special occasions on a regular basis. Love the food, atmosphere and friendliness of staff.
Sam -
Rating:
Service and food is absolutely amazing here. The steaks are cooked extremely well, unlike a lot of places I've been to. This is my go-to restaurant for special events and will continue to go. I recommend the goats cheese starter and steak with Parma ham and blue cheese sauce! Will be visiting on my birthday this year.

The only small complaint I have is the restaurant is very small so it can feel a little crammed if there are big parties in there, it definitely doesn't ruin the atmosphere though.

The staff are always very friendly and welcoming and provide a great service.
Keith Greenway -
Rating:
Been coming here for years and never been anywhere so consistently brilliant. The food, the service, the staff are always so kind and efficient. The best Italian in Sheffield without doubt.
Zoe Martin -
Rating:
I have never experienced such rude customer service in my life. Do not come to this restaurant. I am appalled at how bad the management have dealt with an incident at the restaurant.

There are plenty of other Italian restaurants that are much better. Do not book here.
Barry Johnson -
Rating:
We are the Johnson family who have been celebrating birthdays and anniversaries at this restaurant since we moved to Ranmoor in 1986. In all those years the food, staff, atmosphere, and ambience have always been excellent and consistent. And thank you for your hospitality and your version of filetto Rossini.
Kadr -
I have been there for two years and every time I go there I really enjoy the food.

The staff are very friendly and polite when I eat in Papa Ciccios and I feel I eat in a family restaurant in Italy.

I recommended to some friends and they all have the same feeling as I have in Papa Ciccios.
Michael and Jacqui Potts -
Visited this restaurant last Saturday night. Although the place is small the atmosphere is cosy and the waiters are very welcoming and courteous. The menu is extensive and there are extra specials on a chalk board. Don't know how the chef gets all the meals to perfection out on time given the many choices available.

The fillet steak and fish are to die for and excellent value. A plus with this restaurant is that customers can take their own wine with a small charge for corkage so giving an excellent evening out without breaking the bank. Well done guys.

Would recommend that you book and one final thing, only cash and cheques accepted when settling the bill.
Eaten at Papa Ciccio's? Write a review!
Anonymous reviews, reviews using nicknames or reviews sent from invalid email addresses will not be published.