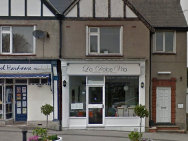 Reviews of La Dolce Vita Restaurant
Type(s) of Food Served
Italian
Description
La Dolce Vita restaurant is located at 52a Sandygate Road in Crosspool.
Food Service Times
Monday - Saturday: 5PM - 11:30PM
Sunday: closed
Special Offers
There are no special offers that we are aware of.
Amenities & Facilities
Credit/debit cards accepted?
Bring Your Own?
Restrictions (e.g. wine only) and a corkage fee may apply. Please enquire for details.
Average main course price?
Special diets catered for?
Wheat/gluten-free
Dairy-free
James -
Rating:
What a lovely couple. Fantastic little restaurant. Great tapas night worth a try for anyone. Traditional Italian, not false British-Italian.
Jennifer -
Rating:
We eat there regularly on a Tuesday evening. They have a special menu and it cannot be bettered. So much so we all prefer to eat there than anywhere else.

The food is cooked by Nana, and is not typical Italian but 3 courses of exciting, tasty, different, mouth-watering foods.

Please don't try it as we will not get our usual table.
Meg H -
Rating:
We have eaten here three times and enjoyed three delicious meals. It is my favourite restaurant for authentic Italian food.
Eri Sen -
Rating:
It's a simple family-run restaurant; the food is simple but truly Italian. Home-made cakes are fantastic and we loved the pizza, too!

I've been few times and really enjoyed, it's like being back in my gran's house

Bear in mind it doesn't pretend to be posh but "real"!
Jill Williams -
Rating:
If you want to experience a genuine family run Italian restaurant then this is definitely worth a try. We have eaten there three times (twice in large groups) now and although there may have been teething troubles (though we have not experienced any) the welcome is genuine and the food we have had good.

Within reason they will accommodate any personal requests if you fancy anything different to the set menu but it would be better to check this with them first.

Booking is advisable, as the restaurant is small and it is worth remembering that this is not intended to be fast food - everything is prepared in-house - bread and (excellent) cakes being homemade.

Check out other websites for other reviews, most of them are pretty good.

It is a bring-your-own (corkage charge applies) but amaretto or limoncello is offered after the meal, which is a nice touch. Excellent coffee! (They do morning coffee, too.)
Beverley Eaton -
Rating:
I have been prompted to write this review as I have just read Martin Dawes' review of La Dolce Vita in the paper, and concur with him.

Six of us went to this restaurant last week, and afterwards said we would not be going again.

For a starter I had foccacio (one slice of bread) topped with four cherry tomatoes. The main course was worse - I ordered sole and salad. Salad consisted of half a bag of mixed leaves with a cherry tomato on top, with another bowl of mixed leaves as a side dish. The fish was not cooked - raw in one place. We were told that the sole shouldn't be overcooked - no apologies and no questions about whether we were satisfied with the meal.

The best part of the whole evening was the company, and take your own wine.

I live in the area, as do the other friends, and we will certainly not be going back. Our opinion was that it's over-priced, with poor-to-mediocre food on this occasion, and the service certainly could have been better.
Eaten at La Dolce Vita? Write a review!
Anonymous reviews, reviews using nicknames or reviews sent from invalid email addresses will not be published.