Crosspool Tavern Restaurant
468 Manchester Road
Crosspool
Sheffield
S10 5DT
Telephone: 0114 2662113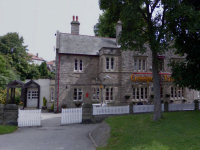 Reviews of Crosspool Tavern Restaurant
Type(s) of Food Served
English / Pub Restaurant
Description
Part of the Crown Carveries group.
Food Service Times
Monday - Saturday: 11:30AM - 9:30PM
Sunday: 11AM - 9:30PM

(The bar is open longer.)
Special Offers
There are no special offers that we are aware of.
Amenities & Facilities
Credit/debit cards accepted?
Average main course price?
Special diets catered for?
Paul Bielby -
Rating:
We had a Sunday lunch in December and found the staff unfailingly polite and very helpful despite it being very busy. The chef even came to our table to check our order. Very satisfied. Try the sundaes!
Hilary A Bird -
Rating:
We ordered easy food! The calamari and chicken starters were great! We were told we would get our starters delivered to table 7. We had to collect them when the buzzer went off!

Incredibly shabby, food mediocre, pizza soaked in cheese and oil, no salad, no chips, no help at all! You have to be kidding me, this is not pleasant at all.
Joanne -
Rating:
Great quality meals and with fantastic prices to boot.

Very welcoming staff and lovely atmosphere.
Jill -
Rating:
I went earlier Thursday and had a fantastic meal with all the staff who was so polite and friendly. Big thank you to the chef who had gone that extra mile to make sure my mum was given the best... definitely a great place for food.
Lesley -
Rating:
We booked a table for 10 on Boxing Day at 5pm. No table for us, they ended up moving some people and managed to get us sat together. Then we waited and waited - think they had forgotten us. There were young children in our party and they were very hungry.

Eventually we got some food. The soup was nice but there wasn't much of it. The meat in the carvery was very dry and the young lad didn't have a clue how to carve the meat.

After a long wait we got the sweets. No one asked if we wanted a coffee so we paid and left at 7:15pm. So two and a half hours for a three course meal.

The staff - when we saw them - were lovely.

We will not go again. Very disappointed.
Andrew -
Rating:
Sadly the service and food quality is going from bad worse. That's if you get your food at all.

We booked a table for 5pm. There was only one member of floor staff to serve and clear all the tables on Boxing Day. We got seated for 5:20pm.

The carvery was bone dry and stale - a norm since the menu changed. Most of the menu was out of stock. We had to change the order after we had paid for it. For 6:50pm we were told the first two burgers were ready only, and the rest would have to wait. We had 9 people in our party. What a shambles; we asked for a refund and left.

Since the change of menu and management the carvery is always dry and stale and you have to wait up to 40 minutes for a burger, even when it's quiet, if you're lucky. It used to be a good family pub; not any more. All the regular staff have left because of customer complaints, and the ones that are still there have all had enough.

Thanks for spoiling our family Christmas meal. We have been to you the last 5 years. Last being the word.
Terry Armes -
Rating:
Gone downhill since rebranding. The beef and turkey on carvery was dry. Spoke to manager but wasn't changed. Will not go again.
Phil -
Rating:
I see the previous review was in 2008, when I believe they had some problems. However, we have been several times in the last year and always found excellent value and quality food.

I would say that this was my favourite carvery. The only downside was that there was (on a Sunday afternoon) only one person on the bar who had to also change barrels etc... as well. Despite this, we'll keep on going there.
Janey W -
Called for Sunday lunch carvery to find no longer had Sky TV

Worse still, they took our cash (which somehow is unjustifiably £3 more on Sunday than the rest of the week for the same thing) at the bar, only to be told when in the carvery queue that the beef was off and would not be ready for at least an hour.

The turkey was dry and the remaining ham was scraggy ends that I wouldn't have put on any plate. All the vegetables, the peas, carrots and cauliflower cheese were of the frozen variety, plus the roast potatoes were hard in the middle and the Yorkshire puddings were soggy

Bonus - the cranberry was delightful and the barman very good. It's a pity the same can't be said for the miserable, sour-faced chef carving the little bit of meat he had at 3PM on a Sunday afternoon.

Oh what a downfall in the place.
Eaten at Crosspool Tavern? Write a review!
Anonymous reviews, reviews using nicknames or reviews sent from invalid email addresses will not be published.