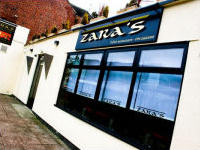 Reviews of Zara's Restaurant
Type(s) of Food Served
Indian
Description
Zara's offers "the cutting edge of Indian cuisine." We pride ourselves on serving the best food in town. All our dishes are carefully selected and we are especially proud of our delicious curries, which contain our own blend of herbs and spices.

Our staff are highly trained and put great effort into ensuring that your experience at Zara's is both memorable and enjoyable. With a fully-licensed bar, excellent vegetarian options and beautiful atmosphere, we cater for all tastes and always with the warmest of welcomes.
Food Service Times
5:30PM - 11PM
Special Offers
There are no special offers that we are aware of.
Amenities & Facilities
Credit/debit cards accepted?
Average main course price?
Special diets catered for?
Robert Jolley -
Rating:
Had a takeaway from here on 28/04 and it was superb. Also got 20% off due to my wife working for the NHS. Great gesture.
Jeana Grey -
Rating:
As noted here before, the customer services is a nightmare and the food is ordinary and very pricey. As almost all "Indian restaurants" in the UK, this one is also Pakistani, not Indian. Different spice palate.

I ordered the mushroom dish, I got 1.5 mushrooms and a lot of other vegetables. It didn't taste very good. I complained and the owner said "I'll tell the chef." That was it about my non-mushroom dish.

I got a bill of 30 pounds for 2 people! I asked to get 3 boxes for the leftovers, I got one. I asked the owner he said "don't worry we didn't take your left over for ourselves". Seriously? I wanted to know why the hell you mixed the left overs from 2 different people. "All my customer never complained" he said. I told him that I don't like to taste the saliva of other people in my food. "Fine fine fine" he said and showed me to the door. What an expensive nightmare.
Trevor Gillott -
Rating:
Delightful food. They start off with the best pickle tray containing 8-10 choices.

The following courses we have tried are all excellent. Great prawn purée, variety of sauces with all the usual proteins. Hard to fault.

Very attentive owner/manager keeps everything running very smoothly.

Going tonight mmm!
Annette Hansen -
Rating:
We felt very welcome. The food was outstanding!
Mike Satur -
Rating:
Linda and I have been visiting Zara's for around 4 years after stumbling upon it by accident.

It has been an eye opener, with some of the tastiest chutneys and dishes that are available anywhere in South Yorkshire. The dishes are cooked with a excellent blend of spices without any one overpowering the palette. We particularly enjoy the side dishes and often order several of these and just one main dish, perfect for our tastes.

We are always made welcome by Shahbaz and his staff even when we haven't booked. If you haven't tried it yet then make it your next Indian as a priority... although I don't want it to become too popular, as I may not get in!
Eaten at Zara's? Write a review!
Anonymous reviews, reviews using nicknames or reviews sent from invalid email addresses will not be published.