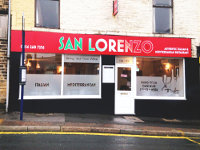 Reviews of San Lorenzo Restaurant
Type(s) of Food Served
Italian / Mediterranean
Description
Located in the popular area of Crookes, San Lorenzo is a new, family-run restaurant that aims to provide authentic home-made Italian and Mediterranean food, excellent service and great atmosphere.
Food Service Times
5:30PM - 11PM
Special Offers
There are no special offers that we are aware of.
Amenities & Facilities
Credit/debit cards accepted?
Bring Your Own Drinks?
Restrictions (e.g. wine only) and a corkage fee may apply. Please enquire for details.
Average main course price?
Special diets catered for?
Debi -
Rating:
Absolutely wonderful! Been for a meal last week with family and it was just lovely. The staff were great and always very helpful. Food is so amazing! The restaurant is fully licensed but additionally you could bring your own wine too! Can't wait to be back!
Gwen Simpson -
Rating:
Went last night to celebrate a friend's 60th.

The food was very good but we were rushed the whole time. They were hovering around wanting us to rush ordering, then rush to order desserts and coffee and said they were very busy and clearly wanted us to hurry up. It just spoilt the whole evening.

We were in and out in one hour fifteen minutes. If we had wanted starters, too, there wouldn't have been time to eat all 3 courses. Yet they never warned us we were on a limited time when we booked.

We won't go in again and it's a shame because it was lovely food. The table was booked for 7:30 on 19th August, booked by my friend if you want to check details.
Renata -
Rating:
The food was not very good. It tasted like slop. How can you mess up a pizza? Greasy and gross.

The service was also not great. The owner and the waitress were pacing around and not picking up plates or paying attention to the fact that we left half of the meal on the plate. Not a great experience.
Donna -
Rating:
I have given this restaurant five stars on food. It was beautiful. The only downside is you are rushed, and they didn't mention about a service charge and there was nine of us, so the bill was a lot.
Eaten at San Lorenzo? Write a review!
Anonymous reviews, reviews using nicknames or reviews sent from invalid email addresses will not be published.