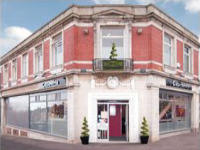 Reviews of Casanova Pizzeria Ristorante Restaurant
Type(s) of Food Served
Italian / Pizzeria
Description
Classical Italian cuisine in contemporary surroundings. Runner-up in in the "Best Chef" category at the English Italian Awards 2015.
Food Service Times
Lunch:
Tuesday - Saturday: 11AM - 2:30PM

Dinner:
Monday - Thursday: 5PM - 10PM
Friday & Saturday: 5PM - 11PM
Sunday: 1PM - 8PM
Special Offers
There are no special offers that we are aware of.
Amenities & Facilities
Credit/debit cards accepted?



Average starter price?
£5.00
Average main course price?
£9.00
Average dessert price?
£4.00
Special diets catered for?
Child facilities?
High chairs
Moustafa Radwan -
Rating:
The food was amazing!

The staff are so kind and they genuinely care about you and whether everything is perfect. They gave me a 20% discount and they're also very very helpful and friendly. Would 1000% recommend visiting here for an amazing dining experience!

Thanks so much guys.
Deborah -
Rating:
Very disappointing food.

We brought our own wine (paid £3.00 a head corkage).

Four people went we all had lobster ravioli with prawns.

It was dreadful. Hardly any sauce; a few squares of ravioli, which tasted of nothing; about 2 teaspoons of tomato sauce; no salad or bread or any accompanying vegetables.

Dessert was OK - frozen cheesecake with ice cream. Looked better than it tasted.

Very poor food and the waitress chased us for a tip after we left!
Jackie -
Rating:
Second visit here. Lovely, family-run restaurant. Went with family this evening to celebrate my partner's 65th birthday. What a lovely meal! Staff very attentive, wonderful evening! Can not recommend this restaurant enough. Will definitely be going back.
Adam -
Rating:
Now this is a must try restaurant, I have been here on 3 occasions. Excellent family-run business that serves excellent, well-presented food. Made to feel very welcome on each visit. Caters for every need. Will be attending again soon.
Alex -
Rating:
I love this place! The staff are always so welcoming and the food is absolutely delicious! Personal recommendation - the profiteroles. They are the best I have ever tasted. Can not give this restaurant enough good feedback!
Phil -
Rating:
A really bad experience here. The evening was soured from the beginning when the waiter would not honour our pre-paid voucher. The voucher said it was "for up to four persons", which means that less than four could be accommodated. Although we had a party of three, he demanded that we bought four sittings because the voucher should be read as "for four persons" (which it clearly didn't)! Either the voucher company misinterpreted the offer from the restaurant, or the latter had changed its mind. Either way, the voucher should have been honoured. I see from reviews elsewhere that this is not the first time that customers have been similarly upset.

As for the food, I may have made bad choices. I ordered "Funghi Alla Casanova", which turned out to be something like a watery and tasteless mushroom soup with a few mushrooms floating in it.

The main course was "Risotto Al Pollo", but it was very stodgy and not very flavourful, which I had to leave.

I gave up there and couldn't wait to leave. The food is over-priced and mediocre at best.

The atmosphere was steamy - not in a sensual sense - but loads of condensation, indicating that it was poorly ventilated. We were seated too close to a door to the toilets so that I had to get up every time someone wanted to use them.

On leaving, we took the fourth sitting home with us as a take-away but they tried to charge VAT for it on the bill.

After all this, they had the gall to ask if I wanted to add 10 or 15% gratuity to the bill!

Never again!
Mark Swallow -
Rating:
Went here last night as part of a Groupon deal, and I have to say it was brilliant.

All aspects, food, service, atmosphere. All 5-star.

I've had Groupon deals before, but this is the only place I'll visit again.

Superb.
Sarah -
Rating:
Went on Valentines day... really bad experience!

Food was terrible and when I mentioned that my calamari wasn't very nice the waiter told me that it was supposed to be cooked like this and that there was nothing wrong with my food!

I felt embarrassed and that I wasn't valued as a customer at all.

Won't make the same mistake again!
Roland Steel -
Rating:
Having visited this restaurant in person to book a meal for 14 people I have had simply the worst experience with an owner/manager that I have ever had.

Initially he stated he would only take a booking for 5PM on a Saturday for that number, then he said we would need to sit at 4 different tables, as he wouldn't sort a larger table and we would need to be out by 7PM. Then when he realised that I wasn't happy with his "I don't want your business" offer, he stated that he would ensure we were at different corners of his restaurant.

Quite frankly the rudest and most arrogant restaurateur I have ever met. I would not book at this restaurant on principle now, regardless of the quality of his food.
Mark Weatherer -
Rating:
Excellent food and great service - we were very impressed with this restaurant.

Tiramisu was great. All food delicious - would definitely recommend.
Rima -
Rating:
I had been to Casanova's a number of times, for various occasions, and it was great every time. It's close to home, so no need for taxi!

The food was tasty and the portions were big (I have tried garlic bread, garlic mushrooms, different pastas and risottos), the waiters were helpful and not rushing.

The food is not too expensive, but it can add up if you go for a three course meal and a few glasses of wine. But I suppose, it's up to you what and how much of food/drinks you order.

I'm planning to book a table there again for my fiance's birthday!
Beverley -
We went to Casanova for a special anniversary meal, mid-week. I have been twice before and enjoyed it, but have to say it was outstandingly disappointing this time.

The minestrone soup was watery and fairly tasteless, and the pizza main course was burnt underneath, served with blackened bits of ham on one of its quarters. Not wanting to ruin the occasion, we didn't complain. The other main course meal of veal served with vegetables was absolutely fine. However, to our intense irritation the waiters insisted on trying to top up our wine glasses every time they passed our table (presumably to encourage us to buy another bottle), and we had to ask them to desist on three occasions. At this point, we gave up on the dessert menu and left.

Not a happy experience, and at around £50 for a mediocre/poor meal it's one we vowed not to repeat there.
Rachel Brown -
My most favourite restaurant! From a quiet night out to a celebration evening, we always end up there. The chilli garlic bread is to die for. The steak is always melt-in-the-mouth and the pasta dishes are cooked to perfection. A lovely, friendly atmosphere with staff that are always eager to please! Try it, you won't regret it.
Eaten at Casanova Pizzeria Ristorante? Write a review!
Anonymous reviews, reviews using nicknames or reviews sent from invalid email addresses will not be published.