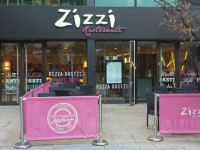 Reviews of Zizzi Restaurant
Type(s) of Food Served
Italian
Description
Our restaurant offers a lovely al fresco area and is an excellent retreat away from the busy streets and its warm and relaxed atmosphere offers an excellent dining experience for any occasion.
Food Service Times
Monday - Saturday 12PM - 11PM
Sunday 12PM - 10:30PM
Special Offers
There are no special offers that we are aware of.
Amenities & Facilities
Credit/debit cards accepted?



Average main course price?
Special diets catered for?
Jeff Lorino -
Rating:
Their pizzas are beautifully baked, just like in Italy. However, presumably to suit British taste, they don't seem to put any salt or garlic on them! Could be a winner otherwise...
Rikiya O -
Rating:
I went to Zizzi. This restaurant has many kind of pizza, pasta and other. The Margherita of this restaurant was very delicious. And I was able to relax because the atmosphere of this place is so good.

Therefore I recommend that visitors try to go with a lover and a favourite person. If I can say luxury, this restaurant had better to increase the number of staff. They were worked very busy. I have a feeling that their service was not careful to all customers.

Thank you.

August 8, 2014.
Helen -
Rating:
I couldn't disagree more, when we visited Zizzi's, the service was impeccable. I had the lemon chicken dish and it was quite simply delicious. The lemon sorbet we had for dessert was absolutely the best I have ever tasted.

It's not a bog standard Italian restaurant, Zizzi's offers something different. If you want chequered tablecloths and wine in a basket you'll be disappointed, but if you want excellent Italian food that's a bit more imaginative then this is the place to go.
Barnaby Knowles -
Rating:
I went to Zizzi on a Saturday evening for a birthday celebration in a party of 5. Having been told that they didn't accept bookings on Saturday nights, we turned up at 7:30PM hoping that they'd have a table free.

We were in luck, although the restaurant appeared full a party was leaving and we were told to take a seat on their sofas and that the table would be ready in 10 minutes.

At this point the norm would be to go to the bar and order drinks. However, when we tried to do this we were initially told that we could not order drinks if we did not have a table. After explaining that we were waiting for a table to be prepared the bar staff relented and the drinks were brought to our table shortly afterwards.

The menu was varied and interesting but didn't contain the dishes that you might expect to find at an Italian restaurant. For example, it only contained one steak and one chicken dish (plus the specials board).

The ambience was very pleasant, as the restaurant was busy and has an open kitchen that makes for a point of interest. Others in my party found the service a little slow, or rather waiting staff seemed a bit scarce, so ordering extra drinks and getting the bill took longer than we hoped.

The quality of the food was good, and my main complaint is the portion size. I chose "Pollo al Limone con Spinachi" from the specials menu and was disappointed to find that this consisted of only a chicken breast in a lemon dressing with a few spinach leaves and some pine nuts, garnished with iceberg lettuce. I guess that's what the menu describes but for £11.95 I was expecting something a little more imaginative! Oh, and the "hot pot of sliced potatoes oven-baked with red onion and sunblush tomatoes" was tiny and had a jagged broken handle.

The red wine that we ordered was lovely but a lot warmer than room temperature. We guessed that it had perhaps been stored cooler and then warmed up a little too much, immediately prior to being served.

Overall it was a pleasant experience and although the food was nice nobody felt that Zizzi offered value for money or an extra special experience to justify its prices.
Eaten at Zizzi? Write a review!
Anonymous reviews, reviews using nicknames or reviews sent from invalid email addresses will not be published.