Wong Ting Restaurant
6-8 Matilda Street
City Centre
Sheffield
S1 4QD
Telephone: 07902891171
Email: lee075942@gmail.com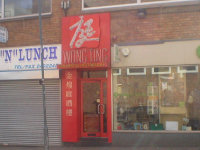 Reviews of Wong Ting Restaurant
Type(s) of Food Served
Chinese
Description
Friendly restaurant serving all cuisine from the China region.
Food Service Times
11:30AM - 11PM
Special Offers
Lunchtime specials available. Please contact Wong Ting for details.
Amenities & Facilities
Credit/debit cards accepted?



Average starter price?
£5.50
Average main course price?
£7.50
Average dessert price?
£3.50
Special diets catered for?
Child facilities?
Baby changing
Jennie Street -
Rating:
We went for dim sum recently for the first time in 2+ years because of COVID. We love the food and there were new dishes on the menu, and the quality of the food was excellent as usual.

However, this is undermined by staff attitude and by the dreadful state of the women's toilets.

We waited a long time for one dish, which was unusual because food usually comes quickly. Staff were not attentive and didn't notice us indicating we needed service. And when finally one came over and we asked where the dish was, the waitress said "there's none left". So we said "why didn't you come and tell us?" She shrugged, didn't apologise. Then we had to wait about 10 minutes for a replacement dish.

The plastic tablecloths were not changed between customers but just given a very cursory flick wipe before next customer sat down.

Most staff were wearing masks but several of them seemed not to realise that their noses are part of their respiratory system and wore the masks below their noses.

The women's toilets are not good. One toilet (out of 4) was completely broken, as I remember it was more than 2 years ago. Another seemed to be locked, and so there were queues. The floor was sticky as though it rarely gets cleaned. It seems the owner is too mean to spend money on making the toilets fit for purpose or checking their cleanliness. I think if Environmental Health paid a visit they might well give Wong Ting a low rating.
Richa -
Rating:
Don't even know where to begin. We went to this restaurant today (me, my husband, and my 3-year-old daughter).

First I went to ask if they had a table available, to which they said it will be half an hour waiting, and I said that's fine, can you please book a table for us from next half an hour (it would be 7PM) and then I went downstairs.

I came back upstairs and he said it will be half an hour (if should have been 10 minutes, as I came back after 20 minutes). They gave tables to other people who came after us but not to us.

We waited half an hour and told about 3 waiters that we were ready to order but no one wanted to take the order. Finally after ordering, to one of most rude staff, we waited for our starters. However, they came out quickly but only 2 of them (out of 3). We had to remind them to get the 3rd starter.

Then we had to remind them for the main course a few times and most of the staff just ignore you there as if you are not talking sense.

There was a problem at another table, as they were complaining about the food and service, so all the staff got busy there.

Eventually the food came out. It was average at best and of course over-priced. There is no children's menu so you have to order a big meal for kids.

Then after eating a bit (because by then we were frustrated and wanted to get out), we went to the till to make a payment. Our bill was incorrect and there were a few alcoholic drinks on the bill that we did not order, and the prices of the food were incorrect. When I questioned it, they were adamant that the prices are correct and I had to show them on the menu. For the drinks I had to prove somehow that it was not us who ordered the drinks (most bizarre). They went to our table to check the glasses. Staff at the till had to get 3 tries to correct the bill.

When the manager / owner came to the till, I just politely said that you guys need to do something about the customer service, to which he snapped and said "I don't want to argue with you and I don't need your opinion. Other table was being an idiot so I don't need it from you, too." I was absolutely shocked at this reaction. He was just so rude and ill-mannered.

If you enjoy being ill treated, this place is definitely for you, else don't even bother!
Alan Lok -
Rating:
Best food in Sheffield. All China cuisine. Good service and management.
Li -
Rating:
Great taste with great value. Definitely will come back. Love it!
Claire -
Rating:
Have been coming here for years and the majority of the time it's been decent service. However, recently received bad service. We went in at 12:08 and thinking it's early we would be done early, how wrong could I be.

We were seated quickly and ordered the lunch special and drinks. The drinks arrived fast but we then waited 15-20 minutes for soup.

It then took a long time for them to take dirty pots away. Brought hot plates for the hors d'oeuvres, but unfortunately it took so long for the food that the plates were cold. We then had long waits for plates being taken away.

We saw plenty of other people being served quickly from the dim sum menu! After a further wait of 30 minutes for mains to arrive (on cold plates & lukewarm) we finally had enough.

We asked for the manger and after another wait he finally came over. He wasn't interested in what we had to say.

We left very disappointed and disgusted. Even if it's busy, all customers come first and should not be ignored for other customer types.
Alan -
Rating:
We took our daughter and some of her friends out for an eighteenth birthday meal.

The food was excellent and the service outstanding. With a vegetarian and a mixed set of orders the waiter was very helpful in guiding us through the different menu options and made sure everyone was catered for fully.

The food was served quickly and efficiently in quantities that were sufficient to defeat most of the diners.

I would recommend this restaurant to anyone and we will certainly be going back again.
Ron Jubb -
Rating:
Visited this restaurant on Thursday 13th November 2014, lunch time.

Arrived at 12:10PM. Very quick to take your order, soup served within 5 minutes. The problems then began.

We waited and waited and waited 55 minutes for the main course. Still did not arrive. In the end we put our coats on and decided to leave. We still got charged for the soup.

There were approximately 50 people came in after us, all got served within 2 minutes of arriving. You've guessed it - all Chinese.
Zoe Twigg -
Rating:
Really nice food. Good value for money - £15 all you can eat. All fresh food brought to your table.
Tom Boydell -
Rating:
I eat here fairly often and I think that this is probably the best Chinese restaurant I have been to.

The so-called "buffet" is excellent value. I say "so-called" because unlike most buffets you do not go and help yourself. Rather you order as much as you like, as often as you like, from a very extensive menu, and the food is then cooked and delivered to your table. It is therefore fresh and not been waiting in self-service containers for a long time, as is so often the case.

There is also an extensive a la carte menu, some specials, and dim sum. You have to ask about the latter - the menu isn't on the table but is brought specially. It seems to be mainly for Chinese people but there are English translations.

For me the staff range from perfectly OK to brilliant.
Claire -
Rating:
Wong Ting is a lovely restaurant. The food is really nice, so Natasha is wrong, I have been going there for years and never had a problem with the service or the food. And I am English and the staff are really nice there.
Natasha Crawford -
The food is OK, if you get it that is.

The staff are so rude it's unbelievable. My sister, my father and I used to go every week for about a year. But the staff became unbearable so we stopped going.

They will shout at you, throw your bills on the table, over charge you, stand by and wait for tips. They all stand around each other speaking in Chinese, while they all look over point and laugh at you.

However if you are Chinese I would definitely recommend this place, because that's the only way you seem to get a nice service.
Natasha Crawford -
The service that we received at this restaurant was absolutely disgusting. You will either get ignored or speak to a member of staff that cannot speak English.

The food is reasonable but always cold. My sister and I went for a meal today and had to wait 2 hours for our main course, which we ended up sending back and only paying for what we ate. The staff were still rude to us and threw the bill at our table and muttered under their breath.

I would recommend anybody who wants at least an OK standard of service to not go here.
Eaten at Wong Ting? Write a review!
Anonymous reviews, reviews using nicknames or reviews sent from invalid email addresses will not be published.