Wagamama Restaurant
2 Leopold Square
City Centre
Sheffield
S1 2JG
Telephone: 0114 2723615
Website: http://www.wagamama.com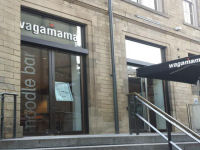 Reviews of Wagamama Restaurant
Type(s) of Food Served
Japanese
Description
Wagamama restaurant is located at 2 Leopold Square in Sheffield city centre.
Food Service Times
Monday - Saturday: 12PM - 11PM
Sunday: 12PM - 10PM
Special Offers
There are no special offers that we are aware of.
Amenities & Facilities
Credit/debit cards accepted?
Average main course price?
Special diets catered for?
Lucy -
Rating:
First off, don't expect legitimate Japanese food, this is heavily adapted for a Western palate.

Service is hit and miss. Have been a few times and been served instantly, although have been once or twice where it has felt like the staff were ignoring us on purpose (not sure why they would do that, tip wise).

Food is good, although it's hard to comment on other dishes, as I always order the katsu (which is fairly legit).

Food is also served as and when ready, so one of you sometimes has a dish waiting for 10 minutes while waiting for others.
Jasmine -
Rating:
I love it here. Lightning fast service. The food is lovely, although sometimes a little cold. There's a large choice and it's all freshly cooked, virtually in front of you.

I'd recommend anyone to go here at least once!
Jessica -
Rating:
Okay... so firstly don't go here!

I have nothing good to say about this place... the service was atrocious, with me and a friend standing waiting at the door to be seated for 10 minutes even though the restaurant was empty and the waitress was busy talking to the chef!

We finally got seated and then the menu was a bit of a shock with very little actual Japanese food on it. Although it is famed for oriental and healthy food that tastes 'amazing', it was so disappointing. It had a chicken noodle dish with tomatoes and chilli and it was so bland, you couldn't taste the chilli and it was clear that the chicken wasn't cooked fresh as it was dry and tasteless.

The noodles were overcooked and soft, and the price was outrageous for what we ordered. It was over 15 quid each for a glass of Coke and these awful noodle dishes. It's safe to say we didn't tip and we didn't return!
Eaten at Wagamama? Write a review!
Anonymous reviews, reviews using nicknames or reviews sent from invalid email addresses will not be published.