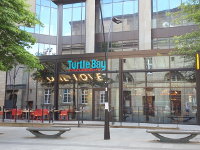 Reviews of Turtle Bay Restaurant
Type(s) of Food Served
Caribbean
Description
Turtle Bay is all about capturing the heart & soul of The Caribbean. Relax with friends, share food and conversation. Turtle Bay will lift your heart and soul.
Food Service Times
Sorry, we do not have the restaurant's opening times yet.
Special Offers
There are no special offers that we are aware of.
Amenities & Facilities
Credit/debit cards accepted?



Average main course price?
Special diets catered for?
Olivia Ross -
Rating:
I am utterly disgusted with the service we received at Turtle Bay, Unit 2 NUM Building, 18 Holly St, Sheffield S1 2GT, yesterday evening. We made a birthday table booking for my sister, my son and myself and had confirmed this over the phone with two members of staff and specifically asked if we could bring a child to which we were told "it gets a bit loud, but that's fine children can come".

After adding the child to the booking we turned up and were greeted by the rudest bouncer I have ever come across. We were told we couldn't come in with a child to which I contested as we had confirmation this was okay and he had been added to our table booking. We were refused service so I requested the complaints procedure, as soon as I mentioned complaint the bouncer grabbed my arm with extreme force and tried to drag me out of the building in front of my son. When my sister tried to stop him he proceeded to drag her out and throw her down the stairs injuring her, ripping her clothes and traumatising my 6 year old. The excessive use of violence by the bouncer was completely out of order and caused injury and distress to us. Other bouncers had to come and calm the out of control bouncer down, we were then given a trip adviser review card as their complaints procedure and told to make any complaint via this.

I will be taking this further, I have videos of the bouncer man handling my 21 year old sister in front of my 6 year old son, and photos of injuries caused, and will be sending this to our family lawyer and holding Turtle Bay and the bouncer (who refused to give us his name) accountable.
Sarah Thompson -
Rating:
Had amazing afternoon the cocktails are beautiful and the staff are amazing. Todd looked after us, he was very polite and a great host. You need to keep him - great lad.

Shirley Fiddler -
Rating:
I have been to Turtle Bay many times and not once have I been disappointed. The staff are lovely and friendly and this time Todd was really good. The cocktails are great and also the food. I love it. Thank you very much.
Kerry Morton -
Rating:
Booked a table for bottomless brunch. Confirmation does not get sent to email, but took photo. When we got there they said we were booked in for the brunch lunch. As an NHS worker I am quite precise in bookings and know I booked for the bottomless brunch. I had no way of showing my confirmation, as they don't send it. So why ask? I think they had overbooked and although we had a table we couldn't have the bottomless brunch.

We left disappointed and went to 'Spoons. Cheaper and the food isn't bad.

Do not book, you might be turned away! Never again!

After all us NHS heart failure nurses have done in this pandemic and this is your response.

Nicky, the manager of Turtle Bay Sheffield, wasn't obliging. All she could say was sorry. Sorry was not good enough. Kerry.
Gill -
Rating:
My friend & I went here on Saturday for a meal. We were told they didn't have any tables available for at least one hour. The member of staff we spoke to was rather rude and abrupt. She definitely couldn't be said to be getting job satisfaction! Think they were more interested in serving people with drinks rather than food.

We definitely will not be rushing back here.
Shirley -
Rating:
I've been here a few times now and every time has been a great time. I've eaten here 4 times and the food is delicious and all freshly cooked. The cocktails are the best, too.

I came last night with my friend for belated birthday drinks and food. We were looked after by Ellie at the bar who recommended 3 gorgeous cocktails, very friendly and also Ellie who was our food server. She was great, too. It made our experience a very good one.

I also got a free dessert with a candle for my birthday and the staff sang "happy birthday". How nice. Highly recommended. Thank you.
Deana Curley -
Rating:
We were really looking forward to this, and were sooo disappointed!

As we had 1 hour 10 mins to eat before our concert booking, we were told to get the starters as the same time as the mains, as they were short-staffed and were running late? We were very annoyed, so missed the starters off. (I really wanted the chilli squid as well.)

Just ordering 4 mains, all 4 dishes were lukewarm! My prawn curry was watery and tasteless. Service was painfully slow. We saw two other tables complaining about slow orders.

We would definitely not go back again. Shame, as it has a nice menu but just doesn't live up to the expectation.
Vicky -
Rating:
Food was cold; had to send starters back, as cold. We went as a party of 9. 4 of us ordered the babyback ribs. All 4 had to go back, was cold. 2 of us ordered the cheesy spiced fries, was cold and soggy, sent them back as well.

Cocktails was great and our waitress was lovely, but was very, very disappointed with food.

Will not return.
Lynda -
Rating:
Was a tad disappointed. Starters were lovely. I ordered the jerk chicken for my main. It was lukewarm and was lacking in the jerk department. Ordered drinks. Took an age to come. We had to prompt the waitress, not good.

Heard such good things. Was so excited to be actually eating there. Disappointed. Been to better cafes. No atmosphere, no nothing. 21st April Easter day. We expected more. Not worth your hard-earned cash.
Christine Davies -
Rating:
Food was reasonably tasty. Depending on what you ordered, some dishes were rather small. Cocktails were decent.

However, service started off as slow, and soon deteriorated into nonexistent. We never got offered the option of the dessert menu, only had half our plates cleared away, and were only brought the bill when we made it obvious we were about to give up and walk out. Shame, as it has the potential to be a great place.
Robinson -
Rating:
Really enjoyed our experience. Music was on point, food was tasty, and atmosphere was buzzing. Recommended. Great night, thanks.
Michael -
Rating:
Having visited the Caribbean several times I was excited to try Turtle Bay in Sheffield. It was not too busy but our table wasn't ready until 9:30pm, and no apology or explanation.

The first drinks at the bar were dreadful, with flat mixers from a pump and no normal tonic for G&T.

Food took over 30 minutes for starters to arrive, they missed the duck rolls off the order. Mains were all OK but the overall service and experience had ruined it.

Would expect better from a chain with 40 outlets, a real shame.
Phyllis -
Rating:
Just visited Turtle Bay restaurant with my son and granddaughter. They thought the salmon and ribs were OK. Unfortunately I had the goat curry, which was far from authentic and was tough.

If you go to Turtle Bay Sheffield, go for the atmosphere (it was very busy). Go for the cocktails, which even at 2-for-1 during happy hour I thought expensive. Don't go for the food if you are anticipating anything near Caribbean food. Very disappointing.
Ell -
Rating:
Amazing atmosphere. Great staff, very attentive. Would highly recommend. Food and cocktails also amazing.
Sam -
Rating:
Absolutely awful and pricey. We went to check it out after all the hype. Very disappointed. Cocktails had very little alcohol, the food was no way near authentic. As I have visited the Caribbean and enjoyed the food, so could not wait to try Turtle Bay. There must be other places in Sheffield. Will look around, as I love Caribbean food.
Lee Kenton -
Rating:
Avoid like the plague. No complaints about the way the food tasted or the service, but me and my wife both coincidentally had all the symptoms of severe food poisoning after eating here. Due to me working away, we had not shared any other food for at least 3 days prior to this. Draw your own conclusions from that, but the complaint I have raised since has been dealt with pathetically.
Eaten at Turtle Bay? Write a review!
Anonymous reviews, reviews using nicknames or reviews sent from invalid email addresses will not be published.