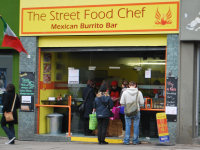 Reviews of Street Food Chef Restaurant
Type(s) of Food Served
Mexican
Description
We love street food - it's fresh, simple, honest and made for you while you wait. We particularly love Mexican street food, as it's delicious, healthy and packed with flavour!

At the Street Food Chef, we serve freshly prepared Mexican food from our shop and at events, street markets and private functions.

We pride ourselves on offering our customers healthy food made with Mexican ingredients and recipes. Our menu includes burritos and tacos and our passion is to fill these with authentic salsas and marinades.

We aim to bring an energetic and fun atmosphere to the events and the city centres we trade in - you will be drawn in by the delicious smells, the funky Mexican music and the eye catching design.

You can find out where to get your next burrito either on our website or follow us on Twitter!
Food Service Times
Monday - Friday: 8AM - 5:30PM
Saturday: 9AM - 5:30PM
Sunday: 9AM - 4PM


Last seating: 5:30PM / 4PM
Special Offers
There are no special offers that we are aware of.
Amenities & Facilities
Credit/debit cards accepted?
Average starter price?
£2.00
Average main course price?
£4.00
Special diets catered for?
Dairy-free
Gluten-free
Julie Glasel -
Rating:
Really quick and friendly service, delicious food, really affordable. What more can you ask?

The last time I had a small Chicken Mole Burrito, which came with salsa (and you can choose your strength, medium/hot) creamy dip and choice of cheese or beans. Lovely flavours. I ate it in the Peace Gardens, just across the road.
Chris Hartley -
Rating:
Excellent burritos, always a first point of call when I'm shopping and hungry! Never had a bad one yet. Well worth a try.
Michael Dopson -
Rating:
These burritos are the best! It's all freshly made in-house so everything is tasty, healthy and seems really authentic.

They have different degrees of spicy sauces so chiliheads can be satisfied (a.k.a. me!). I brought my kids and the chefs had a children's version that has no spice to it. They loved it!

Oh and I tried their breakfast burrito last week. It's now my favourite thing on the menu. Yummy!
Eaten at Street Food Chef? Write a review!
Anonymous reviews, reviews using nicknames or reviews sent from invalid email addresses will not be published.