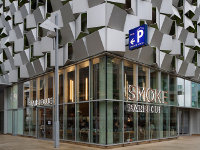 Reviews of Smoke Barbecue Restaurant
Type(s) of Food Served
American
Description
SMOKE barbecue restaurant is found beneath the striking but aptly named "Cheesegrater" car park on Charles Street, in the heart of Sheffield city centre. The lofty interior features tables made of reclaimed wood pallets and oak barrels, and even our lights are made from reclaimed floorboards and used washing machine drums!

If you like meat (lots of it), smoked, barbecued on the open fire pit you are in the right place! Though we have cutlery (our motto is "put the fork down, it's time to get dirty"), you'll be impulsed to eat with your hands from metal plates, the kind you imagine in the lap of a cattle hand around the camp fire, circa 1880. The sides come in the white-and-blue-edged enamelware, that reminds you of old school days! Our food is tasty and plentiful, just like you would get in the deep depths of Texas. Everything about SMOKE is in the focus on simple things done well, and we are Sheffield's authentic taste of America!
Food Service Times
Sunday - Thursday: 11:30AM - 10PM
Friday & Saturday: 11:30AM - 11PM

Last seating: 9:45PM and 10:30PM, respectively.
Special Offers
There are no special offers that we are aware of.
Amenities & Facilities
Credit/debit cards accepted?



Walk-ins welcome?
Advance booking is not essential but is advisable.
Average main course price?
£12.00
Special diets catered for?
Child facilities?
Child portions
Aslaug Foreman -
Rating:
The venue has cozy little booths but only if your party is 4 or less people. Staff was friendly and accommodating. The menu choices were very limited for smaller appetites, vegetarian and vegans.

The meat was advertised as slow cooked and tender but it was akin to chewing on a car tyre. I left all my belly pork and beef brisket. It was just chewy, gristly and frankly inedible.

I also ordered buttered greens which was braised green cabbage. Unfortunately the chef had emptied the salt pot into the dish and so that was also inedible. The corn on the cob was extremely expensive and had an odd taste to it which we couldn't place so that was also left.

The chicken burger bun was soggy and the piece of chicken inside was dry so we we left most of that too.

The chips were really very good and we had luckily ordered lots of those.

Nonetheless £92 for drinks and chips for 4 people is quite expensive so we will not be going back... ever.
John -
Rating:
Avoid this place like the plague.

My wife was involved in a major car accident an hour before our table booking so I contacted the restaurant to cancel our booking because she was upset, shaken and in pain.

A manager by the of Chantell finally spoke to me on the telephone after requesting several times to speak to the manager after they refused the £15 reimbursement we paid for our table booking.

Smoke, including the manager, couldn't have cared less about our situation and were uncaring and unhelpful.

She refused to give me her manager's name and just kept on saying I don't care about your accident only our terms and conditions.

Shocking company, employees and customer service.
J Edwards -
Rating:
AVOID. Do not book a table here unless you can absolutely 100% guarantee that you can make it. Have parking issues, traffic problems or anything beyond your control including medical issues and even if you cancel, they charge you a fee for a no-show. Would give no stars if allowed.
Maya -
Rating:
First visit in Sheffield with my family and decided to go to Smoke Barbecue restaurant. We ordered the meat platter for 2 and I was so disappointed when I tasted the chicken and straight away I puked the meat out. Smelt bad and the taste was horrible. The chips and the pulled pork were so greasy. Called the manager to complain about it but she wouldn't have it.

The staff were very friendly but the food was awful. Never going back there again.
Mandy Jones -
Rating:
We received our food about 3 minutes after ordering, which is never a good sign. We had the meat sharing platter (£37.00) and pulled pork (£15.00) for my son.

I can honestly say that it was awful. The turkey drumstick was that dry you couldn't cut it. Ribs should fall off the bone, but instead were dry as a bone. The chips are stored in a large serving bowl, which they quickly dish out to order.

I was shocked at the quality of the food for a so-called meat restaurant. Basically paid for chips that weren't even freshly cooked.

Very disappointed and won't ever go back or recommend this place. I wouldn't have paid £20.00 for what we were served.
D Whiteman -
Rating:
No stars... Booked a table for 10 and changed to 11 more than 2 weeks in advance. We were put on high tables that were totally inappropriate & uncomfortable. We were told that we had been informed of this in the email confirmation. We weren't. Walked out. Will never go back!
Hazel -
Rating:
Lovely, quirky restaurant with friendly & efficient staff, serving delicious meaty treats!
Shay -
Rating:
Food isn't great at all. Everything tastes the same. Wouldn't return.

Staff were lovely, though.
Reg -
Rating:
Pleasant service but food was a bit on the cool side. Double-fried chips were just warmed up chips from an earlier cooking. Beers nice though. Not good value for money.
Paul Bartlett -
Rating:
Lovely chips. Had a burger, which was nothing better or above average. Friendly staff, very helpful, apart from the manageress, who was extremely off-hand.
Barbara Holmes -
Rating:
The place is very nice. Staff and service were excellent, food superb. We went this afternoon, 21st of June. Will be going again.
Janet Kendall -
Rating:
I have made my first visit today to your restaurant, I was very disappointed with the food.

I had the pulled pork. When it came the only thing nice on the plate was the chips. The pulled pork was pink. I was told it was due to how it's cooked. And the side salad, if you can call carrots and lettuce a salad, was bland and boring. I can't believe I paid £27 for chips.
Tomas -
Rating:
This was our second visit to this location. The staff were very nice, but the company policy is not as good!

We ordered wine, from a small offering, so small that they should consider taking it off the menu. We asked for wine glasses! No, jam jars that we saw other dinners drinking from. Oh dear what a performance. The best that the young lady could come up with was something she found in the back area. We were offered two of the crappiest offerings you have ever set you eyes on!

This restaurant is in the heart of the city, but the attitude of the manager, who did at least come to our table, did not appease me at all. His arrogance was one of "we tell you what you get, and if you don't like it!" Well sorry but that does not wash, we are customers and expect to be treated as such.

The food was not up to much and did not come up to our expectations. I did say to the manager that my rating was probably one up from a MacDonald's, and that it was over thirty years since I had been in one of those places. This place will not be on our recommendations list. The owners need to look at what they are offering, come off the high horse attitude, not be so arrogant, and cater for the customer, not themselves. People like us will spend money, we do like wine, but don't treat us like idiots.

This is not how a restaurant should be run. Our beautiful city deserves better standards, go to Piccolino across the way and see how it's done! See how best practices works.

P.S. the waiting staff on both occasions were great.
Phil -
Rating:
Went on a Wednesday dinnertime.

Venue was great, staff and service were excellent, food superb, beer lovely.

An excellent and different experience.
Valerie Vaughan -
Rating:
Had heard mixed reviews about the place so decided to try it for myself. Went with my family.

Loved the decor and the open kitchen. The food was really good (except for the soggy, tasteless side of coleslaw). Food and drink prices were OK but the desserts in a jar were a bit pricey at £5 each.

The whole experience let down by two things:

1. Metal plates. Besides their awful, well-used appearance, cutting meat on them was as bad as running your nails down a blackboard!

2. Wine served in a tumbler! Glad I didn't have the Prosecco... might as well have been served in a beer glass!

I know it's not fine dining and they're wanting to be "different", but please proper plates... food needs to look good and be well-presented to be enjoyed. The same goes for appropriate glassware.

And just a small point on the service... it was a bit robotic - they seemed too keen on getting people seated and served quickly and forgot about some good old friendly interaction.

So, in closing, I cannot fault the food or the setting, but it needs a few tweaks before I would return or go out of my way to recommend it.
Melanie Nethetcott -
Rating:
07/08/2014

I had organised a family birthday surprise. From enquiry to the actual night, the staff were superb, very accommodating.

The food was fantastic, very tasty, especially the burnt ends wow. Highly recommended. Great place, will be going back, very soon.
Jane Kemp -
Rating:
Worst service we have ever experienced.
Barnaby Knowles -
Rating:
I went to Smoke on a Friday night for a family birthday. We had heard good things and so my brother was keen to try it.

The restaurant was busy when we arrived but because we had booked we were seated straight away. The menus come in the form of paper placemats and include starters and desserts on one side, and drinks on another.

Drinks aren't cheap at £2 for a half-pint of lager, £5 for a "short" cocktail and £17 for the cheapest bottle of wine. Two-pint pitchers of lager are available for £7.50.

Our food came quickly - three burgers and a brisket plate. The burgers were very nice, obviously home-made and cooked well. The only complaint would be that they were very salty. The beef brisket was delicious and very lean. The twice-cooked chips weren't to everyone's taste but I like mine well-done so thoroughly enjoyed them.

By all accounts the desserts were nice, although I did not have one.

I have no real complaints but I think that I was perhaps expecting a lot, after hearing such glowing reviews. For me Smoke was nothing special and seemed to be trying a little too hard to be quirky. Hence the bare walls, barrels for tables, jam jar-style drinking glasses etc... And be warned - you will leave smelling like you've been stood next to a bonfire!
John Barber -
Rating:
All I can say is outstanding, food is absolutely beautiful and worth every penny!

Can't wait to come back!
Eaten at Smoke Barbecue? Write a review!
Anonymous reviews, reviews using nicknames or reviews sent from invalid email addresses will not be published.