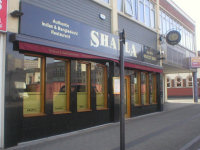 Reviews of Shapla Restaurant
Type(s) of Food Served
Indian / Tandoori
Description
With a very friendly atmosphere and excellent food service, this restaurant offers a 5* menu.

A special chef dish is always available.
Food Service Times
Sunday - Thursday: 5:30PM - 12AM
Friday - Saturday: 5:30PM - 2AM
Special Offers
Yes - there are special offers on the set meals. For more information call the restaurant on 0114 2720831.

There is also a 10% discount on takeaway meals.
Amenities & Facilities
Credit/debit cards accepted?



Bring Your Own Drinks?
Restrictions (e.g. wine only) and a corkage fee may apply. Please enquire for details.
Average starter price?
£2.00
Average main course price?
£6.50
Average dessert price?
£2.25
Special diets catered for?
Julie -
Rating:
Great food and service, the staff are very friendly and efficient, will definitely frequent this place.
Ashley -
Rating:
Been many many times over many years but not regularly.

There is always a warm welcome. Same staff for many years, a really good sign.

Special thanks to Issam, who is on his toes constantly. Very attentive but not interfering. Not just our table, as a whole. Professional. Very polite.

Was a busy night but service was first class & food was excellent.

I enjoy food & cook myself so I know good from bad. A pleasure to eat there. Just a great atmosphere, food & service. What more can you ask for. Fantastic.
Elaine -
Rating:
Went about 2 years ago for the first time. It was nice and we went to town on Saturday 1st December with our grandkids for a X-mas night out. There were 10 altogether. We were going to call to Butlers Balti but didn't, as Shapla is near to where we were.

Arrived at 8-ish. Waited for a table, not a problem. Was seated then left alone, then gave order. Everything seemed to be a bit disorganised. Sat and waited to be asked if we wanted a drink. Got one after 20 minutes. Then food came. OMG I have never had a chicken tikka masala like that. It was very runny, full of egg and loads of uncooked tomatoes and has raw sliced peppers in it, and very oily. I counted 5 lumps of chicken. My hubby had bhuna. He said it was tasteless, just bland.

And the price was £89.00 for 5 of us. Very disappointed indeed. Should have gone to Butlers Balti now, but I won't be going to Shapla again. I am not a fussy person but it was terrible. I don't think they will bat an eyelid at my review, as every one loves it, but we didn't.
Andy B -
Rating:
Food and service fantastic. I love Indian food and have eaten much of it across the world.

I'm from Bristol and stumbled across this place on a walk through Sheffield. The food is tasty, hot, well flavoured and without contentiousness. Well done, enjoyed every mouthful. Only regret is that I am full. Such a tasty meal and the Indian restaurants in the South West could learn a thing or two from you. Many thanks.
Rachel and Lee -
Rating:
Food is excellent, service is excellent. Price excellent, friendly staff, not gonna get better than Shapla.
John Davidson -
Rating:
Been here multiple times always a top, top curry.
Lisa Taylor -
Rating:
Went to Shapla on Saturday night with my family to celebrate our 25th wedding anniversary.

My party of five was squeezed onto a table for four, it was very uncomfortable to eat and the food took well over an hour to arrive at the table. When it did arrive it was tepid and greasy. We were all very disappointed.
Pete Whitehead -
Rating:
Some of the reviews on here are absolute rubbish. I've been a regular visitor to Shapla for 35 years and never once had a bad meal. The owner and his staff are very friendly and the service is first-class. The best Indian restaurant in Sheffield!
Kelsea -
Rating:
We booked a table for nine people last Saturday and due do two people not being able to make it only seven of us went.

When we got there, at first the staff was polite. However, when we asked to order, the manager asked where the other two people were. We explained and made our order. We wanted to share three curries between seven because we weren't very hungry and we were having starters. The man went on to be very rude, pointing out we were only ordering three curries and two people hadn't come and that he was losing money and made us feel uncomfortable. (Our bill was still £100 and we didn't order that much.) After this, when they collected our starters and some weren't all finished he was shaking his head.

The food was average but we all agreed we had had better from a takeaway. Most of the other staff was friendly. But the owner made it a very uncomfortable experience. We will not be returning.
Jan Watson -
Rating:
Always come to this restaurant. Always greeted by the owner/manager, welcomed and seating with polite service.

Excellent menu, wide choice, food well-served and presented, tasty and satisfactory.

Will return again.
Parkinson -
Rating:
Food wasn't good. Lamb was dry & only 5 pieces in total. Pickle tray was recycled & inedible. Manager was ignorant. Waiting staff were polite. However, we won't be returning again in future.
John Armstrong -
Rating:
Agree with some other reviews, the food may be fine, but let down by the service and attitude of staff. My partner was so insulted that we left before finishing our meal.

Will never visit this place again or recommend to anyone.
Paul Marples -
Rating:
Best Indian restaurant in Sheffield. We have tried a few but always go back to the Shapla. 5 stars.
Caroline Feedman -
Rating:
I have been visiting the Shapla restaurant since it opened. The oldest family-run restaurant in the city. Mr Malik, the restaurant owner, provides an excellent service every time I go with family and friends.

The atmosphere, food and hospitality is five stars plus. I have visited many other Indian restaurants across the city, but Shapla is number one for me and my family and friends.
Marlon Lake -
Rating:
Went there last night. The food was very good, I just wish this place delivered.
Benjamin -
Rating:
Lovely atmosphere, great lighting and surroundings and gorgeous food.

Loved the service and very authentic styled restaurant.

Highly recommended.
Glen Marshall -
Rating:
Absolutely gobsmacked at some of the reviews on here... we go a couple of times a month, and have never had a bad meal. Food is certainly one of the best in and around Sheffield, and beats the overrated Aagrah easily in my opinion.

Don't let the bad reviews put you off - highly recommended!
Becky -
Rating:
I visited the restaurant yesterday for my mum's 50th birthday, so there were 20 people. The place was unorganised, even though we booked 10 days in advance.

The waiters were extremely rude and sleazy, and the food tasted like cardboard curry.

I do not recommend this restaurant; it is not even worth 1 star.
Kris -
Rating:
Well as always one more Bangladeshi restaurant claiming to be Indian. But still we dared trying and ended up in utter disappointment.

The food was dripping in oil, the tandoori was burnt and the mains were disgusting... all in all total waste. And worst is their service - absolutely arrogant and unfriendly.

Except for good decor this restaurant is definitely a big no-no.
Tabatha -
After eating at Shapla we never bother with any of the other Indian restaurants in Sheffield. We used to go to Nirmals or the Himalayan but haven't been back since trying the Shapla.

The food is wonderfully flavourful. The special marsala is a particular favourite and my daughter, who is a tarka dahl expert, tells me it is one of the best. Their home cooked chips are amazing and even though I don't really believe in chips with curry I can't resist them. The staff are wonderfully friendly and I was amazed to read a negative review.

The restaurant has been expanded but they have retained the amazing murals and all the ladies still get given a flower to go home with. They also do a takeaway service and I have driven to town on many occasions for this. Like any restaurant in the city centre it is probably best not to visit late on a Friday or Saturday to see it at its best. We always go early evening and the food and service is second to none.
Mike Egerton -
Initially we enjoyed our meal at this restaurant and there was nothing wrong with the food or the service.

However, because the restaurant was busy and there were people waiting to be seated they tried to hurry us out. They asked us if we needed a taxi when we had not even finished our meal! And when we ordered coffees they said they had "run out of coffee"! We had been there for only 45 minutes and not taken too long over our meal.

We felt that this was rude.
John Craven -
NOT RECOMMENDED. I visited Shapla with my girlfriend a couple of weeks back. The restaurant seemed quite nice from the outside, however, neither the food nor the service were up to scratch. The tables were too closely packed and we felt like sardines with the diners next to us being able to hear every word of our private conversation!

I always go for the Tandoori in Indian restaurants, as I find it is a good way of checking to see if they have the basics right. Well, the chicken was overcooked and very chewy and the marinade was very salty. When I complained, I got a very annoying waiter who seemed to only repeat the words 'authentic recipe'!

We were not happy with the rest of our meal and would definitely not go to Shapla again. Hope that is useful for all.
Claire -
I can honestly say that I have eaten some of the best Indian food at Shapla, the service is impeccable and the food, everything you could expect and more. I visit the restaurant frequently and will continue to do so!

The extensive menu is impressive and should you not find what you are looking for - the chef will be more than happy to make it for you.

The atmosphere is fantastic - the music, lighting and setting all make for the finest dining experience.

Well done to the staff and no doubt I will be seeing them all again in the near future.
Eaten at Shapla? Write a review!
Anonymous reviews, reviews using nicknames or reviews sent from invalid email addresses will not be published.