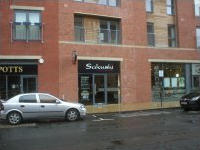 Reviews of Sakushi Restaurant
Type(s) of Food Served
Japanese / Noodles / Sushi
Description
Sakushi is Sheffield's first city centre sushi and noodle bar. Whether you are after a quick bite to eat or a relaxed meal, Sakushi offers seating at either the Japanese Kaiten (conveyor belt) or in the restaurant area.
Food Service Times
Monday - Saturday 12PM - 11PM
Sundaty 12PM - 10PM.

Last seating: 10:30PM (except Sundays)
Special Offers
Yes - Mondays - 5 plates of sushi for £10.95.
Amenities & Facilities
Credit/debit cards accepted?



Average main course price?
Special diets catered for?
Tom Guy -
Rating:
Just to let you know there are a variety of sushi and hot starters and mains, including noodle bowls, donburi (rice with toppings), stir fries and salads. They have a set meal in the style of a bento box (kind of a Japanese lunch box). There is a lunch menu of 5 plates of sushi for £7.95.

Overall, the food is great. The sushi is top notch, much better attention to detail than I've seen in other sushi places in Sheffield (WasabiSabi, YO Sushi). It is also affordable for what you get, as true sashimi-quality and fresh fish is hard to come by in Sheffield.

Timings are also good and I've never had to wait long for food, the waiting service is top notch. However I've never seen it at max capacity so have no idea what they can do under high pressure.
Trudi Gehring -
I went to Sakushi on Saturday night with 5 friends, keen to try out the new sushi bar on Campo Lane. It has a conveyor belt but I had heard correctly that they also took orders so that we could share hot noodles alongside the little plates of fishy nibbles.

We had some delightful sashimi, outstanding udon noodles, astonishingly good tofu (I usually hate the stuff but number 55 is amazing and was recommended by our knowledgeable and enthusiastic waiter) and some unfortunately average makis. The plates are colour coded and priced individually and we got through about 40 of them.

Including two deserts, several beers, some saki and a perfectly acceptable bottle of house white our total bill was approximately £30 per head. Considering the amount and variety we had eaten we thought that was very reasonable.

It was, however, almost entirely empty - please visit this lovely little restaurant, it would be such a shame for it to close down!
Eaten at Sakushi? Write a review!
Anonymous reviews, reviews using nicknames or reviews sent from invalid email addresses will not be published.