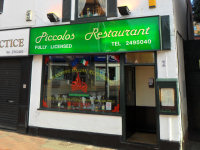 Reviews of Piccolos Restaurant
Type(s) of Food Served
Italian
Description
Piccolos is an authentic family run Italian restaurant on Covent Walk, opposite Boots on West Street.

Piccolos has a friendly relaxed atmosphere, authentic Italian decor and homemade food.

A cosy, intimate atmosphere prevails, allowing you to relax and be taken care of by our staff that pride themselves on looking after our customers and offering that personal touch.

We are passionate about good food and wine, insisting on fresh, top quality ingredients. Our menu features many delicious traditional Italian dishes as well as weekly specialities.

Our homemade garlic bread and Sicilian panacotta are some of the dishes we are known for among our loyal customers, many of whom have been dining with us for the last 13 years.
Food Service Times
Sunday - Thursday: 5PM - 11:30PM
Friday & Saturday: 5PM - 12AM

Last seating: Sunday - Thursday 11PM, Friday & Saturday 11:30PM.
Special Offers
Yes - set menu Monday - Thursday 5PM - 7PM: 2 courses for £11.50, 3 courses for £13.00.

Graduation menu only available during graduation week. Advance bookings and deposit required.
Amenities & Facilities
Credit/debit cards accepted?



Average starter price?
£5.75
Average main course price?
£14.50
Average dessert price?
£4.85
Special diets catered for?
Nut-free
Vegan
Gluten-free

* Advance notice required
Child facilities?
High chairs
David & Helen Jackson -
Rating:
Visiting an unknown Sheffield we walked the streets on a Friday night looking for somewhere to eat. Saw Piccolo's, which was just what we wanted, a proper looking Italian.

The ground floor had perhaps a dozen tables, so we considered ourselves fortunate to get a table on spec.

The atmosphere was intimate and the food delicious. When we wanted to vary the contents of a dish, it was not a problem. The two front of house staff were very friendly and happy to chat.

Three courses, a bottle of wine, coffee and liqueurs for two cost £77. This was the best dining experience we have had for a long time and certainly somewhere to take that someone special.

P.S. not to be confused with Piccollino, which we are sure is nice but not where we were.
Ashley Dacre -
Rating:
Food was amazing! It was a little pricey but it definitely falls under the category "you get what you pay for" and the service was perfect.

I live in north Wales and took my girlfriend to Sheffield for Valentine's day. If and when we go back we will certainly make sure we will not be leaving without going back to Piccolo's!
Nellie Mulholland -
Rating:
Absolutely love this restaurant. Have visited many times since returning to Sheffield after living in various parts of the world.

The garlic bread is gorgeous and the authentic Italian pizza is great - would highly recommend! The staff are always welcoming and friendly and very accommodating of any specific needs.

Would highly recommend.
Karen Capps -
Rating:
Our first visit on recommendation.

Food was excellent. Service was amazing. Very attentive staff. We were frequently checked on. Slightly expensive but worth every penny.

The garlic bread was to die for and my steak was perfectly cooked and really tender.

Would happily recommend it.
Lauren Walsh -
Rating:
I visited Piccolos at the weekend with my boyfriend. We love Italian food and had been meaning to try it for a few months.

The restaurant looks quaint from the outside, a little old fashioned even, and so we were expecting authentic Italian food and (hopefully) lower than average prices.

The menu was varied enough and there were plenty of delicious-sounding dishes to choose from. We shared a starter of calamari, which was not bad but nothing special and you might expect to get it from a pub meal.

My boyfriend had BBQ chicken for his main course, which was grilled pieces of marinated chicken breast. The chicken itself was faultless (although there could have been more of it), but it was served with what looked and tasted like oven chips and microwave-in-the-bag vegetables. That certainly wasn't the authentic Italian experience that we were hoping for.

For my main I had a chicken pasta dish that was sadly lacking in chicken and tasted quite bland, with the overall flavour being of tinned tomatoes.

We shared a dessert, which was very nice and did appear to be homemade, although at £4.50 the portion could have been more generous.

With a bottle of house wine the total cost of the meal was around £45 for the two of us. The food was nothing special and although the staff were very friendly and courteous we didn't think that we got value for money and sadly we won't be returning.
Darren Beadsley -
Not good at all I'm afraid, especially compared with other established Italians in the area.

The menu is extremely dull with everything you would expect on a basic Italian menu but no surprises or special touches... lasagne, spag bol, garlic bread. This would be OK if the food was up to scratch. My partner had the lasagne, which we both thought tasted pre bought... very readymeal-ish. My steak, which cost £18, was small and bland, served with re-cooked vegetables. The menu as a whole was extremely expensive for what you are getting, which seemed to be pre-cooked, or pre-bought food.
John Mortimer -
I have been to Piccolos many times and must say it is one of the best. But, a word of warning: the last time there, when asked what I would like to drink, I did not look at the wine list and ordered a house wine rosé. When we received the bill we were charged £16.50, which I think is a bit over the top for house wine.
Andrea Mansell -
Rating:
Wow, wow and tipple wow! Me and my boyfriend absolutely adore this restaurant.

Their garlic bread starter is an absolute must - easily the best garlic bread in the UK!
We have been here a number of times and always have a gorgeous meal but last time we went I had the sea bass and I can honestly say it was the best meal I have ever had!
The staff are always wonderful and you can see the chefs working.

The restaurant is quite small so you have to book beforehand usually but it is so cosy and lovely and authentic Italian down to the minutest details.

We have tried lamb shanks, fajitas, sea bass, salmon, pasta dishes and never have we been disappointed.

5*!
Denzil Watson -
Piccolos is a real gem of a restaurant. We went there for a meal the other night and the staff were friendly and helpful and the food great. They do the best garlic bread I've ever tried. For mains I had the excellent chef's special picante penne and my wife had one of the best shanks of lamb she's tasted. Hence a big thumbs up to Piccolos!
Eaten at Piccolos? Write a review!
Anonymous reviews, reviews using nicknames or reviews sent from invalid email addresses will not be published.