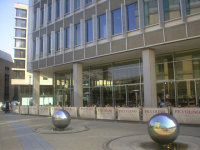 Reviews of Piccolino Restaurant
Type(s) of Food Served
Italian
Description
Piccolino restaurant is located at 4 Millennium Square, St Paul's Place in Sheffield city centre.
Food Service Times
Monday - Saturday: 12PM - 11PM
Sunday: 12PM - 10:30PM
Special Offers
There are no special offers that we are aware of.
Amenities & Facilities
Credit/debit cards accepted?



Average main course price?
Special diets catered for?
Irene Gascoigne -
Rating:
We have been for a meal for our granddaughter's graduation and the service was awful, plus my main meal was cold.

I didn't complain, as I didn't want to upset my daughter, who had booked the meal for 10 of us, and afterwards half of us said the same as me and my husband - awful!

The place where we were sat was freezing, they had to bring heaters in for us.
Henrik -
Rating:
We were 3 to dinner and had a great time. Food/drinks were top class. A birthday song to my friend was perfect. Thanks.
Steve Miller -
Rating:
Don't know which restaurant the two-star comments have been to. We have only ever had a fantastic experience each time we have been. I suggest everyone gives this place another try or maybe stop in and get a takeaway.
Katie Gascoyne -
Rating:
We booked a little last-minute for a birthday celebration. They said that they were very busy but would try to fit us in and confirmed our reservation for 8:30PM.

We arrived and, as we had been informed, the restaurant was full, with only a couple of tables free. Luckily one of them was ours and we were seated straight away.

We were given menus immediately and also the specials menu shortly afterwards. We ordered our drinks and although the waiter said he was going to bring an ice bucket for the wine, it never materialised. Not a big problem, but when tables around us all had wine buckets, it was a little disappointing.

We placed our food order, and our starter arrived promptly. The calamari was lovely and the only complaint would be that there was a very stingy amount of sauce to accompany it.

Our main courses arrived quickly after our starter had been cleared away. We had been asked if we wanted to order any side dishes but we had, maybe naively, assumed that this meant extra chips etc... Unfortunately the chicken dish (pollo alla valdostana) was exactly as described on the menu and did not come with even a small dish of vegetables, as you might expect.

We would both describe the main courses as rather bland. The pasta had no real sauce to it and the only extras apart from the spaghetti were a splash of garlic oil, the chili and clams. The chicken dish, although nice enough, was nothing special and rather dry.

For the first time that either of us can remember, we ordered a dessert in order to leave without still feeling hungry. We opted to share baked vanilla cheesecake, as we are both fond of them. It could only be described as dry and flavourless. My boyfriend couldn't even face more than a few mouthfuls of it. The £3 cheesecake from Morrisons is far superior.

At this point in the night we were going to give our experience at Piccolino either 2 or 3 stars out of 5. We then waited over 25 minutes for a waiter to offer us coffees or our bill, but unfortunately we were never once approached. In the end we asked a random member of staff for our bill, and once we had received it we got tired of waiting again and took it to the front desk to pay.

Service had deteriorated as the evening progressed. To be fair to the staff, they were very busy and we couldn't necessarily blame them as such, but the management should have more front of house staff on hand on busy Saturday evenings.

Our bill came to just under £65 for 1 starter, 2 main meals, 1 dessert, the cheapest bottle of wine on the menu, and a glass of lemonade. Nobody minds paying for good food, but this was not. The portions were small and quite honestly tasteless.

Unfortunately due to all of the above we would not eat at Piccolino again.
Paul Twyford -
Rating:
Visited this restaurant with my wife and friend who is a local businessman.

No problems with the table, post-main lunch session. Food was OK but not startlingly good considering prices.

One waiter was a little pushy. I only wanted salad but he kept trying to persuade me to have additional food.

Drinks were overpriced, particularly espresso coffee, 2 sips and it was gone, and £7 for a medium sized glass of pinot grigio.

Will not be returning.
Martin O'Hara -
Rating:
Had booked for a birthday dinner, as previous lunches had been great.

Arrived 8PM and waited 30 minutes to be seated. Orders were taken after another 30 minutes and arrived 30 minutes later. Plain standard Italian fare; nothing special. A further 30 minutes to clear the plates and another 30 minutes for the main course to arrive.

Again, I was unimpressed with both the food and the service; for around £18 per main, I expected something more.

Got the bill at 10:30PM. The manager apologised, but would only offer additional drinks (which we didn't need), a free glass of wine with our next visit and an offer to join their loyalty scheme. Needless to say, I turned all three down.

Maybe we were unlucky, but I am not prepared to risk another £175 (for 5 people) to find out.
Peter Suthons -
Rating:
We went to Piccolino 1/7/11 and I am sorry to say the food was very poor.

Our steaks were very overcooked and dry. The manager, when he did come over, tried to get away with "sorry". In the end we paid for 1 steak.

We will not be going back!
Mike Tharratt -
My wife and I visited Piccolino whilst staying at the nearby Mercure Hotel.

We hadn't booked but were told if we didn't mind having a drink at the bar, a table would become available in approx 45 minutes.

Once seated we ordered our food and some water for the meal, which took 15 minutes to arrive.

We added some bread to our order, however eventually after about a half hour's wait the starter for two arrived which was cold and duly returned.

After apologies from the waiter the second attempt at the starter arrived after a further 10 minutes with the bread arriving about half way through the starter (the excuse was that the bread was heated to order!).

When the main meals arrived, my wife's tuna was stone cold and inedible, which left us with no option but request to leave, it was pointless me eating separately to my wife.

Amazingly they still insisted we pay for our drinks and my food!

Although the head waiter apologised, saying it hadn't happened before (which I find hard to believe) there was no apology forthcoming from the manager.

Please don't visit here if you like warm food.

We visited Nonna's on Ecclesall Road on the Saturday evening, which was everything that Piccolino wasn't
Jane -
Really enjoyed my meal, the food was delightful, the made-in-house desserts were a beautiful ending to an enjoyable meal.

The male waiter who served us was attentive, friendly and dare I say very handsome. Despite being pricey it was well worth it. I shall be visiting again soon.
Andrew Ferguson -
Just felt I had to put up a review, having just had tea for the first time in the Sheffield branch of Piccolino, it was great!

I very nearly didn't go, as when I last went to the Didsbury branch I ended walking out after 20 minutes of no attention. I have to say that they didn't have this problem tonight.

Great service, had a couple of the "tapas" dishes, a couple of the starters and a pizza to share. Perfect, just the right amount of food, good attentive service, very nice atmosphere. All in all a great meal.

The only thing that let the place down sadly were the desserts, which would have been so much better if they were fresh. Both of the desserts, including the "special" were clearly bought in. After such great food it was a little bit of a let down! However, more importantly I had a welcome meal in a warm restaurant with staff the smile! Will be back soon.
Eaten at Piccolino? Write a review!
Anonymous reviews, reviews using nicknames or reviews sent from invalid email addresses will not be published.