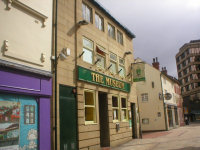 Reviews of Museum Restaurant
Type(s) of Food Served
English / Modern British / Pub Restaurant
Description
The Museum is a little gem in the centre of Sheffield located in the Orchard Square shopping centre. We serve high quality traditional food with a modern twist from 12PM - 9PM daily. Fantastic cask-conditioned beers, some of which are brewed locally, fine wine and fresh ground coffee are also available. It has a friendly and relaxing environment, where you can feel at home. Take a moment to find this great pub.
Food Service Times
10AM - 9PM

Last seating: close of service.

(The bar is open longer.)
Special Offers
There are no special offers that we are aware of.
Amenities & Facilities
Credit/debit cards accepted?



Average main course price?
Special diets catered for?
Child facilities?
Children's menu
Lee Cutts -
Rating:
Museum was our favourite pub in town. Recommended it to lots of family and friends until tonight with beardy oik with attitude problem. Food and atmosphere gone downhill. Shame, as always liked it in there but one to avoid now. I'd give a minus but that option not available. Shame one member of staff can ruin a business.
Mal Mason -
Rating:
We love this place the staff are wonderful + the food is great, never disappoints - except when it's unavailable due to high demand - always a good sign!

Special thanks to Kirsty who goes over + above to make the visit really special.

Thank you all & to the chef xxx
Fran Colliver -
Rating:
Such a friendly city centre pub, staff all really lovely. My sister and I eat and drink there most Thursdays when we can. Yesterday the food was spot on even though the bar was busy. The superfood salad with sweet potato koftas tasted great and was really well presented. Brilliant.
Janice Greaves -
Rating:
Not even really 1 star for bar service. Not tried food, but man behind bar tonight was rude, nasty, little man power control.
Keith Shipton -
Rating:
I visited Museum on three evenings while attending a conference in Sheffield this weekend. The beer and food were excellent, with generous portions of the latter, but what impressed me most was the attitude of every member of staff I met there. They were exceptionally welcoming and helpful, even when very busy, and seemed genuinely to enjoy giving their service.

Many thanks for the hospitality!
Jacqueline Whitehead -
Rating:
Had a meal there today. It was really delicious, not like the usual rubbish served up in town.
She Bould -
Rating:
Had a lovely meal here today. Great service, great food, and great atmosphere!

Will certainly return. 5* definitely!

Thank you.
Mrs B. Coburn -
Rating:
Had a superb meal last night. Meal and service excellent.
Eaten at Museum? Write a review!
Anonymous reviews, reviews using nicknames or reviews sent from invalid email addresses will not be published.