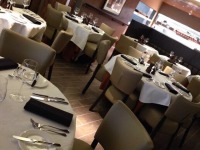 Reviews of Marco's New York Italian Restaurant
Type(s) of Food Served
American / Italian / Pizzeria
Description
Marco.s New York Italian Sheffield is a family-friendly Italian restaurant by celebrity chef, Marco Pierre White.

Marco's serves quality American-Italian food including a selection of fresh pastas, steaks, ribs, seafood, burgers and handmade pizzas.

We are situated a short walk from the city centre, open for dinner 7 days a week, and lunch Friday, Saturday and Sunday. We also offer child-friendly menu, with children welcome throughout our opening hours.
Food Service Times
Monday - Thursday: 5PM - 10PM
Friday & Saturday: 12PM - 10PM
Sunday: 12PM - 9PM

Last seating: close of service.

Special Offers
3-course lunch £22.00; 3-course dinner £27.50
Amenities & Facilities
Credit/debit cards accepted?




Average starter price?
£7.00
Average main course price?
£15.00
Average dessert price?
£6.00
Special diets catered for?
Wheat/gluten-free
Nut-free
Child facilities?
Children's menu
Gill MacBryde -
Rating:
Afternoon tea really nice. The service was excellent and the staff couldn't do enough for us. Thank you.
Diane James -
Rating:
If you want a 3-course meal in less than an hour then this is the place to go. Talk about get you served and out as quick as possible. Food is OK, but give people time to digest it.
Steve King -
Rating:
Marco's is under new management now. The new team are experienced, passionate, driven, and determined to turn the place into somewhere special to eat! In my opinion they have accomplished this already.

The food and service on our visit last week was second to none, and I for one am relieved that the place is now what you would expect to find from Marco Pierre White!

Thank you for a wonderful evening.
James O'Reilly -
Rating:
Awful to the point of being funny. If you're after a free meal, then just sit at a table for half an hour, counting the number of times the waiters ask if "this is your order".

Food is nothing like New York Italian, bland and commercial.

If you're bored... still avoid.
Katie Gascoyne -
Rating:
My boyfriend and I went on a Saturday afternoon with a Groupon deal for two courses plus a glass of prosecco and coffee each for £40.

The restaurant wasn't particularly busy to start with and it looked like most of the tables were also there through Groupon.

We were seated quickly and given the limited Groupon special menu. We were expecting a limited selection because the deal actually specified a sirloin steak, but the menu also offered a fish and a vegetarian option. A waitress quickly took our order within a few minutes and brought our glasses of wine. So far so good, but it all went down hill from here.

The first thing that we noticed was a waiter wandering around with people's food and no idea which table had ordered it. He went from table to table asking diners if the dishes were theirs until he would finally find the right one. This carried on all the time that we were there.

After around 20 minutes our waitress reappeared and informed us that our dessert choice was not available and we were offered a similar replacement. Not a problem - we were actually happier with chocolate sponge than sticky toffee pudding.

By this time the restaurant had started to get busier. We sat and waited for our food to come out. And we waited a little longer. And waited longer still. At this point we started to realise that tables who had been seated after we had ordered our meal were on their second course whilst we had had nothing.

About half a hour after we had ordered, our waitress returned and told us that she had either forgotten to put our order through or it had already been sent to the wrong table (she was a bit flustered and wasn't clear). The upshot was that the order had to go in again at this point.

Although she apologised for the mistake, there was nothing in the way of compensation such as another glass of wine on the house, or a complimentary side dish with our mains.

A further 10 to 15 minutes went by without any sign of our food materialising. We were then approached by a different waiter who asked us again how we would like our steaks cooking, meaning that the kitchen hadn't even started on them yet.

The food finally came out at least 50 minutes after we placed our order, with no apology. Other tables who had been seated after us had already finished their meals and left by that time.

Whilst we were waiting we noticed that approximately half of the diners were complaining about a number of things. Slow service and bad food were a couple of the complaints that we overheard.

So when our food did finally arrive we decided to put in a complaint. The manager apologised for the long wait and promised that she would return and "do something" for us. Fair enough we thought, a complimentary drink would be enough. Sadly that promise was never kept. The manager came back to the table to set our dessert spoons but never even asked how the main courses were and offered nothing by way of an apology for the wait.

The food was average - nothing that you couldn't get on steak night at Wetherspoons. If you were paying full price for the sirloin steak (£24.50) you would be very disappointed.

We've eaten here before and experienced similarly bad service, but thought that we'd give it another try. Never again.
Vincent Pye -
Rating:
Groupon deals restricted to poor menu.

Very overpriced for a mediocre restaurant.

Food reasonable but nothing to recommend to friends.

Glass of cheap Italian Prosecco (175ml) £6. Oh, come on!

Try the Devonshire Arms at Middle Handley, far superior and less expensive.
Eaten at Marco's New York Italian? Write a review!
Anonymous reviews, reviews using nicknames or reviews sent from invalid email addresses will not be published.