Mama's & Leonie's Restaurant
111 Norfolk Street
City Centre
Sheffield
S1 2JE
Telephone: 0114 2720490
Website: http://www.mamas.co.uk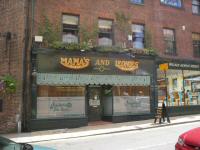 Reviews of Mama's & Leonie's Restaurant
Type(s) of Food Served
Italian / English
Description
Mama's & Leonie's opened in 1968 and was probably the first pizzeria in the region. The food is made to order and is exquisite. The restaurant is also no stranger to celebrities who visit Sheffield.
Food Service Times
Monday - Saturday 9:30am - 11:30PM

Sunday - Closed
Special Offers
Yes - there is a Lite Bite Menu Monday - Saturday 11:00am - 4:00pm.
Amenities & Facilities
Credit/debit cards accepted?




Average starter price?
£3.00
Average main course price?
£8.75
Average dessert price?
£3.50
Special diets catered for?
Val -
Rating:
My friends and I have been quite a few times, and have always enjoyed our meals. Friendly staff and efficient service. We will definitely be going again soon.
Aly -
Rating:
Really disappointed!

A visit to this place was like travelling back in time. I would place the style of food produced as it was in the 1970s when the assumption was that the size of the portion equalled quality. The food lacked refinement, it was greasy and stodgy. The pasta in my vegetable lasagne was not cooked and it had an amazing selection of inappropriate vegetables for this type of food (broccoli, cauliflower, leeks, carrot, potato [potato???]). I also thought it was overpriced, especially the starters. I might have been able to get over the veg if everything else was good, but sadly this was not the case so we won't be returning.

On a positive note, we love the rustic set up and the staff are pleasant, however I suspect the good location and that is the only non-chain restaurant in the area has kept it busy, but without them having to try very hard.
Mr & Mrs Seville -
Rating:
Ate there Saturday 13th May. Great food. Four people eating. All meals delicious. I had gluten-free pizza, chilli con carne. So impressed, will definitely be eating there again.
D Baxby -
Rating:
Very simply this was dire. Nothing was freshly prepared, the range was dreadful and much was not available. The gluten-free range was very limited, as the sauces and ingredients were not gluten-free, a sure sign that all the ingredients were out of a packet.

I have never seen a ravioli prepared in a way that resembles a lasagne. I have also never seen an antipasto served with four pieces of pepperoni, anchovies and mussels.

By far the worse Italian meal I have had in a long time.
Michelle -
Rating:
Our second visit to this excellent Italian restaurant. The staff work tirelessly, the food is amazing, and ample quantity of it, too. Love, love, love this place.
Linda Combi -
Rating:
As an American with a Sicilian grandmother, I am kind of fussy about the quality of my spaghetti. Now I'm in Britain permanently, I hanker after those American-Italian family-run places.

Mamas and Leonie's was a wonderful find. Perfect New York style interior, straight out of The Sopranos, and the best spaghetti outside my grandmother's kitchen. Had a long chat with the owner, who told us the "history" of the place...

I want to book it upstairs for my 50 years in Britain celebration. It does get busy, as I've just found out... the upstairs fully booked for pre-theatre people on an evening when I had wanted to show it off to some friends. But we'll be back.
El and Eve -
Rating:
I don't get the positive reviews, it's like a cattle market with overpriced food, poor service and at the most edible food. I wasn't impressed and wouldn't return. The management need to treat their staff and customers better.
Carmen -
Rating:
I have been a visitor to Mamma's since a small child and still love it.

The food is fresh. Minestrone soup and garlic bread is the best in Sheffield!! Cath & John who own it are brilliant hosts, as are the staff, who are friendly and welcoming. It's nice to support small businesses instead of big chains. I myself have a small business and I know that Cath always recommends me to her customers, which is so kind of her.

The Prosecco and house wine is also very good.

Give it a try!
Trevor Mangham -
Rating:
A group of six of of us visited this restaurant on the 5th March 2016. Four of us had been before and the other two had never been. We all had differnt meals and without exception the quality was excellent. The two members of our group who had not been before could not believe how good the food was. The service was first-rate as usual.

I am amazed at some of the poor ratings on here and I can only assume that that eating out for some people is based on the image that the restaurant gives out rather than the quality of the food. The food here is great quality, well-cooked and well-served. It is not a jumped-up establishment serving over-priced food in a trendy way with trendy lighting.
Katie Gascoyne -
Rating:
We ate here with a Groupon voucher that offered a starter and main course for two people, for £16. The meal was fair, but not worth full price.

We both had fishcakes from the specials board, both of which were nice enough but seemed bought-in rather than home-made.

For our main course we both had pizzas. I really liked mine, which was topped with chili. However, my partner wasn't as keen on his. The cheese wasn't mozzarella and there was a lot of it, so the taste was overpowering.

We have eaten here before and would go back, but would avoid the pizza, which wasn't worth the full price of around £10.
Christina Toner -
Rating:
Lovely place and great staff, but very overpriced, not even a salad with the lasagne. Burger was average but had to pay extra for coleslaw. Diabolical!

Will not be returning.
Liz and Chris Gill -
Rating:
What an amazing place. We used to go there in the late 1970s when we were courting. Saturdays it was Mama's (not Mama's & Leonie's) for a burger then to the pictures, then drinks round Sheffield and then Mama's for a pizza, then the pictures again, then drinks again, then home. We were younger, skinnier and didn't have bills to pay back then, so now it's not so regular it's more of a treat.

Now it's dearer and the pizzas seem to have shrunk (or we've also grown) but they taste exactly the same. And it's the first place I tasted capers and I have been addicted to them ever since. We've had many chefs but it must be a special recipe because they taste the same and the burgers and salad with melted mozzarella squeezing out all over are brilliant.

Never ever, ever close please!

P.S. I sat next to David Essex one Saturday and Mike Reid the following week.
John Wardle -
Rating:
We have been surprised to read some poor reviews of Mama's & Leonie's. Unjustified in our opinion.

We have been this evening as we always do for a pre-theatre meal. Yes the chairs are fairly rustic but quite satisfactory for the duration of a meal. The atmosphere is lively, as we like it, the service is warm, prompt and unfussy.

We had excellent fishcakes as a shared starter and both enjoyed the chicken tikka salad with jacket potato. With a half litre of Merlot and a bottle of sparkling water the bill came to under £40, hardly extortionate.

We shall be continuing to make our regular visits.
Fiona Willis -
Rating:
Nice pleasant eating area, disastrous pizza! Totally overpriced, billed as home made! Completely bought-in bases and circa 1970 topping - all cheese and very little else - a 5 year old could have made better. Tiny portion and at between £9 - £10 per pizza - a total disgrace.

We were in Sheffield for only one night and would certainly go anywhere but here if we went back. Lovely girls serving though, pity about the food.
Shaun Taylor -
Rating:
Visited very early evening on 19/08/2011 with my wife and members of our family. The staff were brilliant but that was it. The food was garbage and over priced.

We eat out a lot and this was an experience we wont be repeating. My wife is a chef and if I take her there again she will divorce me! Only kidding but never again. Yuck.
Adrian Favell -
Rating:
Had a meal at Mama's & Leonie's last night. What a disappointment. It has no Italian feel whatsoever.

We were in a group of 13, and nobody had a great compliment to say about any of their food except for the minestrone soup starter and the chocolate fudge cake desert.

I had Antipasto Italienne. It was a very poor starter, which was chopped up 'cheap' supermarket salad tomatoes, chorizo (Spanish), tinned olives and 3 tinned mussels on a bed of Iceberg lettuce. Shameful!

My main was a Pizza Picante. Picante, usually meaning spicy. It certainly wasn't spicy at all. It tasted like a cheap supermarket pizza. It was quite small too, which proved to be a bonus.

Ice cream - Mr Whippy. Nothing like traditional Italian ice cream. Oh dear.

The Peroni was spot on though - it was bottled.

The staff were nice and friendly though.

Would I go back - definitely not. Piccolino is around the corner, and although a chain, blows Mama's & Leonie's away with more authentic Italian food, not in an authentic setting, but with a more Italian feel.

There are so many nicer places to eat, just pick one of those instead.
Alan -
Rating:
I have been going to this place for years and simply love it. The food, value and atmosphere are excellent. It is well situated in the theatre quarter and you will not be disappointed. I personally love sitting at the counter downstairs - great fun.
Adam Hodson -
Rating:
After reading some of the earlier reviews I thought it was my duty to write of the wonderful experience that my fiancee and I had at Mama's & Leonies (26/02/2011).

We hadn't booked or even heard of the place before so we had no expectations. However, when we got into the restaurant at lunch time we knew straight away that it was a popular choice.

The waitresses were welcoming and although they had hardly any seats free they soon accommodated the two of us. We sat upstairs and thought the atmosphere was brilliant and decor matched a somewhat cosy but friendly ambience.

I had the goat's cheese ciabatta and my fiancee had a jacket potato, both of which were very good for the price. Although they did bring the wrong ciabatta at first, this was not a problem and the right one soon came out and they even docked the drinks we had off the bill. Something that is probably a must for all milkshake lovers is their strawberry milkshake, which was very nice!

All in all a very good restaurant and will be going back there very soon for dinner!
Jessica Cull -
Rating:
My boyfriend and I were lucky enough to stumble across this restaurant on a Saturday night. We wanted somewhere with a bit of atmosphere, which we definitely got. We love eating out but tend to get a little bored of the big chains and if Cubana hadn't been fully booked and Silversmiths had been open we would never have experienced this lovely little restaurant.

We had a 10 minute wait for a table, which we took to be a good sign, and the place remained busy the whole time we were there.

I had a calzone and my boyfriend had the Romana Pancakes. The pancakes weren't quite what we'd been expecting and were probably a little too cheesy, it looked more like lasagne. The dish was bubbling hot, which we thought was a nice extra touch for a little bit of added entertainment. The thought of health and safety hadn't even crossed my mind. Maybe if they'd given it to a child I might have been slightly concerned but I should think an adult would be able to cope with the situation.

The calzone was really tasty and the character of the place more than made up for what the food lacked in presentation. I agree with a comment that the plates are quite small, not that I let that spoil the meal.

The staff were very attentive and friendly despite being rushed off their feet. We loved the decor as well.

We would probably try and book a table away from the door next time as we were sitting in a bit of a draft, but it is definitely a good little find if you want something a bit different!
Anne Rooke -
Rating:
We went here for a meal on the 13th January in the afternoon. My husband had a spicy meat pizza and I had the lasagne.

His pizza looked like it had come from the supermarket and had the cling film removed and bunged in the oven. It was smaller than expected, looked manufactured, and tasted that way!

My lasagne tasted OK but was terrifically hot and caramelised around the edges of the dish, as if it had been reheated in the microwave. There was no salad garnish or bread with it.

The staff were all sat at the bar area drinking coffee and only one waitress was serving. She seemed really unconcerned when I pointed out to her that I had just eaten a piece of paper that was stuck on the bottom of the dish!

Our meal cost in total £29.00 and was disgusting. We won't be going back.
Jonny Gambel -
Rating:
I have to strongly disagree with most of the other reviews here. For one thing, the food has to be served piping hot for health and safety reasons so if you don't like it hot then go get a tub of Ben & Jerry's.

When I went there I had an excellent time. The calzone I had was cooked perfectly and it was full of flavour. The chairs aren't the comfiest things ever, but they add to the charm of the place. The staff were really friendly and I was seated almost straight away.

My conclusion, a perfect family restaurant with nice staff, lovely decor, great food and fantastic atmosphere. I strongly recommend.
Elyse Seaton -
Rating:
After reading the other reviews I felt compelled to disagree!

We walked in one Saturday lunchtime in April/May 2010 (can't remember exact date but snooker was on). We being couple and 3 children. We were seated quickly and very luckily, as the place was heaving. Myself and the children love Italian, my husband is not really bothered! He loved his meal and I have just looked this restaurant up to come solely to Sheffield for!

We all loved the food and we do eat out a lot! My only issue was downstairs is very small.
Ann Briggs -
Rating:
Five of us went on Friday evening. The staff were very welcoming and friendly, but that is all the good we can say about it.

The pork ribs when served were so burnt we all stared at then in astonishment. The waitress knew they were inedible because as soon as she put them down she asked if my friend would like some more. So why bring them in the first place then!

When they were brought out again the food was that hot it was still spitting and bubbling, resulting in a blistered finger. Good job it didn't spit in her eye. It was ridiculous to bring to the table a dish that was so hot it was spitting and bubbling.

We had calzones and they were disgusting, very dried up and the tomatoes on top was just a red crisp, the cheese was all dried up and very rubbery, very hard to eat.

We would never eat there again!
Ellie Thompson -
I went there this week and I was not very impressed with the service or food. The pizzas were tiny, they didn't fit the small plate they were on, I thought they were kids' portions.

Although the prices aren't too high, you definitely do not get what you pay for. The bacon and chicken salad wasn't much better; chunks of overcooked chicken with little flavouring at all.

I have lived in Sheffield a few years, and thought I was missing out by not visiting this restaurant, this is the opposite of the case, I would never go back.
Julie Revill -
We ate at Mama's & Leonies on 14/05/2010, what a big mistake. The chicken tikka was dry and burnt, the jacket potato looked as though it had been cooked sometime the week before, as it was a light brown in the middle, not white as it should have been. Also there was too much salad on plates, so as not to have to add more chips I take it.

The blonde waitress had no idea how to serve food correctly, passing it in front of my eating companion from my right. She was aggressive when she spoke to us. We were hounded to order even though the restaurant was not busy.

When we did complain about the food, nothing was resolved, as we were told we should have said earlier. No money was knocked off at all. The chefs in the kitchen were scary looking, too. And definitely not Italian at all, if anyone was.

The meal was very expensive as well, not a bargain enjoyable meal. The seats were uncomfortable chairs that were nearly as old as me, at 51. They moved about and we thought they would collapse at one point.

Don 't go there its awful, honest!
Kelly -
I was not impressed. My burger was so-so. My husband had calzone & wasn't happy with it. If you want good Italian visit E'Lupo in Rotherham.
Eaten at Mama's & Leonie's? Write a review!
Anonymous reviews, reviews using nicknames or reviews sent from invalid email addresses will not be published.