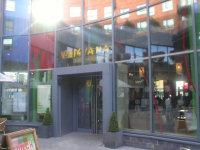 Reviews of Las Iguanas Restaurant
Type(s) of Food Served
Latin American / Spanish
Description
Walk through the doors and find yourself transported to Latin America with rich, vibrant colours, quirky features and South American atmosphere.
Food Service Times
Monday - Thursday: 12PM - 11PM
Friday & Saturday: 12PM - 11.30PM
Sunday: 12PM - 10:30PM

Special Offers
Yes - set meals, plus 2-for-1 cocktails and cheaper house wine from 12PM daily until 7:30PM and all night Sundays and Mondays.

Amenities & Facilities
Credit/debit cards accepted?



Average starter price?
£6.00
Average main course price?
£10.00
Average dessert price?
£3.75
Special diets catered for?
Child facilities?
Children's menu
Colouring and toys
Susan Smith -
Rating:
Lovely food, and really friendly.

I went with my husband, son (2 1/2 years old) and daughter (1 year old) for my birthday treat on a Saturday lunchtime. It was very empty in there, but it didn't feel uncomfortable despite that.

The service was excellent. They allowed us to order for my son first and his food came slightly before our starters. I was given a free cocktail, as it was my birthday. The food was delicious and well cooked, and I would highly recommend it, particularly for a meal with children.
Jessica -
Rating:
I had heard many good things about this place from friends so I wanted to try it out. I went with my boyfriend on a Monday evening and the restaurant wasn't too busy, which meant we were seated immediately.

We both drank the 'infamous' caipirinhas (or however you spell them) which were lovely but I must warn you there is a lot of alcohol in them so if you are like me you will be drunk pretty quickly on these.

I ordered the duck enchiladas for starters and my partner ordered the calamari. It's safe to say we both thoroughly enjoyed these and then came the main course... I ordered a chimichanga but unfortunately they had run out, a disappointment until my chicken enchilada replacement came and was absolutely delicious! (My partner had the same).

The staff were friendly, a little unattentive as they were all young girls chatting most of the time, the atmosphere was warm and I can imagine on a busy night that it is much more lively and interesting to go for a meal there.

We really enjoyed it and would strongly recommend it to anyone!
Peter -
Great decor and ambiance, the food is good if not great - definitely try the steak, it is wonderful! The cocktails are a bit expensive as well, as are drinks in general (to make it cheaper, try the 2 courses for £7 lunch/early evening). Nonetheless a cool place to have a drink or a bite to eat.
Harrier -
Very disappointing.

I was part of a party of 12 and I thought the food and drink were overpriced and the service poor. They obviously struggle to handle large parties (and it was only a week night), as there was a big delay between the starters and the main courses arriving. Many of the main courses had obviously been left under some kind of lamp-heater for a while and were lukewarm. The refried beans had developed a 'nice' skin, too!

My starter was meant to be garlic-bread covered in melted cheese and refried beans. I could have made the same dish at home for about 50p. Most the bread was soft, I couldn't taste the garlic and there was only a slither of cheese on the thing.

Main course portions were poor. My Pollo Burrito was very uninspiring and tasteless.

On a good note, the house white wine was nice.

It annoys me when so-called 'trendy restaurants' get away with serving poor food, and live off the fact they have a designer interior. 10% service charge was added because of our large party. Unfortunately, we paid it.
Eaten at Las Iguanas? Write a review!
Anonymous reviews, reviews using nicknames or reviews sent from invalid email addresses will not be published.