La Gondola Restaurant
33 Carver Street
City Centre
Sheffield
S1 4FS
Telephone: 0114 2755264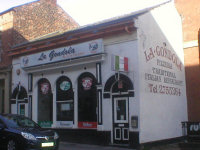 Reviews of La Gondola Restaurant
Type(s) of Food Served
Italian
Description
La Gondola is conveniently situated in the city centre making it easy to get to by public transport. The food is resonably priced and is of excellent quality. The staff are very friendly and are always eager to help.
Food Service Times
Monday - Sunday 5:30 till Late
Special Offers
There are no special offers that we are aware of.
Amenities & Facilities
Credit/debit cards accepted?



Average starter price?
£3.50
Average main course price?
£9.25
Average dessert price?
£3.50
Special diets catered for?
Peter -
Rating:
Smashing food and service.
Jane Taylor -
Rating:
On Friday we went to the Italian restaurant for our Christmas party. We couldn't have asked for any more - the place was lovely, staff helpful, food delicious and good value. I would definitely recommend a visit there.
Kath -
Rating:
Fantastic food, very friendly staff. We had not booked table but they accommodated us. It was like they had known us for years. Will definitely go back, thinking for my birthday.
Julie Moxon -
Rating:
Been to La Gondola for the 2-courses for £11.95 advertised outside. It's rubbish, all you can have is pizza or pasta, which it doesn't state on the board. Oh and a starter.

Need to sort it out. False advertising. Wouldn't have gone in if I'd known, but already had my wine.
Joe Galinha -
Rating:
The worst Italian restaurant I've ever been. The food came out of a packet... microwave reheated... just absolutely horrible!
Pete -
Rating:
Really nice atmosphere, delicious food and really nice people. Best Italian food I had in my life.
Chloe -
Rating:
By far the best food I have ever tasted in my life! Literally so addictive!

The staff are so polite and the atmosphere was so peaceful, which made the food so much more enjoyable!

I have told everyone I know about the restaurant because I love it so much!
Louise Hague -
Rating:
This is my favourite Italian restaurant.

The food is excellent quality, plenty of choice and very good, attentive service.

It's a very friendly, good atmosphere, reasonably priced restaurant.
Leah -
Rating:
I have been to this restaurant regularly and I am never disappointed. The food is delicious and you aren't left waiting long for the food. And the service is also of a high standard.

Overall the restaurant has a lovely atmosphere and the staff are very welcoming.

I would recommend this restaurant to everyone.
Katie Gascoyne -
Rating:
We had booked a table on a Saturday night, but due to traffic, arrived 30 minutes late. We apologised on arrival and were told that it was fine and our table had been kept free for us.

Although we arrived at around 9PM on a Saturday night, there were only a couple of other tables occupied. Not a great sign! We shouldn't have been concerned.

I picked the wine for the first time, and have to say that it was the most enjoyable bottle that I have had. My boyfriend, however, was not impressed. Unbeknown to us, I had managed to pick a low-alcohol sweet sparkling wine from the Asti family.

We shared a starter of spinach and mozzarella balls, which were lovely.

I had a pasta marinara dish, the name of which I forget. What I won't forget though, is the taste. Absolutely delicious! My boyfriend had a chicken and Gorgonzola dish with mushrooms and asparagus. He was equally impressed with his choice!

Overall this was my favourite meal for a long time and we will definitely be going back.

Neither of us can understand why the restaurant wasn't full (or even moderately busy) on a Saturday night.

Minor negative points would be the dated decor (don't let this put you off), and my boyfriend feels that the waitress should have checked that we were aware that the wine was only around 5% ABV.
Sarah Lee -
Rating:
It is a fantastic restaurant with beautiful food. The staff are very welcoming and friendly. Really enjoy the food every time I go, no complaints. Definitely worth a try!
Jayne Allan -
Rating:
Just enjoyed an excellent meal at La Gondola. Excellent service and the staff are really accommodating to any changes you wish to have to the menu, nothing is too much trouble. Really liked the new decor, but thought the old table cloths added some authenticity!
Leona Oetting -
Rating:
Welcoming warm atmosphere, with a great focus on quality. My mother, daughter and I had a fantastic meal and left thinking about our next visit!
Yvonne King -
Rating:
Friday night and 4 customers as we walked in should have been a warning.

A warm welcome and good service was tarnished by microwaved food and expensive wine.

Just OK.
Kevin Fradley -
Rating:
After booking a table, I read a review that gave this restaurant a very poor review, what a good job I took no notice.

This restaurant is fantastic, the atmosphere is electric, the food is top notch, the staff are so, so friendly and the prices are great. Two three-course meals, two drinks, two coffees and a bottle of wine all for just over £62.

When we are in Sheffield again we will make this our first choice for a night out.
Amy -
Rating:
The worst restaurant ever. The food seems to be heated in the microwave, it's really overpriced by the quality you get. The house wine, as I have been to Italy and saw the same brand costs just 3 pounds and is sold for 12 pounds!

The food was cold and with meat inside (even though I specified that I wanted a vegetarian dish).

I would never ever recommend this restaurant to anyone, and there are like 20 restaurants around with better food quality and better service for the same price.

Never gonna go back.
Lisa shackleton -
Rating:
Food was nice. I enjoyed the mushrooms for a starter and good old spaghetti Bolognese.

Enjoyed the night, waiter was nice, too.
Ricky -
We were just passing as we saw the restaurant, looked nice had their own bar so we decided to go in.

We didn't have reservations but the staff did all they could to fit us in. They were polite and pleasant throughout the service, and what made it even more pleasant was the food quality. I'm never shy to complain but I had nothing to complain about, thanks.

Hope to make reservations for Saturday.
Clare Clayton -
Fantastic Italian restaurant, portion sizes are great, service is very friendly and efficient, the prices are good. The only issue I found was a lack of choice of soft drinks.
Chris Sykes -
I have been to this restaurant around 10 times now, and I can easily say it is one of my favourite places to dine in Sheffield. While I have read that some people have had problems with service I have never found the staff anything but friendly.

The food is delicious and I cannot recommend it enough.
Lorraine Jackson -
Went to this restaurant as I love Italian food....

The food was lovely... but the service leaves a lot to be desired. We had a starter and then went onto main, but the bill arrived whilst we were just beginning to eat. I thought that this was very rude, as we may have wanted a dessert. When the waiter approached me I questioned this action and he said well you don't want dessert do you, I said he was very rude and I asked him if he needed the table as it was very rushed. He then went to the service desk and said that I was being rude and didn't want to pay my bill, which never even occurred to me.

I am from the country and we are very civilised, but he persisted in being rude and told me to "go back to my farm". The food may be OK, but I certainly would never ever recommend this place to anybody, especially if you are from the country as you are liable to get abuse from very rude staff.
Michelle -
We had a Sunday evening meal at La Gondala, Carver Street, to celebrate a 21st birthday. There was a party of 10.

The food was excellent, all served together, nobody had to wait, starters to die for. The service was 1st class and entertainment excellent, thank you Fabio.

All in all a brilliant night was had by all. I would highly recommend this restaurant.
Adrian Jones -
Great food at a great price. I'm new to the Sheffield area and ended up in La Gondola by chance. At first glance the decor seemed a bit dated but the food was excellent. Never judge a book by its cover! It beats the more expensive Ecclesall Road Italians hands down! I go there at least once a week now.
Gareth Parker -
Friday October 3rd: My wife and I were looking to eat after 9PM and the restaurants in Leopold Square were fully booked. We walked up West Street and found La Gondola, which was packed out with a hen party.

A table was available and we both ordered garlic mushrooms for starters with a bottle of house white wine. The service was prompt and unobtrusive - just how we like it. The starters were delicious and we did not have to wait long for our main courses - I had a spicy chicken dish and Debra chose macaroni baked pasta.

The atmosphere was great and the music was geared towards the large hen party, which added to the experience. The bill was £40 for 2 courses + wine which was very reasonable. I would recommend this as a more authentic Italian experience than the restaurants in Leopold Square.
S Gould -
Our first night in Sheffield was a Bank Holiday and the only place we could find close to our hotel was La Gondola.

Don't be put off by the decor, the food is really good and an average place. Yes, it could do with a lick of paint and a new carpet, but the staff were friendly and the service was good, too.

P.S. Go round the corner to Yates, as the same bottle of wine is £8.50 there instead of £13.50!
Janette -
Definitely worth a visit! We booked a party of 14 on a Wednesday evening, arrived at the restaurant and were greeted by very friendly staff who promptly showed us to our table. All the food was excellent and served in a timely manner. Everyone thoroughly enjoyed the evening. I would definitely book a meal here again in the near future!
Angie Waltham -
This is the friendliest Italian restaurant to visit, from staff to management (Deano is always ready with the wine). The staff cannot do enough to help and make your night enjoyable (Jed you are the best). The food is excellent (Pepo I love your food), great value and you don't have to wait long to be served. The atmosphere is brilliant, from a good old knees-up if you are celebrating, to a nice romantic night for two I guarantee you will have a great night at La Gondola and will definitely visit again.
Eaten at La Gondola? Write a review!
Anonymous reviews, reviews using nicknames or reviews sent from invalid email addresses will not be published.